In this article, you will learn what HACCP means and how you can implement the 7 principles of the HACCP concept. We also share with you helpful tips, provide a template, and show concrete examples that you can use for your e-commerce business. Last but not least, you will get an insight into what optimized fulfillment of organic products can look like.
What is HACCP? Meaning and definition of the food hygiene concept
The abbreviation HACCP stands for Hazard Analysis Critical Control Point. It is a concept that under the EU Regulation (EC) No. 852/2004 on food hygiene, ensures the protection of consumers when buying food. It obliges traders who produce, process, or distribute food to set up and adhere to the HACCP measures.
Guide to compliance with the HACCP concept
To reduce the complexity of the concept and to provide clear guidance, the HACCP concept is divided into 7 principles. First, select a HACCP team that consists of members from different departments, if possible, so they can develop a product description that includes the following data:
Food

Ingredients

Processing method

Packing

Storage

Distribution methods (frozen, room temperature...)

Label and label information

Target group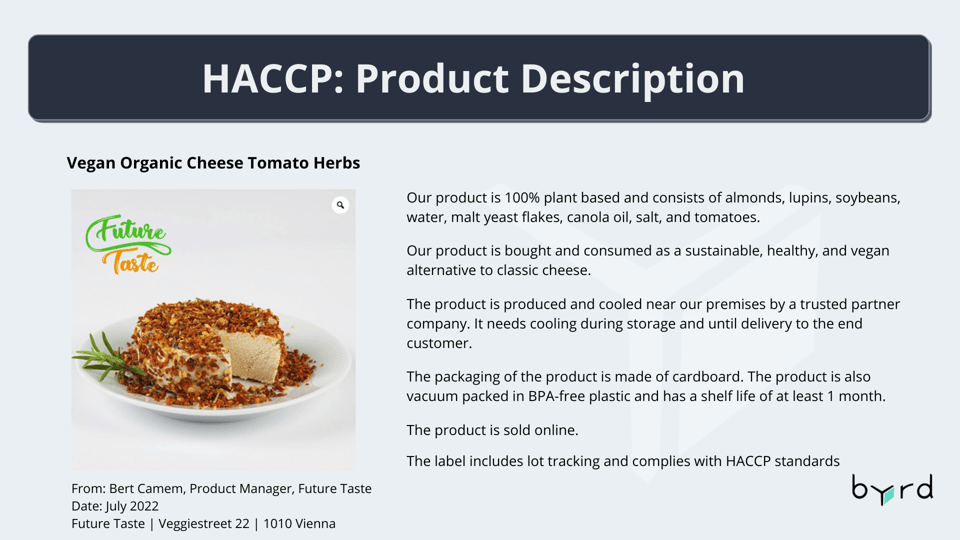 Fictional example, image source: futuretaste.eu
Before the team starts with the first of the 7 principles, a flow chart should be set up. We have created an example for you.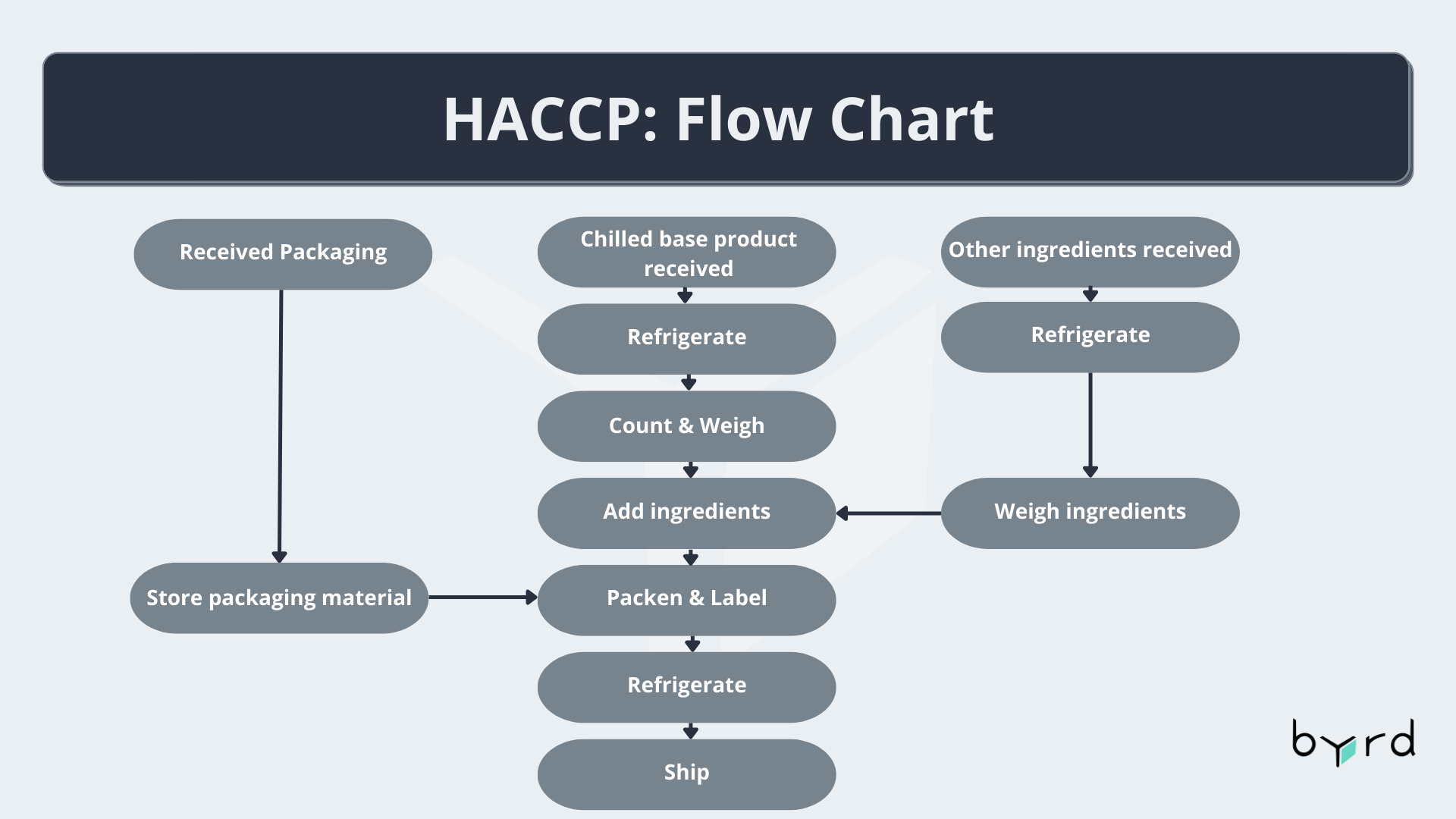 The 7 principles of the HACCP concept
To make it easier for you to follow these steps, we have created a simple example. Feel free to use it as inspiration or download our HACCP template for free.
Principle 1: Carrying out a hazard analysis
First and foremost, you should list all steps of the process and identify potential risk factors.
Types of food safety risks




| | | |
| --- | --- | --- |
| Type of risk | Examples | Control & Risk Mitigation |
| Chemical | Allergens, pesticide residues | Cleaning, Purification |
| Biological | Salmonella, parasites, pests | Temperature management |
| Physical | Dust, metals, plastic | Sieves, metal detectors |
| Humane | Work overload, Low qualification | Testing and training |
Principle 2: Identification of critical control points (CCP)
A critical control point is a step at which a controlled operation can reduce, avoid, or eliminate food-related risks to an acceptable level. In this step, a decision tree is used by your dedicated HACCP team to find such CCPs.
In this context, a single process step may require multiple CCPs. At the same time, in some cases, one CCP may be used for more than one of these food hazards.
Resource: The CCP Decision Tree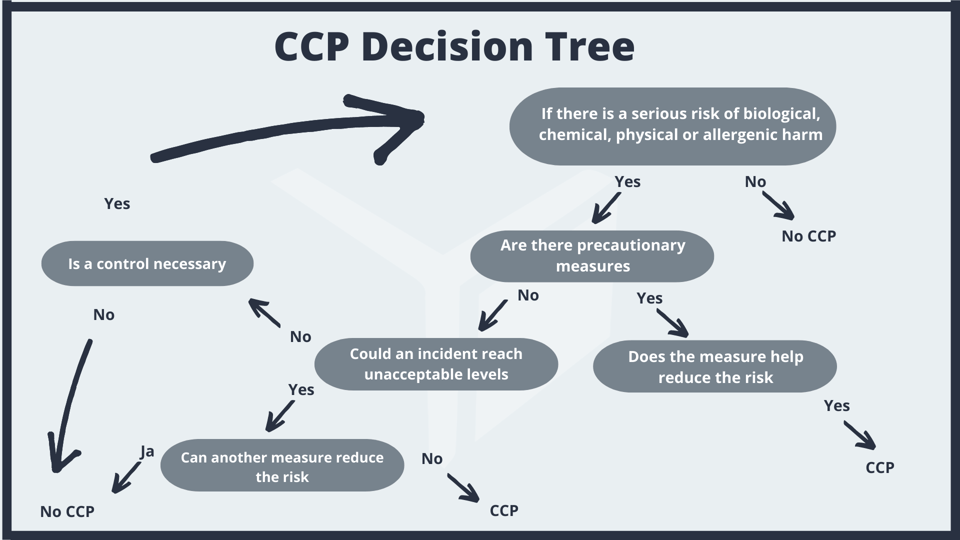 Principle 3: Determination of critical limit values
A critical limit (CL) is the boundary (maximum or minimum) that may not be exceeded or undercut. These limits are measured in the course of critical control points (CCP). Mostly, they are units of measurement such as temperature, time, weight, pH, and similar scientific units and standards.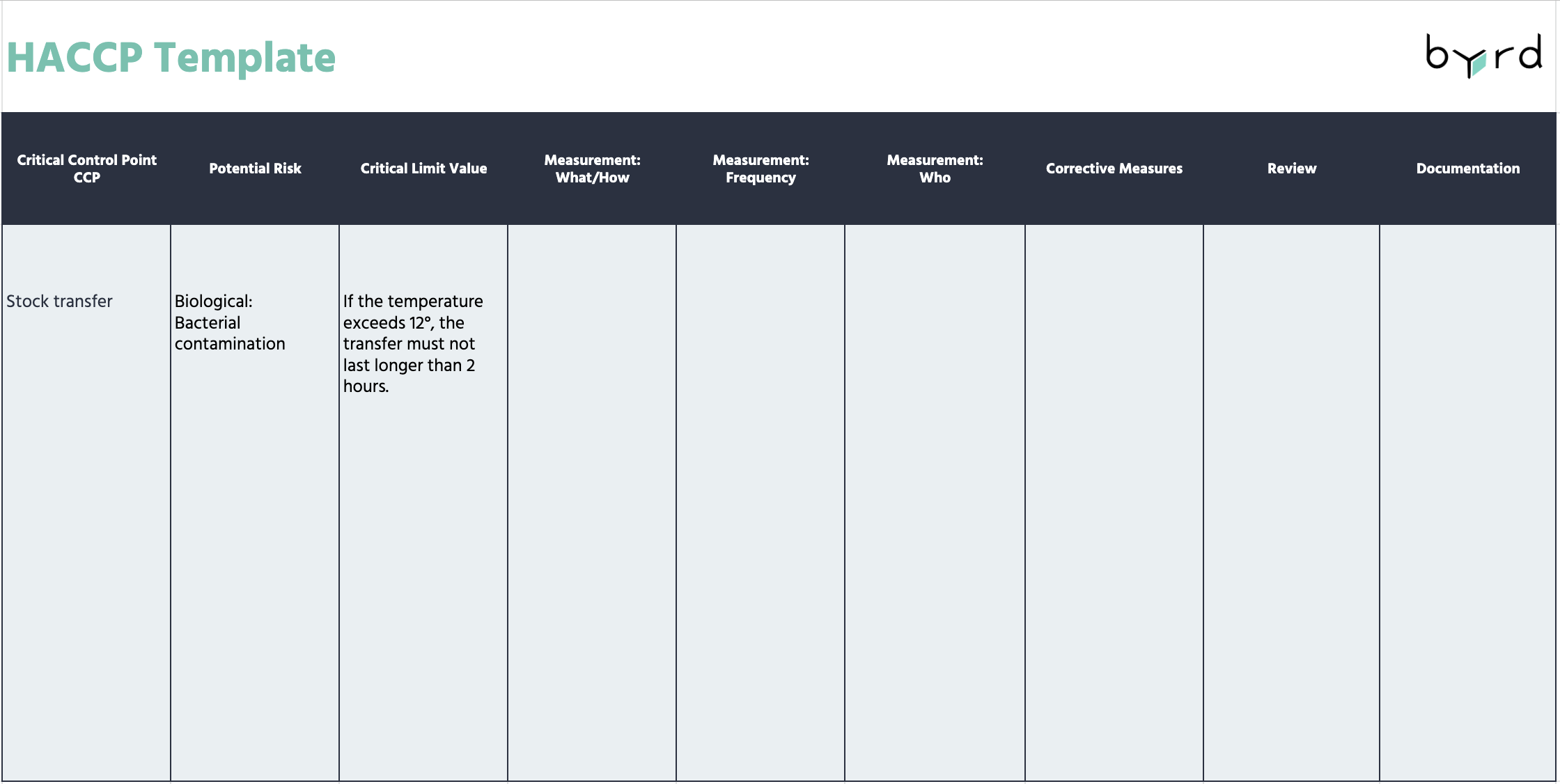 Principle 4: Observation of critical control points (CCPs)
In this step, the HACCP team determines how the process for measuring CCPs will work. The process is described in detail and includes the following information and responsibilities:
Measurement procedure

Time of the measurement

Responsibility for the measurement

Frequency of measurements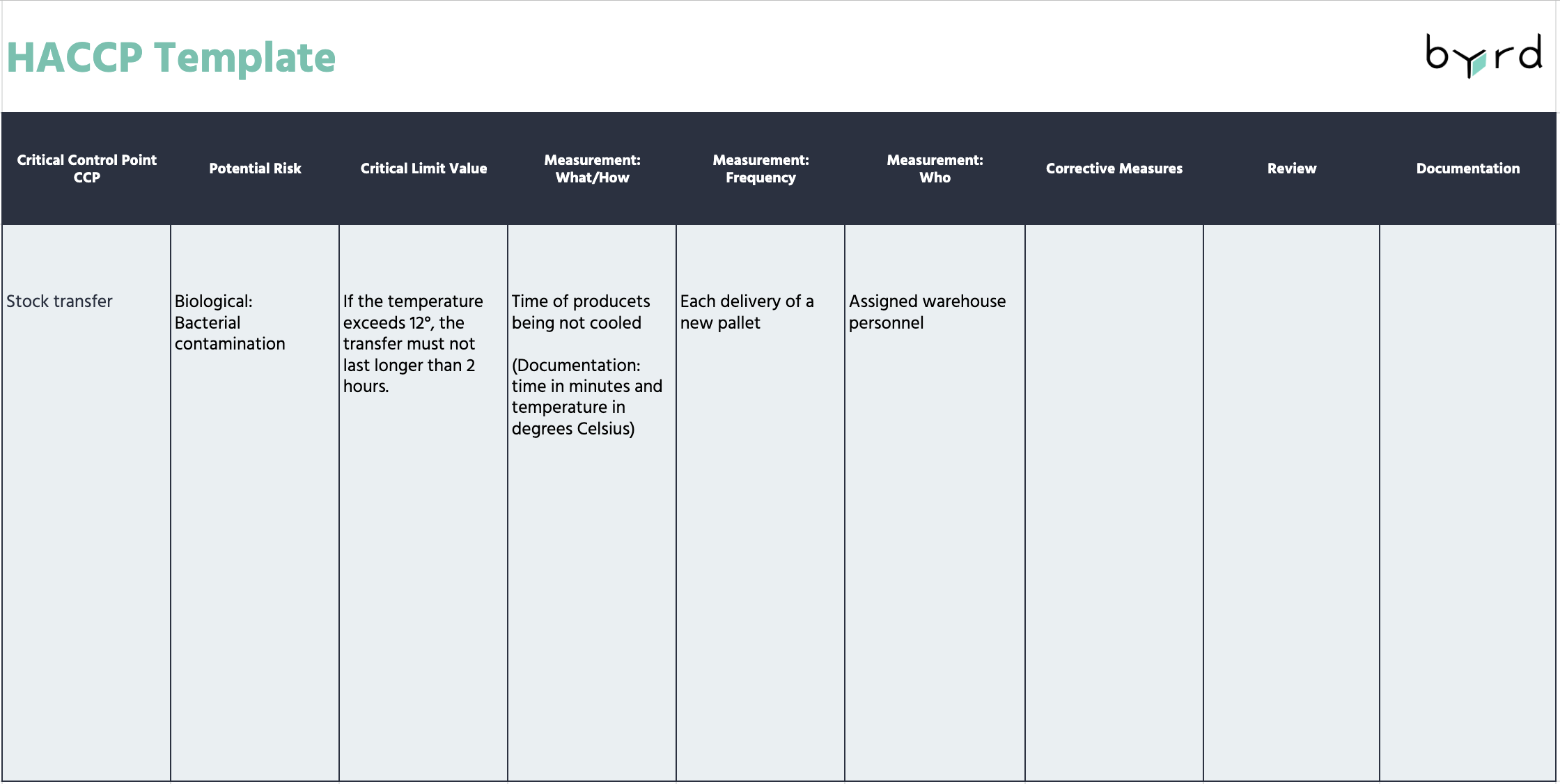 Principle 5: Introduction of corrective measures
Corrective action becomes necessary when one of the limits is exceeded or undercut. The top priority is then to prevent the product from entering the food chain. At the same time, failure analysis is performed to identify potential weaknesses in the previous process and to prevent the same problem from recurring.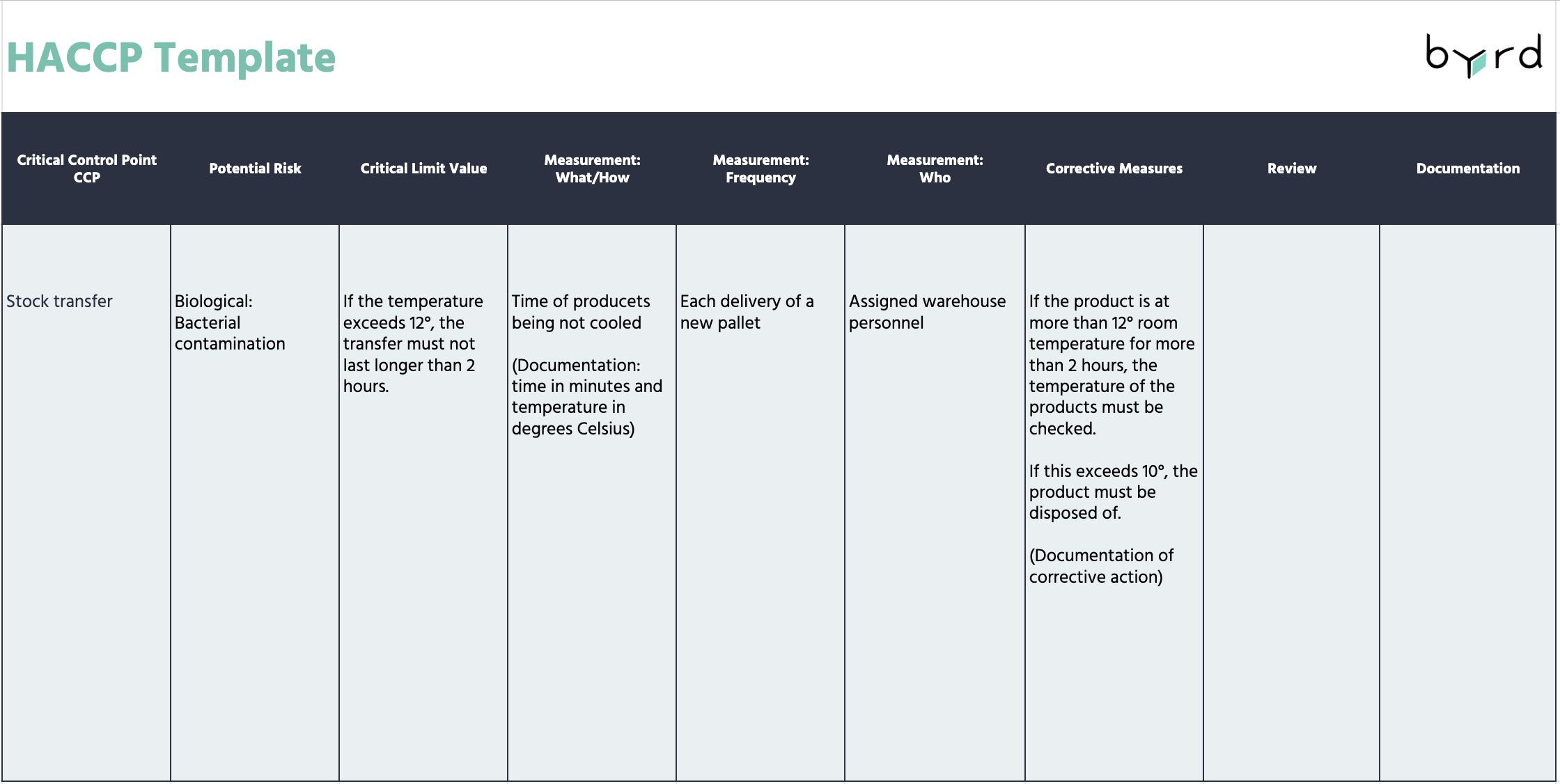 Principle 6: Review of the process
To stay up to date and prevent systematic errors from creeping in, it is important to constantly review and question your own measures. This includes, for example, challenging the CCPs, checking measuring devices, and critically reviewing past performance.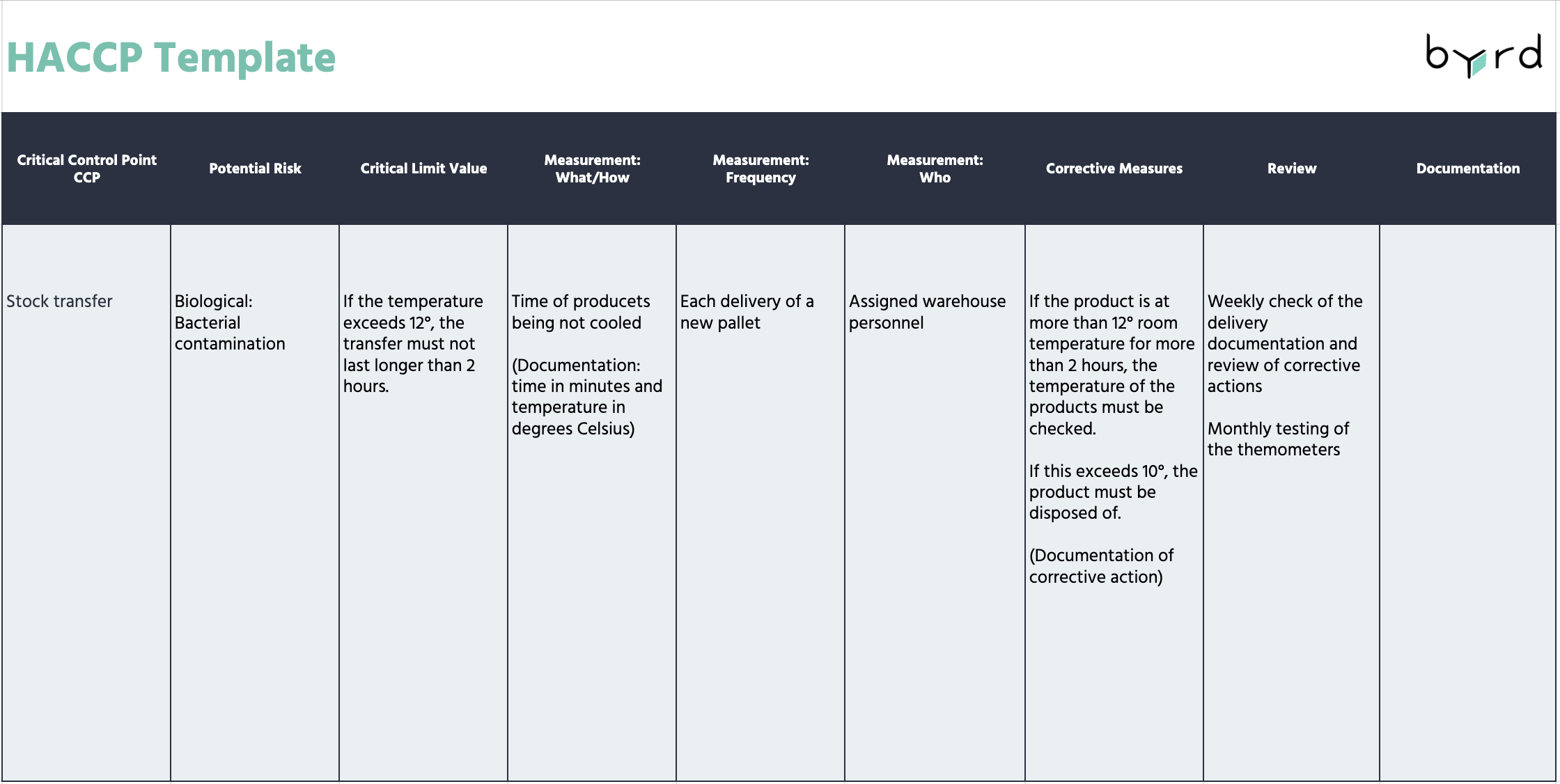 Principle 7: Documentation
An important part of the HACCP concept is accurate and error-free record keeping. This is because it can always be used to prove that food has been produced, stored, and shipped safely. This information must include, among other things, the following data:
HACCP team members

Hazard analysis

Product description

Critical control points

Critical limits

Monitoring systems

Corrective actions

Review process

Documentation process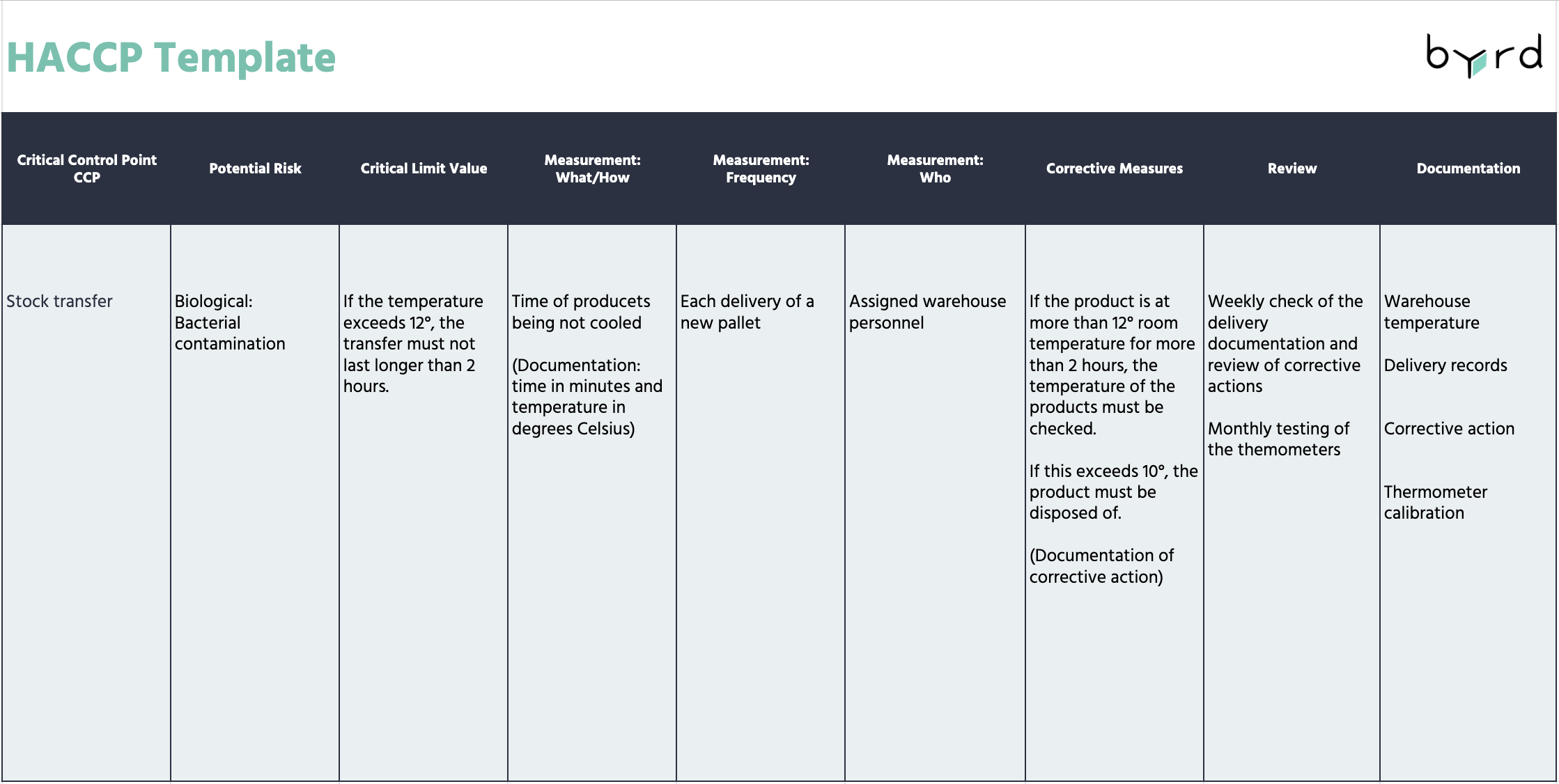 Legal consequences of non-compliance with the HACCP concept
The safety and health of consumers are paramount. Therefore, failure to comply with the HACCP concept may result in severe penalties.
In the mildest case, this can lead to mandatory training of the responsible team. In severe cases, there is even the threat of imprisonment for putting dangerous food into circulation. Alternatively, the forced closure of a company is an option.
There are several gradations in between, ranging from small fines for hygiene violations to severe penalties.

HACCP Template
To simplify the process we offer you the chance to download our HACCP template for free.
Fulfillment of organic products
Are you selling organic products online and still looking for the right fulfillment solution? byrd could be just the right partner for you. Besides the close cooperation with comparatively climate-friendly parcel services and the offer of climate-neutral shipping options, the logistics centers of byrd also offer all features to handle organic products.
This includes all necessary certificates and the possibility of LOT tracking to better distinguish batches.
Once your store is connected to byrd within a few minutes and clicks, you only need to customize your items in our easy-to-use fulfillment dashboard as shown in the screenshot (just click on "Track Organic" and "Track Lot & Expiry") and you are ready to go.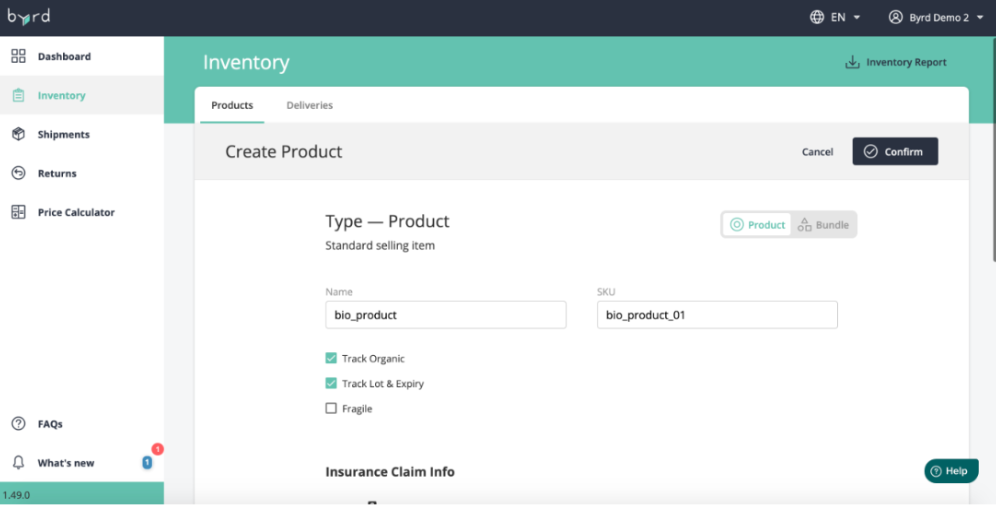 What we do not offer? That is, as of July 2022, the storage and shipping of frozen items. However, we can very well handle climate-controlled products.
Two of our many customers who use these services are Your Super and Primal State. Feel free to check out their and other success stories that we have played a humble part in.
---
---