As an American online merchant, selling in the US and Canada offers great sales potential. Still, the North American market is only one piece of the big e-commerce cake.
This is why most growing online businesses eventually reach the point where entering new markets is the next logical step.
Most of them, like you, consider expanding their online business to the European e-commerce market to benefit from the immense potential. To paint a picture, more than 500 million consumers in Europe have shopped online in 2021.
In this blog, we will highlight
several

reasons to bolster your plan to expand to the European market

the

most important factors to consider to master your expansion to Europe

the

biggest obstacles to a successful expansion

the

main reasons why expansions to the European e-commerce market fail,

and how to avoid them.
Let's jump right into it.
Reasons to expand to the European E-Commerce Market
Expanding to one of the countries in the European Union allows you to sell your products in all 27 member countries, some of which are among the wealthiest countries in the world. Due to the free movement of people, goods, and services within the EU, this gives you access to more than 450 million potential customers.
Including the population of countries that are not part of the EU, like Switzerland, the UK, or Russia, the population of Europe even amounts to more than 750 million people. Additionally, Europe is experiencing an e-commerce boom. Revenues of European online retail have grown about 10% p.a. in recent years. This growth has even accelerated due to the pandemic. According to NielsenIQ RMS, online sales of the 6 major markets in Europe have grown between 6.6x and 16.6x faster than offline sales during the last year.
Still, the market is not as saturated as the North American e-commerce market.
A growing market that is not yet saturated? That's exactly what online merchants like to hear, right? Well, it gets even more interesting.
Biggest E-Commerce Markets in Europe
Europe is home to some of the strongest economies in the world. E-commerce is no exception in that sense. With the UK, Germany, France, and Russia, four of the 9 largest e-commerce markets in the world can be found on the European continent. Additionally, countries like Spain, Italy, the Netherlands, and Poland hold plenty of potential for online sellers. Besides that, in terms of GDP per capita, 14 of the top 18 nations worldwide are European.
The 4 most important Factors to master your Expansion into Europe
One of the biggest advantages of operating in e-commerce is that you are not limited to any kind of physical location of a shop. Hence, you can reach customers and sell your products to buyers from New York, London, and Paris at the same time. However, there are factors that can make or break a successful multi-market strategy. To help you out with that, we will highlight what to focus on when targeting the European E-Commerce market.
If you are storing goods in an EU country it is important to know that the movements of goods to the warehouse across borders (so-called intra-community movements and intra-community purchases) need to be declared to the respective local tax offices. That means that local VAT registrations are required in the country of the warehouse to which you are delivering your goods.
In most EU countries you can apply for a VAT-ID by post or online. The deadlines, waiting times, and the detailed process for the VAT registration vary across countries. Nevertheless, in the following we give a brief overview of the steps you need to consider: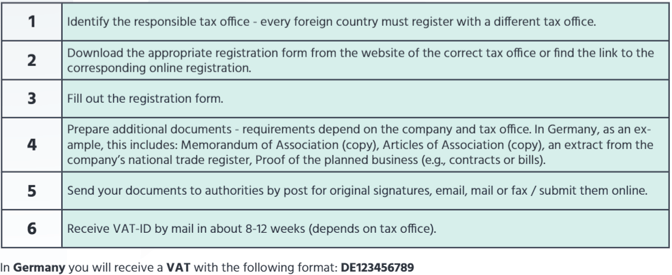 EORI-ID
Equally important when storing your products in the European Union, is the EORI-ID. It is a must-have for any business that is dealing with customs procedures by importing or exporting goods and serves as a unique identification number. Other than the VAT, a single EORI-ID for importing into the EU is sufficient to serve all countries.
That means that when you start your operations in Germany only, for example, expanding to the Netherlands, Spain, or any other EU-county won't be any more hassle regarding your EORI-ID

Here's how you can request an EORI Number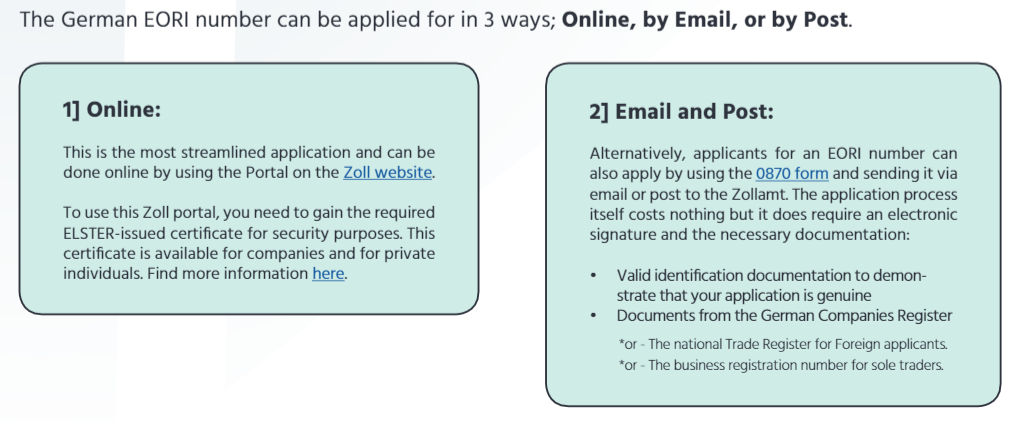 More information about the IOSS (Import One-Stop-Shop), customs form, and similar, you can find in our Cross-Border Whitepaper.
Labeling – Are your products compliant for selling in Europe?
Besides tax barriers, online merchants should be specifically cautious about different rules in terms of product safety. Generally speaking, the European market is more regulated than is the Northern American one. This is especially true for the countries that are part of the European Union.
For instance, stricter rules apply for selling vitamins and supplements, cosmetics, or in some cases, when selling toys to or in Europe.
For that reason, it is important to check for rules and regulations including
This is also true for GDPR and privacy laws. In fact, North American and European rules differ quite substantially in some cases. Be sure to check for these rules in order to avoid troubles, both in a legal sense and in regards to avoid upsetting your customers.
---
---
How to launch your e-commerce business in Europe?
Another decision that can make or break your endeavor to have a successful entry into the European e-commerce market is your strategy of launching your offers there. One possible starting point is to check which e-commerce markets are most attractive for your business and then adapt your market penetration strategy accordingly.
Most attractive E-Commerce Markets in Europe
Many merchants opt for starting in the UK or Germany first. The French E-Commerce market is another popular choice. Other comparably big and attractive e-commerce markets are the Netherlands, Spain, Italy, and Poland.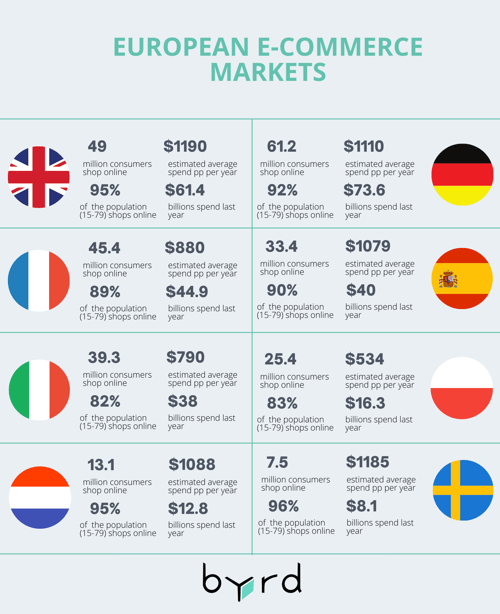 Leading Marketplaces in Europe
While everyone in the US, Canada, and in basically any other country knows Amazon, there are various marketplaces that quite successfully compete with the American giant on a national or inner-European level.
You can find a summary of the most popular marketplaces per country below:
Marketplace Germany
Zalando
OTTO

Marketplace Italy
ePrice

Marketplace UK
Fruugo

Marketplace France
Cdiscount

Marketplace Netherlands
Bol.nl

Marketplace Spain
Elcorteingles.es

Marketplace Poland
Allegro

Marketplace other EU
Heureka