Being the country with the highest e-commerce growth in 2021 (20%!), Sweden is at the top of the list of target markets for expansion for many online retailers. In addition, several other e-commerce metrics speak for the attractiveness of the country in northern Europe.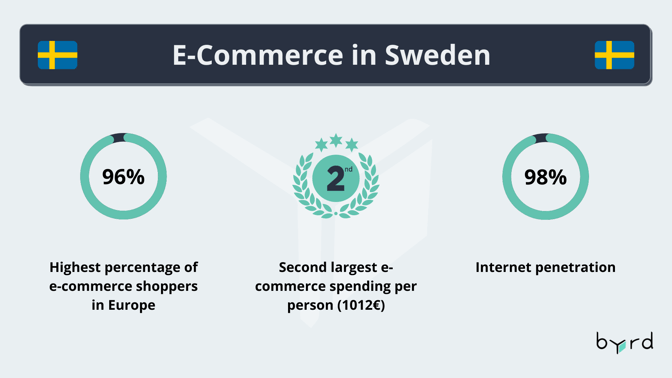 The quality of the products and the sustainable orientation of the companies are important decision factors for Swedish online shoppers. An important part of the last point is environmentally friendly delivery methods. In addition to green shipping, reliability, and speed, of course, the price is also a key element in the purchase decision. As in any country, certain parcel delivery services have a better reputation than others. So, offering the shipping option with the right courier has a direct impact on your conversion rate. Here's an example to prove that - 27% of Swedes abandon the purchase process if their preferred delivery method is not offered.
How to choose the best parcel delivery service in Sweden
As an online retailer, the biggest focus is usually on the price of the delivery services before delivery times are taken into account. The importance of customer and market preferences is generally well-known but still neglected in many cases. Finding the right delivery service provider for your products and your customers can have immediate as well as long-term consequences for sales. Hence, in this article, you will find a compact overview of the most popular parcel delivery companies in Sweden.

Besides the general reputation of the shipping companies, you should pay close attention to the following factors:
Size and weight of the packages

Number of packages per day/week/month

What are the delivery preferences of your customers?

Are the packages delivered domestically or internationally?

Does it make sense to use the services of multiple parcel delivery providers?

What are your priorities (speed, price, environmental friendliness, reliability)?
Top 5 couriers in Sweden
Before we take a closer look at the best shipping companies, general information about preferences in the Swedish e-commerce market is important.
The three most popular delivery methods in Sweden are:
Delivery via parcel box/letterbox (39%)

Delivery via a distribution center (37%)

Home delivery without signature (8%)
One of the most important characteristics of the Swedish parcel delivery market is that it is mainly dominated by one player. PostNord is by far the best-known delivery business in Sweden in terms of sales and shipping volumes. Besides PostNord, there are only a handful of other shipping companies vying for second place by a wide margin. These include DHL, DB Schenker, Bring Parcel, and UPS. This constellation shows that the Swedish parcel market is one of the most consolidated ones in Europe.
PostNord
226 million - that is the number of parcels shipped by PostNord in 2021. There are only a few European parcel markets in which you can see such dominance of one parcel service as in the Nordics. PostNord sends between 50% and 80% of all parcels in Sweden and operates in the other Nordic markets of Denmark, Norway, and Finland as well. 60% of the company is owned by the Swedish government and 40% by the Danish government.
Advantages of PostNord

As the top dog, PostNord has numerous advantages when it comes to fulfilling the last mile of your e-commerce orders. In addition to the advantages due to economies of scale, the state-owned company has an enormously strong distribution network of more than 8000 distribution centers. Moreover, PostNord is a domestic and also the most well-known parcel delivery service in Sweden. Thus, by offering this delivery option, you can anticipate the trust of your Swedish online shoppers.
Disadvantages of PostNord

Depending on the type of items, you'll find less costly solutions than PostNord. One example of this is that large and bulky products can be shipped more cheaply with competing parcel services.
Conclusion PostNord
PostNord is the best known and by far the largest delivery service in Sweden. A high average rating of 4.2 on Trustpilot (out of 38,000 reviews) indicates a good quality of service. All in all, as an e-commerce merchant you are on the safe side if you send your orders in Sweden with PostNord. Last but not least, PostNord has entered into a strategic partnership with DPD to enable international shipments from the Nordics to the EU.
DHL
DHL is part of the world's largest logistics company, Deutsche Post DHL. As such, the company has strong international networks and, with the help of more than 380,000 employees, shipped over 1.8 billion parcels in 2021. While DHL plays a leading role in e-commerce shipping in many countries, it only plays "the second fiddle" in Sweden.
Advantages of DHL
Probably the biggest advantage of DHL is its international profile and strong network. This means that an established setup in other countries can also be taken advantage of for expansions.
Disadvantages of DHL
If you take the reviews on Trustpilot as a basis for evaluation, the services provided by DHL in Sweden have a lot of room for improvement. While a high number of poor ratings is common in the logistics sector, the figures here are worrying. A full 86% (out of 1180) of the Swedish reviewers gave the lowest possible rating of one star. The average on a scale of 1-5 is a shocking 1.4 stars.
Conclusion DHL
DHL is one of the top international companies. In Sweden, however, it merely leads the chasing pack behind PostNord. In that market, it cannot quite live up to its good reputation in other countries like Germany.
DB Schenker
DB Schenker is known in many countries primarily as a freight forwarder and rarely focuses on the so-called last-mile delivery. In Sweden, however, the subsidiary of Deutsche Bahn is also known as a parcel delivery company and is a serious competitor to established shipping service providers. To be competitive on that level, it employs 4,000 people and has more than 50 locations in the country.
Advantages of DB Schenker
In the Trustpilot rating, however, DB Schenker leaves its German competitors far behind. With an average rating of 4.4 stars, it achieves the best score in this category. However, it should be noted that only 270 ratings were submitted.
Disadvantages of DB Schenker
A small but not negligible factor is that DB Schenker internationally is not perceived as a shipping service provider. As a non-local business, it also has to make up some sympathy points in Sweden.
Conclusion DB Schenker
Using DB Schenker as a courier might seem odd for many sellers outside of the Nordics. However, in Sweden DB Schenker is a relatively well-liked service for receiving and delivering parcels.
Bring Parcel
Bring Parcel is a courier that has been 100% owned by Norwegian Post since 2018. Around 4,000 of the 22,000 employees work in Sweden. The company additionally runs operations in Norway, Denmark, and Finland, making it one of the strongest players in the Nordics.
Advantages of Bring Parcel
One of the biggest advantages of Bring Parcel is its expertise in the Nordic countries. In addition, the orientation and focus on environmentally friendly shipping is also an argument in favor of the Norwegian parcel service provider.
Disadvantages of Bring Parcel
If you take the Trustpilot ratings as a basis for assessment, you should refrain from working with Bring. Out of just under 1,500 reviews, the worst score was given 1,360 times (91%). Thus, the average value of 1.2 stars can hardly be undercut.
Conclusion Bring Parcel
While the focus on sustainable transport is a clear argument for working with Bring Parcel, the numerous negative and even upset reviews set alarm bells ringing. In particular, the (unsuccessful) final delivery by the drivers is criticized. The same applies to poor customer service.
UPS
With more than 500,000 employees, United Parcel Service of America (UPS) is the world's largest parcel delivery business. In Sweden, the US company sends parcels with the help of around 1,000 employees.
Advantages of UPS
As the world's largest company of its kind, UPS has a fundamental level of trust among online shoppers. In addition, the company's international focus is a potentially important factor for e-commerce merchants operating in multiple markets.
Disadvantages of UPS
UPS also has to deal with similar problems as some of the previously mentioned companies. Just under 3 out of 4 reviews (out of a total of 1,900) give the shipping service the worst grade. The average rating of 1.4 stars on Trustpilot does not bode well for UPS either.
Conclusion UPS
As an internationally recognized player in the CEP (Courier, Express, and Parcel Delivery) market, one would think that UPS would attach great importance to customer satisfaction. However, if you judge by the reviews on rating platforms, there is still a lot of catching up to do.
Conclusion on parcel delivery services in Sweden
The right logistics and fulfillment strategy determines the success or failure of your e-commerce business. Studies support that by showing that it is important for many online shoppers to have a proper selection of parcel delivery service providers.
Sweden is no exception. In fact, fast and inexpensive shipping are key factors in this country of 10 million people. In addition, environmentally-friendly delivery plays a more important role than in most other countries.
Furthermore, the domestic parcel market is consolidated and is characterized by a strong dominance of PostNord. Only a handful of companies are fighting for second place behind them.
Order fulfillment and 3PL services as a convenient logistics solution
Choosing the right shipping method for your business has a direct impact on conversion rates and customer satisfaction. So if you ship hundreds of packages to your customers every month, outsourcing fulfillment is a strategy that should be considered.
Doing so enables you to save resources as your entire fulfillment process, from warehousing to shipping and returns, will be taken care of. 3PL companies like byrd act like an in-house fulfillment team while allowing you to focus on other areas. Through a simple and fast shop system integration, orders can automatically be forwarded and the fulfillment process is triggered immediately. This means no time is lost. In addition, a strong fulfillment center network offers the possibility to store your goods in geographical proximity to your customers. This saves time and money and is a more environmentally friendly option than a centralized logistics process.
In addition to these benefits, most fulfillment companies also have a strong partner network of parcel delivery providers. This in turn allows you to use the best services for your products in the respective market.
---
---
---