Table of contents:
Besides having the right product and the right marketing for the respective target group, fulfillment is a decisive factor for the success of e-commerce companies. On the one hand, it influences costs for shipping (up to 60% according to Markus Hamer, Managing Director of the German Institute for Service and Quality) and storage, and on the other hand, fast and reliable shipping has a significant influence on customer satisfaction and repurchase probability.
However, your potential buyers from other countries can have different preferences when it comes to shipping service providers, and the same goes for online shoppers from Germany. This is why we compiled an executive summary of the most popular parcel delivery companies in Germany. In addition, you will find hands-on information on express delivery, CO2-neutral shipping options, pick-up points, and an overview of the advantages and disadvantages of each parcel delivery company as well as their range of services. All in all, opting for the right delivery partner for your needs can reduce your costs, increase the range of shipping options and boost purchase rate and customer satisfaction – therefore, this decision should be well-thought-out.
Expectations of Online Shoppers in Germany regarding parcel delivery companies
The importance of the above-mentioned features of parcel delivery companies is shown by the following
facts
and
figures
on parcel shipping:
Almost

every 5th German

already uses pick-up points

23%

of German consumers say they would abandon the purchase process after a negative experience with a shipping service provider.

62%

of German consumers leave an online shop because the

shipping costs are too high

78%

of Germans expect a delivery time of

2-3 days

for standard shipping

35%

of German consumers are willing to pay extra for

environmentally friendly delivery

Only

1 out of 5

e-commerce companies in Germany offer a choice of different parcel delivery services; that is

untapped potential

for being one step ahead of the competition.

83% of online shoppers value getting their parcels delivered by a shipping company with which they have already had good experiences.
German Parcel Delivery Market
The German CEP (courier, express, and parcel service) market has experienced strong growth in recent years due to booming e-commerce and is mainly driven by online trade in Germany. In 2019, 3.65 billion shipments were handled.

The absolute market leader among parcel services in Germany is DHL with a 57% market share in terms of total shipments (in 2018). In addition, according to a study from 2020, 78% of Germans state that DHL is their preferred parcel carrier. The company, which is now part of Deutsche Post AG, is also leading the way in the category of parcel delivery companies most frequently offered by online shops in Germany. In fact, 4 out of 5 e-commerce companies in Germany offer shipping with DHL. The logistics company is followed by Click&Collect methods (25%), the German courier Hermes (21%), DPD (19%), and UPS (17%).
Top 5 delivery companies in Germany
Deutsche Post DHL

Hermes

DPD

GLS

UPS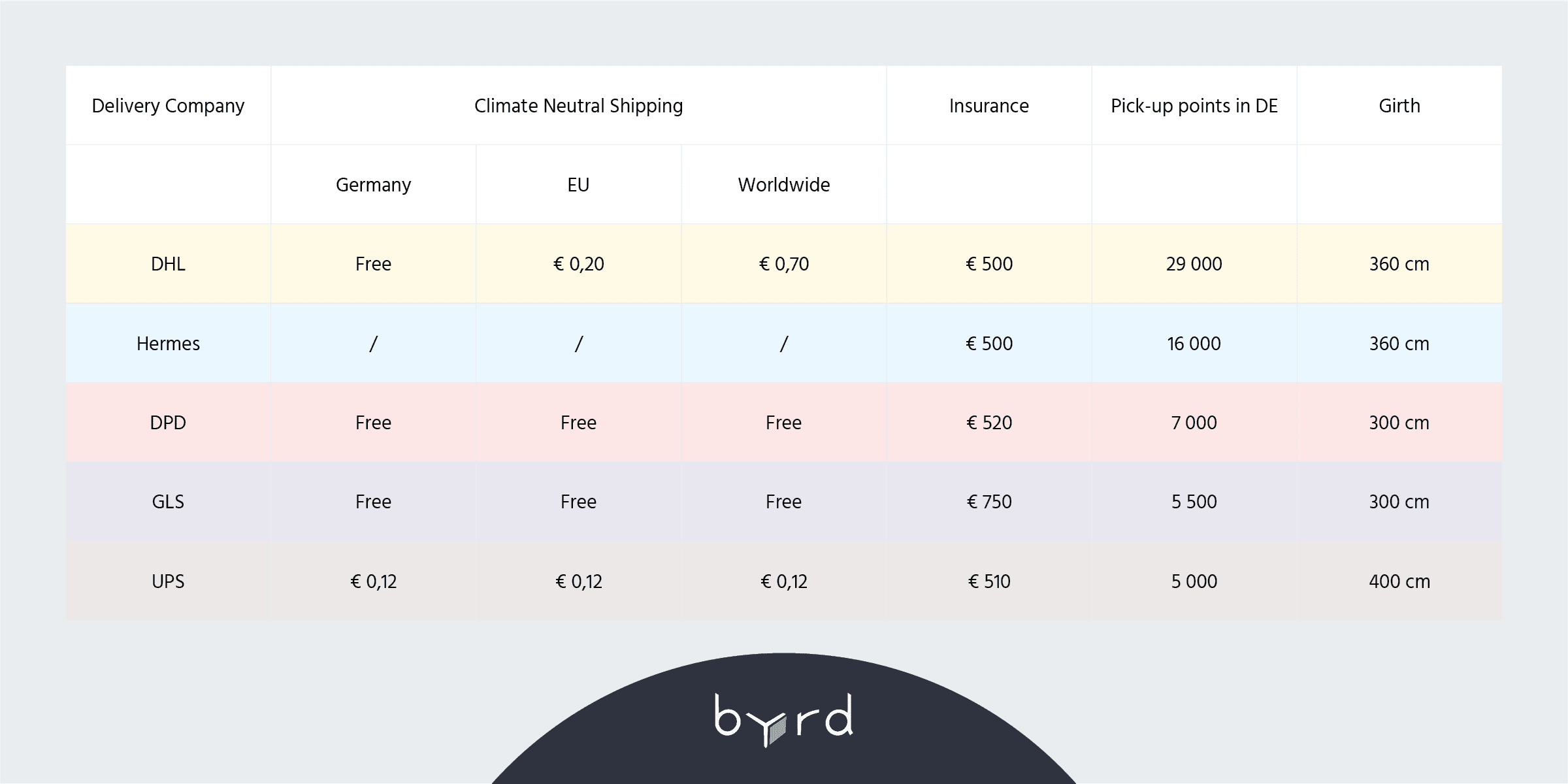 The delivery companies listed above are the most important parcel couriers in Germany, both in terms of popularity and actual use. Nevertheless, this overview list is by no means exhaustive. Furthermore, it is not a ranking, so the order is not a valuation. Each of these parcel shipping providers has its own advantages and disadvantages for e-commerce companies, depending on shipping volume, size of parcels, preferences of the target group, and other relevant factors.
Deutsche Post DHL
Founded in San Francisco and wholly owned by Deutsche Post AG in 2002, the parcel delivery company dominates the German parcel market in many areas. In 2019, Deutsche Post DHL's total revenue amounted to a whopping €63.34 billion. The Post & Parcel Germany division accounted for €15.5 billion of this in 2019. According to the company's own figures, the 150,000 employees only in Germany contributed to this, having already sent 1.6 billion parcels in the domestic market in the year before the Corona crisis. This figure was already surpassed in 2020 at the end of November, before the Christmas shopping season. In addition, the new "DHL eCommerce Solutions" division was founded at the beginning of 2019 to increase the attractiveness for online retailers.
Express delivery
With DHL Express, which is particularly suitable for international parcel shipping, the German courier offers its own business division for faster-than-average shipping.
CO2 Neutral Options
The parcel delivery service provider aims to achieve zero-emissions logistics by 2050. Among other things, the Go Green environmental protection program offsets the greenhouse gases produced.
Climate-neutral shipping within Germany: no additional costs

Climate-neutral shipping in the EU: 20 cents surcharge per parcel

Climate-neutral shipping worldwide: 70 cent surcharge per parcel
Pick-up points
29,000 locations in Germany Packstation, post office branch, DHL Paketshop or "Paketbox".
International focus
Strong international focus and global expertise.
Advantages
Wide range of services

Every parcel is insured up to €500

Shipment tracking

Choice between:

slow & cheap

fast & expensive

Attractive for fast-growing and internationally active companies,

according to DHL

.

"Warenpost" has been part of DHL's service since last year. This allows small goods (max. 5cm x 25cm x 35.3cm) to be sent quickly (usually next-day delivery) and efficiently.
Disadvantages
Delivery methods and services

Among others:
DHL International Express

DHL Euro Plus

DHL Sameday Jetline

DHL Sameday Sprintline

DHL Express 9:00/10:30/12:00

DHL Express Worldwide

DHL Express Easy

DHL Warenpost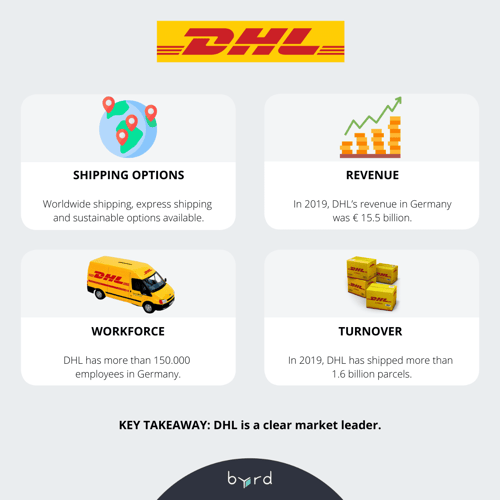 Hermes
The Hamburg-based parcel delivery company was founded in 1972 and is owned by the German retail company Otto GmbH. In 2019, the number of employees was 15,500 people, which contributed to the turnover of €3.5 billion. In 2019, it also shipped more than 900 million parcels, a growth of more than 100 million shipments compared to the previous year. Further significant growth can be expected in 2020.
CO2 Neutral Options An initiative to act in an environmentally friendly way was launched in 2010 under the name "Hermes - WE DO!
International focus
Shipping to countries outside the EU (with the exception of the UK) is not possible with Hermes, but the parcel carrier is one of the most popular delivery companies in the UK. It is, therefore, true that Hermes is a strong player within Europe, while there are no offers beyond that area.
Pick-up points
16,000 parcel shops in Germany.
Advantages
95% of all incoming packages are delivered in the domestic market on the very next day

Every parcel is insured up to an amount of €500

Shipment tracking

B2B service from 300 shipments p.a. at attractive prices

Especially attractive for smaller online retailers

1st place

in the price-performance category for courier, express, and parcel service providers
Disadvantages
Parcels are relatively often returned without successful delivery

Only EU-wide shipping + the UK

Not the optimal shipping solution for large internationally active e-commerce companies

Bringing up the rear in climate-neutral shipping
Delivery methods and services
Among others: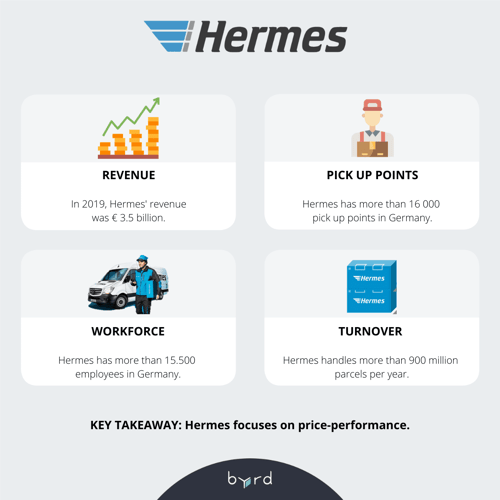 DPD
DPD Germany, based in Aschaffenburg, is part of the international DPD group, which operates under the wing of the French La Poste, the best-known logistic company in France. Incidentally, the company is one of the top parcel delivery companies in France. With 375 million parcels shipped in Germany alone in 2019 with the help of 9,500 employees, DPD Germany is one of the main players in the German CEP market. In 2019, DPDgroup was able to expand its revenue to €7.8 billion and thus remains the European leader in the parcel business.
Express delivery
National and international express services.
CO2 Neutral Options
Under the name "Driving Change" DPD has established a group-wide strategy for sustainable development within the company. Since 2012, DPD has been shipping 100% climate-neutral.
Pick-up points
7,000 parcel shops in Germany.
International focus
With DPD it is possible to ship to certain countries outside the EU, such as the USA, still, the focus is clearly on shipping within Europe.
Advantages
Simple pricing policy (5 price classes depending on the longest and shortest side of the parcel, but not on weight).

Each parcel is insured up to €520

Shipment tracking

Comparatively fast delivery for standard shipping

The front-runner in climate-neutral shipping
Disadvantages
Delivery methods and services

Among others:
DPD Air Classic

DPD Air Express

DPD PickUp 24

DPD PickUp Express

DPD PickUp Classic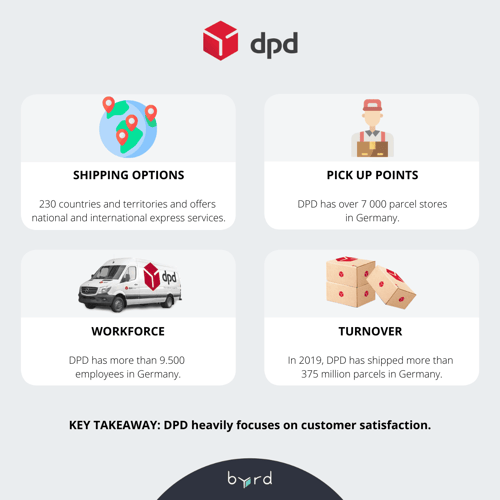 GLS
General Logistics Systems B.V. (GLS) was founded in 1989, as German Parcel back then. Today it is headquartered in Amsterdam and belongs to the British delivery company Royal Mail. The so-called GLS Beteiligungs GmbH, consisting of the markets in Germany, Austria, and Hungary, contributes €1.12 billion to 50% of the total worldwide turnover. This is made possible by more than 8,000 employees in Germany. GLS is thus the third largest courier in Germany.
Express delivery
Customers can use the ExpressParcel service to send parcels in the fastest way possible.
CO2 Neutral Options
Since 2019, GLS Germany has been delivering all parcels 100% climate-neutrally, both nationally and internationally. Further measures are being taken as part of the GLS KlimaProtect initiative.
Pick-up points
5.500 parcel shops in Germany.
International focus
Not the best international network (delivery to "only" 23 countries in the EU + the USA and Canada).
Advantages
Simple pricing policy (depending on the longest and shortest side of the parcel, but not on weight).

Each parcel is insured up to €750 (€250 more than most competitors)

Shipment tracking

Reliable shipping

Fast shipping (usually under 24h in Germany & 24h - 96h within the EU)
Disadvantages
Saturday delivery only in a few metropolitan areas

Not an optimal solution for e-commerce retailers with large shipping volumes

Comparatively few pick-up points
Delivery methods and services

Among others:
GLS BusinessParcel

GLS EuroBusinessParcel

GLS ExpressParcel

GLS FlexDeliveryService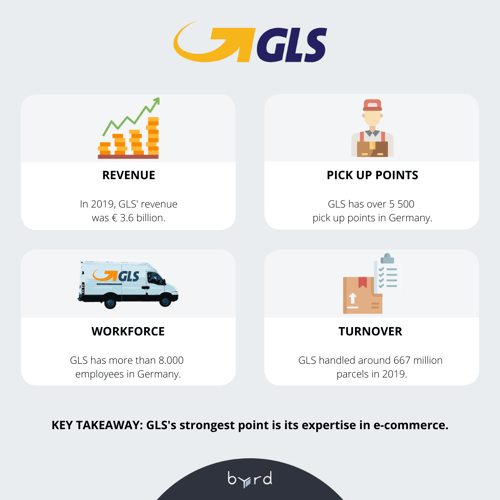 UPS
United Parcel Service of America, Inc. (UPS), is a global package and shipping services provider. Nearly 495,000 employees deliver about 5.5 billion packages a year worldwide, helping to make UPS the largest shipping company in the world. Revenue in 2019 was $74 billion, but 2020 is expected to see at least a 10% increase in revenue.
Express delivery
Fast solution with UPS Express.
CO2 Neutral Options
Like almost all companies in this sector, UPS is also increasingly focusing on climate neutrality. For this purpose, the UPS Foundation was established, however, the company is still lagging behind its competitors. UPS's climate-neutral shipping comes with a flat rate surcharge of 12 cents.
Pick-up points
Approx. 5,000 parcel shops in Germany
International focus
With 807 different airports served, UPS has a strong network around the world. Especially for exports to the USA, the parcel delivery company is ahead of its competitors. However, as their focus lies on the American market, their shipping services within Europe are not as compelling as some of the competitors' offerings.
Advantages
Disadvantages
Additional costs for delivery on Saturdays

Focus on US market

Comparatively few pick-up points
Delivery methods and services

Among others:
UPS Express Critical – International

UPS Worldwide Express Plus

UPS Worldwide Express Shipping

UPS Worldwide Saver, UPS Next Day Air

UPS Worldwide Expedited

UPS 2nd Day Air

UPS Standard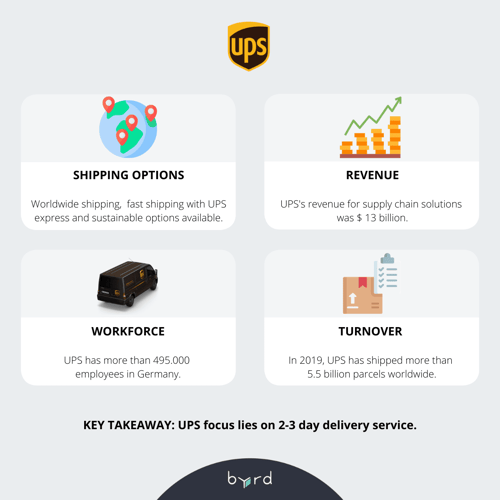 Conclusion
In this compact overview of the best parcel delivery companies in Germany, you can quickly and easily identify the differences between the various providers. You can best decide which features of the couriers are most important for your webshop and your customers. Whether the market leadership of DHL, the price-performance ratio of Hermes, the speed and customer focus of DPD, the expertise in e-commerce of GLS, or the experience of UPS are the decisive factors, we wish you every possible success with your decision.
3PL and order fulfillment as an alternative solution
For companies with several hundred shipments per month or more, it is oftentimes feasible to outsource their logistics to a 3PL (third party logistics) partner, to reduce the logistic efforts and optimize their international growth.
Partnering up with companies like byrd is, in many cases, the best solution to simplify and automate the order fulfillment processes. How this works in practice is that the online shop system is directly connected to the warehouse network via proprietary software, rendering a centralized all-in-one tool that enables automatic data transfer and order management in real-time.
Furthermore, by joining the scalable fulfillment network, you can benefit from advantageous conditions from multiple carriers and reduced shipping rates due to aggregated volumes shipped by the 3PL partner. Last but not least, having a resilient and flexible warehouse network at the reach of your hand, will help you significantly during the peak season (Christmas time, for example) as it enables you to easily avoid supply-chain bottlenecks by effortlessly relocating your inventory across the warehouse network and flexibly switching between a variety of shipping carriers available to you.
---
---