The possibility of choosing a preferred parcel delivery company can be the decisive factor between completing a purchase and abandoning the basket for many online shoppers in the UK. While some might look for a preferred delivery company based on previous experiences, others might favor ones with fast shipping. Moreover, the rise of sustainable e-commerce has increased the importance of environmentally friendly shipping options. That is why e-commerce companies should make a conscientious and well-informed decision about which parcel delivery service provider to choose, in order to raise the conversion rate.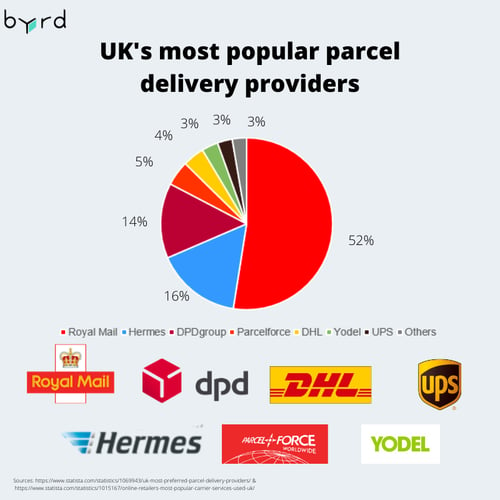 According to a study by Statista, the most popular parcel delivery company in the UK is Royal Mail by far. More than half of the respondents, which is quite impressive, prefer this option. The silver medal in the popularity ranking goes to Hermes, which is preferred by 16,1%, followed by DPDgroup (14, 2%). Royal Mail is, with a respectable gap of 36% to the second place, the most popular carrier in the industry. However, the most commonly used parcel delivery company in 2018, among leading online retailers in the UK, was Hermes. To put this into the numbers, 49 of the 100 largest online retailers provide shipping options with Hermes, while "only" 37 offer Royal Mail as an alternative. Same, as in the race for being the most popular provider, DPD could land on the podium in that category, with being a parcel shipping option for 26 out of 100 largest online retailers in the UK.
Positions 4-6 of the most popular parcel delivery providers go to Parcelforce, DHL, and Yodel with percentages of 4.7, 4.1, and 3.1, respectively. It is also those three companies that compete for the leading position behind the top trio, which seems to be out of reach for all of them, regarding being listed as a shipping option at many of the UK's top retailers. However, within this group the positions are flipped upside down, meaning that Yodel was the fourth most commonly used parcel delivery company by the top e-commerce companies in the UK in 2018. They are an option for 8 of these companies while DHL (7) and Parcelforce (6) follow closely behind.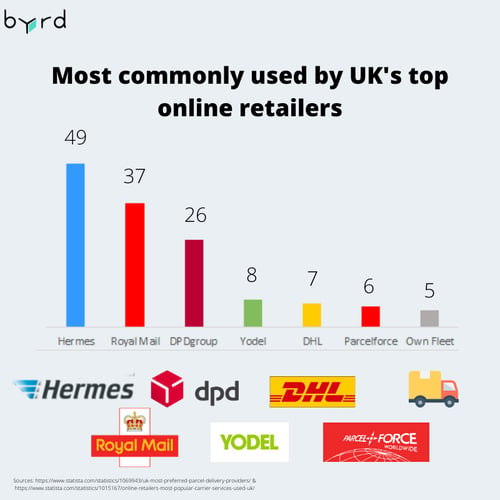 Choosing the right parcel delivery company for e-commerce in the UK
While most online retailers mainly take fast delivery and a cheap price into consideration when choosing a parcel shipping service provider, one should never forget about the customers' needs and wants. Now, what is the most important characteristic to look for? Unfortunately, there is no one-fits-all solution for every e-commerce company. Every webshop owner has to find the best fitting solution for his or her unique company. Some of the multiple factors that should be considered are
Who is the target group

What details do online shoppers look for

How many parcels are shipped per month

What products are shipped

Are products shipped within the UK or shipped across Europe

What are the company's priorities - time, safety, money, sustainability
Top 7 parcel delivery companies in the UK
We will now have a closer look at the already mentioned couriers and provide more information about each one of them. For that, we will give a general overview, details about whether express delivery and environmentally friendly options are available, and how many pick-up points there are for each of them. These pick-up points provide a convenient alternative to home delivery for people who are not at home for any reason. Also, referred to as parcel shops, they have longer opening hours and make it possible for people to pick up their packages after work, for example. Additionally, we will have a look at what extent the companies focus on international operations.


Royal Mail
The British company was established in 1516 and was in the UK government's ownership for 499 years until it was floated to the London Stock exchange in 2013. Royal Mail employs 162.000 people and had a revenue of 10,4 billion pounds in 2019. It is by far the most popular parcel delivery provider for customers in the UK and is provided as a shipping option in 37 of the UK's top 100 online retailers.
Express Delivery
Royal Mail Special Delivery Guaranteed by 9 am and 1 pm guarantees to deliver the parcels by the next working day domestically.
CO2 Neutral Option
No option for retailers.
Pick-up Points
23.000 parcel shops
International Focus
Focus mainly on the UK, however, it is also a good option for exporting from the UK.
---
---
Hermes
Hermes was founded in 1972, is owned by the German retail company Otto GmbH and is headquartered in Hamburg. Hermes Europe GmbH employs approximately 15.000 people and had a revenue of around $3.7 billion in 2019. It is the second most popular courier company in the UK and leads in the category of most commonly used parcel delivery service option at the UK's top 100 online retailers.
Express Delivery
Next day & stated day options available.
CO2 Neutral Option
The company's goal is to deliver emission-free by 2025. They have a fleet of 1500 electric cars at their disposal. However, there is no option to deliver emission-free yet.
Pick-up Points
More than 40.000 pick-up points in Europe and more than 4.500 in the UK.
International Focus
Hermes delivers and focuses on 20 countries in Europe. They offer country-specific delivery options. Besides the UK, they are specialized in Germany, France, Austria, and Russia.
DPD
The France-based company, founded in 1999, delivers parcels to the whole world, while they primarily focus on delivery across Europe. The DPDgroup employs 77.000 people and has an annual turnover of approximately $8,9 billion. They occupy third place in both being the most popular delivery option in the UK and being listed as a shipping option in most of Britain's top 100 e-commerce companies.
Express Delivery
DPD offers various types of delivery, including a next-day option.
CO2 Neutral Option
DPD sets off 100% of its carbon emission by purchasing carbon credits. They are in the top 3 in the CEP (Courier, Express, Parcel) industry is voluntarily doing so and account for 3% of the total voluntary offset market in Europe.
Pick-up Points
22.000 pick-up points across Europe, more than 2.500 in the UK.
International Focus
DPDgroup has a very strong focus on delivering parcels across Europe.
Parcelforce Worldwide
Parcelforce is a trading name of the abovementioned Royal Mail Group Ltd. The British company was founded in 1992 and has around 4.500 employees. For European delivery it partnered up with GLS which's parent company is Royal Mail as well. Parcelforce worldwide is the fourth most popular parcel delivery service provider in the UK and is an option at 6 of the top 100 online retailers in its home country.
Express Delivery
The company offers express delivery for domestic and international shipping.
CO2 Neutral Option
GLS offers climate-neutral shipping services in some countries like Germany.
Pick-up Points
N.A.
International Focus
Focus on deliveries across Europe.
DHL
Founded in 1969, DHL, a division of the world's biggest logistics company Deutsche Post DHL, is a German parcel delivery service company that recorded revenue of €4.05 billion for e-commerce solutions in 2019 and employs 520.000 people worldwide. It is in the top 5 of both, the most popular shipping service company in the UK, and the most commonly used by the UK's top 100 retailers.
Express Delivery
DHL Express, strong focus on next-day delivery.
CO2 Neutral Option
There are various environmentally friendly options available, reaching from making the emission transparent to emission offsetting possibilities and options for circular economy solutions. The company's goal is to be emission-free by 2050.
Pick-up Points
N.A.
International Focus
One of DHL's biggest advantages is the strong focus on international parcel delivery. The company ships to 220 countries and regions including North Korea.
Yodel
The British company is privately owned by the famous Barclay brothers. It was founded in 2008 and acquired the B2C operations of DHL Express UK in 2010. The company employs around 4.500 people and generates annual revenue of around $500 million. Regarding the popularity, it is in sixth place in the UK, while it is listed as a delivery service provider at 8 of its country's top 100 e-commerce companies, ranking fourth in that category.
Express Delivery
With its service Yodel Xpress, the company offers a quick next-day delivery service.
CO2 Neutral Option
No options available.
Pick-up Points
N.A.
International Focus
Yodel offers the possibility to ship parcels across Europe within 3-5 days and deliver to the rest of the world within 6-10 days.
UPS
The American company was founded in 1907 and is headquartered in Atlanta. They employ nearly 500.000 people worldwide and have generated a revenue of $13 billion for supply-chain solutions last year. They rank seventh in the category of being the most popular parcel courier in the UK.
Express Delivery
With services like UPS Worldwide Express Plus and UPS Worldwide Express Shipping you can deliver your parcels the next day.
CO2 Neutral Option
UPS partnered with the American company GreenBiz to provide more environmentally friendly solutions for courier services. Moreover, UPS carbon neutral shipping is an offered service for sustainable delivery.
Pick-up Points
N.A.
International Focus
As UPS is an American company, its main focus is on the US market. Still, they are an experienced company for shipping in Europe.

Conclusion
To put it in a nutshell, choosing the right parcel delivery company is not only important in terms of price efficiency and fast delivery but can also be an important decision to increase the conversion rate and customer satisfaction. Putting some time for research into that, before making a decision, will pay off in the vast majority of cases. It is also important to consider this factor when choosing a 3PL service provider. Some fulfillment companies rely on one shipping service provider while others offer more flexibility in this regard. For e-commerce businesses, it is advantageous to outsource the fulfillment to a logistics provider that does the latter. Doing so minimizes risks in times of seasonal peaks, during which many shipping companies are often overwhelmed. During those times, parcel companies may have technical time-outs or other problems may occur which can lead to delivery issues for your orders - being in a position to switch between carriers is therefore favorable. Also, having access to various shipping providers enables businesses to find the best fitting provider for different shipments - depending on size, destination, and urgency.
In this blog, we provided a detailed overview of the most popular parcel courier providers in the UK and which of these are the most commonly used by Britain's biggest online retailers. Another approach of optimizing the logistics process many companies nowadays choose is, to try to gain access to multiple shipping companies through a 3PL (third party logistics) service provider. Whatever your decision will be, we wish you good luck and a successful business venture.
---
---
| | | |
| --- | --- | --- |
| | | |
| Top delivery companies in Germany | | Top delivery companies in France |
/