Let's not beat around the bush. Amazon is the absolute top dog in e-commerce and that's not going to change anytime soon. However, independent online stores are gaining in popularity and can now compete with Amazon sellers.
Enabled by easy-to-use shop systems such as WooCommerce or Magento, small and large e-commerce companies can offer an individualized customer experience.
Above all, Shopify wants to support online retailers to act independently of the American giant Amazon. In this regard, Shopify CEO Tobias Lütke metaphorically spoke of "equipping the rebels with the right weapons to win this battle".
Find out how you too can successfully differentiate your online store from Amazon.
But first, let's take a look at why Amazon is so successful.
By far the greatest advantage of the American e-commerce platform is undoubtedly the enormous number of visitors who actively search for products of all kinds. It is not for nothing that Amazon is being increasingly used as a search engine. In fact, 74% of U.S. product searches begin on Amazon rather than Google.
For example, the online giant recorded 2.7 billion visits to Amazon.com in July 2021. A whopping 488 million visits within one month could be counted for Amazon.de. 435.3 million visits were counted on Amazon.co.uk and just under 156 million visits were recorded on Amazon.es, and 190 million Amazon.fr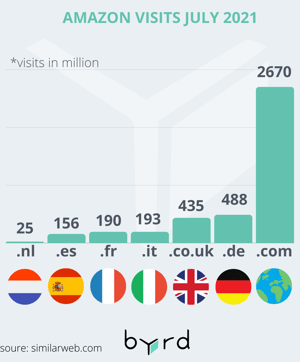 So you can see that Amazon is not unjustly dubbed the world's largest shopping center. It's not for nothing that its 2020 revenue amounted to $386 billion.
Everyone knows that Amazon originally started as an online bookstore. What few people know is that there was already a clear strategy behind it. Jeff Bezos collected data on attractive customers at an early stage. He identified people who read books as a potentially high-spending and therefore attractive target group. Not a bad idea as it turned out.
A good 27 years later, data still plays an overarching role in the company. Every day, thousands of small and large experiments take place to constantly optimize the customer experience and journey. With nearly 10 million Amazon sellers and a sheer unimaginable number of website visitors, this quickly generates conclusive results. The results of these experiments can then be just as quickly converted into optimizations to improve the customer experience and conversion rates.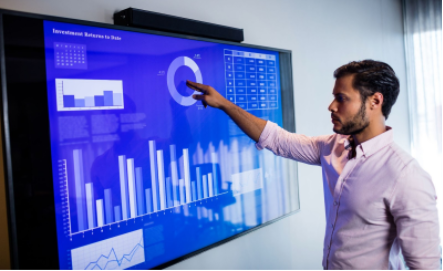 Amazon has also set new standards in terms of logistics and shipping.
What would have been considered fast delivery a few years ago is now taken for granted by customers. The customer's expectations for multinational corporations or smaller online stores rarely differ in that sense
Smaller and medium-sized companies, however, can hardly keep up with the high standards set by Amazon. Outsourcing logistics, for example to 3PL companies, is therefore often the only way to successfully compete.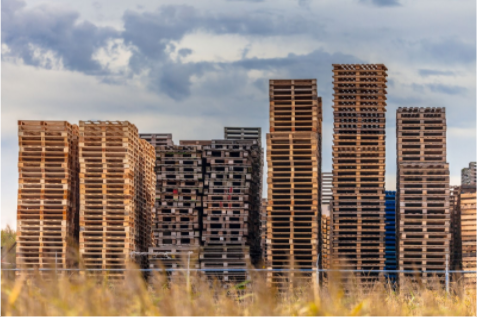 Why it makes sense to run your own online store
The previous points show what the advantages of Amazon are. So why set up your store on your own people may ask?
While Amazon has an enormous reach and is, therefore, the logical starting point for many online shoppers, the company is of course aware of its market power.
It comes as no surprise that Amazon takes advantage of this power, financially and by introducing ever new restrictions to its merchants. In addition, other limitations clearly speak against selling on the e-commerce platform and are in favor of operating one's own online store.
No possibility for customizable branding
One of these limitations that FBA sellers have to face is that their own brand is overshadowed and usually even completely left out of the equation. In fact, many Amazon customers don't even know that there are various retailers behind the individual offers.
The typical Amazon boxes that everyone knows also contribute to this. Thus, Amazon sellers miss out on the opportunity to benefit from the increasingly important unboxing experience.
Extreme price competition between FBA sellers
Due to the low visibility and importance of retailer brands on the platform, the purchase decision-making often takes place exclusively at the price level. This leads to real price battles, in which European retailers often lose out.
In many cases, Asian sellers come out on top. However, if purchasing decisions are made primarily or even solely based on prices, product quality often suffers in the long run.
Strong dependence on Amazon
Another considerable disadvantage is the dependence of Amazon retailers on the American e-commerce giant. This is not just about the aforementioned specifications regarding packaging and the like. Much rather, retailers have no say in new regulations and specifications.
There are constant changes, which in most cases do not bring more advantages for the seller. Such an adjustment of regulations can potentially ruin a functioning business from one day to another.

Loss of control over inventory
This loss of control also plays a crucial role in the fulfillment process. Inventory is stored in one of the many FBA fulfillment centers, with sellers not seeing the goods themselves. Many people don't know about so-called co-mingling. In fact, Amazon sorts products by kind, which means that it is not guaranteed that your customers will actually get the products you've sent to the Amazon warehouse.
One way around this is Amazon's so-called fulfilled by merchant (FBM) method, where sellers themselves are responsible for fulfillment. Again, there are strict requirements to qualify for this.
Learn more about the advantages and disadvantages of FBA and FBM.
Another, even more strict, option is the Seller Fulfilled Prime (SFP) option. It allows you from benefitting from all advantages FBM brings to the table. Additionally, you'll be able to sell with the Amazon Prime badge, which can be a critical factor in your endeavors on Amazon. However, being eligible to the SFP method, you need to meet strict guidelines.
Rising costs of Amazon's fulfillment
Perhaps the deciding factor driving many Amazon merchants away from FBA and toward independent e-commerce store systems is ever-rising costs.
For example, Amazon's fulfillment costs have gone up 20% in the past 18 months. In addition, there are warehousing costs and some other additional expenses that increase every year. It is to be expected that Amazon fees will continue to rise in the future.

Being successful in e-commerce without FBA
There is no question that Amazon can leverage certain economies of scale. However, this size can also become an obstacle. Criticism of Amazon's business practices is becoming more and more vocal. Shop systems like Shopify, on the other hand, seem to have momentum on their side.
With the promise of democratizing e-commerce, they are currently proverbially riding the wave. Independent e-commerce companies can thus capitalize on the bonus of authenticity.
In the following, we will show you other areas where you as an online retailer can outperform Amazon sellers.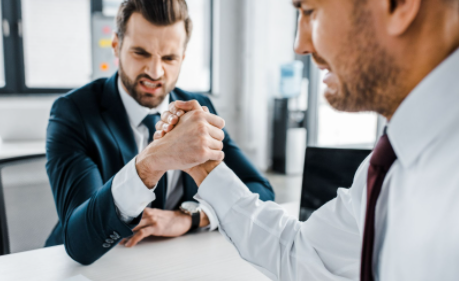 Amazon is known for offering every imaginable product category. However, this also means that the e-commerce giant is not considered an absolute expert in certain niches.
As an online retailer, you should take advantage of this. Because one thing is certain, you are an expert in your industry. Build your marketing efforts on this and benefit from the trust that is placed in you.
Capitalize on your branding
Why do we pay €5 for a Starbucks coffee and more than €2 for a can of Red Bull that costs about €0.08 to produce? The buzzword here is branding. In fact, at no point did these brands engage in a price war. After all, there are plenty of cheap coffee and energy drink alternatives.
A much higher price can be justified by focusing on quality and even more on the feeling conveyed by buying a well-known brand. This should also be the goal of your online store.
Win the trust of online shoppers and prove that your brand is worth investing that extra euro or two. In this way, you avoid extreme price war that prevails among FBA sellers.
Those who sell via Amazon can't make use of branding. Their products are generic and the retailer behind the items usually remains invisible to the buyer.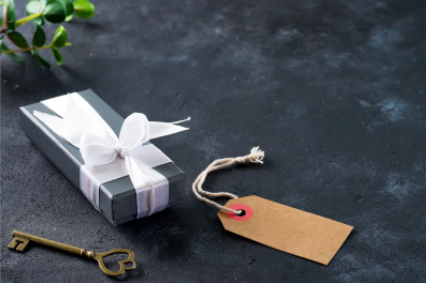 Capitalize on packaging and unboxing experience
One of these branding aspects is the packaging. It is literally the first physical touchpoint of the customer with your product. By generating shares of the unboxing experience via social media, you tap into a new organic marketing channel. At the same time, this method is much more influential than display ads, for example.
In addition, the packaging is also a decisive factor for customer satisfaction. The color, design, and feel of the packages are incredibly important. After all, in modern online retailing, the package is seen as an extension of the actual product.
So while Amazon sends the generic packages, you can add that little extra as an independent e-commerce merchant. This can be, for example, a handwritten card. There are no limits to your creativity. Have you ever thought about scent marketing, for example?
Highlight your focus on sustainability
The rise of sustainable e-commerce is one of the most important trends of recent years. That's not going to change anytime soon. In fact, one report shows that environmental friendliness influences the purchasing decisions of no less than 88% of online shoppers.
2/3 of the respondents also state that this aspect has become more relevant since the pandemic and 55% would pay more for environmentally friendly shipping. In contrast to Amazon retailers, you have the opportunity to focus more on sustainability. True to the motto: "Do good and talk about it", you should let potential customers know about your sustainable operations.
Customer support and customer experience
Amazon is renowned for its efficient way of working. This has shaped the company the way it is today In some business areas, however, this can also be a disadvantage. For example, there is no emphasis on good customer support. By the way, this applies to end customers as well as FBA sellers.
So, this is another area where you can outperform Amazon. With personal, solution-oriented customer support, you can often turn dissatisfied customers into loyal and returning buyers. Additionally, you prevent negative reviews and bad word-of-mouth (or word-of-mouse). It's not unusual that a solved problem even results in positive public feedback.
Many online shoppers frequently buy on Amazon, but since FBA seller does not play a decisive role in the purchase decision, no relationship is created between the merchant and the buyer. When being asked where they bought this product, the vast majority would name Amazon and not the seller itself. Moreover, Amazon sellers do not know who their customers are as the online platform keeps that information to itself.
Here, too, online businesses with their own web store have a clear advantage. The aforementioned measures, such as using eye-catching packaging, branding, and helpful customer support, increase customer loyalty.
What's more, when it comes to creative customer loyalty solutions, nothing stands in the way of independent retailers. These can range from building an email list to social media campaigns, loyalty clubs or communities, and personalized offers. It is also important to collect direct feedback from customers and draw the right conclusions from it.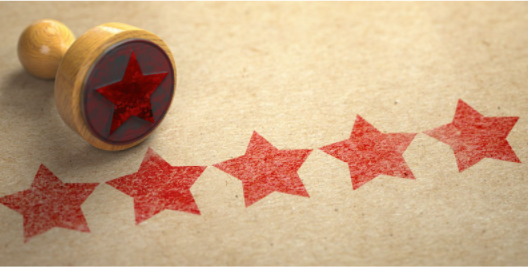 How 3PLs can help you to be independent of FBA
More and more companies are using the services of so-called 3PL companies. They take over the entire fulfillment process and help online companies keep up with Amazon's strong logistics through a high degree of automation.
Optimized processes from warehousing to picking and packing, shipping, and returns management lead to trouble-free order fulfillment.
This allows you to focus on the factors that give you the decisive advantage over Amazon sellers and Co. So while fulfillment companies like byrd help you achieve equivalent order fulfillment results, you remain flexible, can use branded packaging, and can offer carbon-neutral shipping.
In addition, your brand is in the spotlight and you can offer your products in your authentic way. This reduces your dependence on Amazon and allows you to build a stable business or secure a second pillar next to your FBA efforts. In case you want to maintain your presence via Amazon and still want to fulfill your orders independently of Amazon, you can use the FBM method. byrd offers an FMB integration to seamlessly integrate your online shop.
Are you considering working with a 3PL company to reduce your dependence on Amazon?Then we would be delighted if you liked to talk to one of our e-commerce experts without any obligation.
---
---