If there is an increase in returns due to poor quality, it is important to act as quickly as possible. In such cases, you have to assume that you have lost the customer for good in most cases. So work on the quality of your products and adapt your marketing promises to reality.
Returns resulting from an order that is too large are particularly annoying for online retailers. This is particularly the case for online purchases of clothing/fashion, electrical appliances, and accessories. At the same time, according to the Global Web Index 2019, these product segments are generally the most frequently returned. E-commerce companies in this sector sometimes already anticipate up to 40% of sales as returns.
So, the decision to be made here is whether to pass on the resulting costs to all customers by increasing the products' price or charging the return shipping costs to the respective individuals. Both cases harm the conversion rate. The key here is to find the optimal solution between price increases and shipping costs. As a rule, customers react comparatively less sensitively to price increases, but this often discourages "uncomplicated" and thus profitable customers, while indirectly encouraging the behavior of planned returns.
Make data-driven decisions to satisfy the right customers and let go of unprofitable ones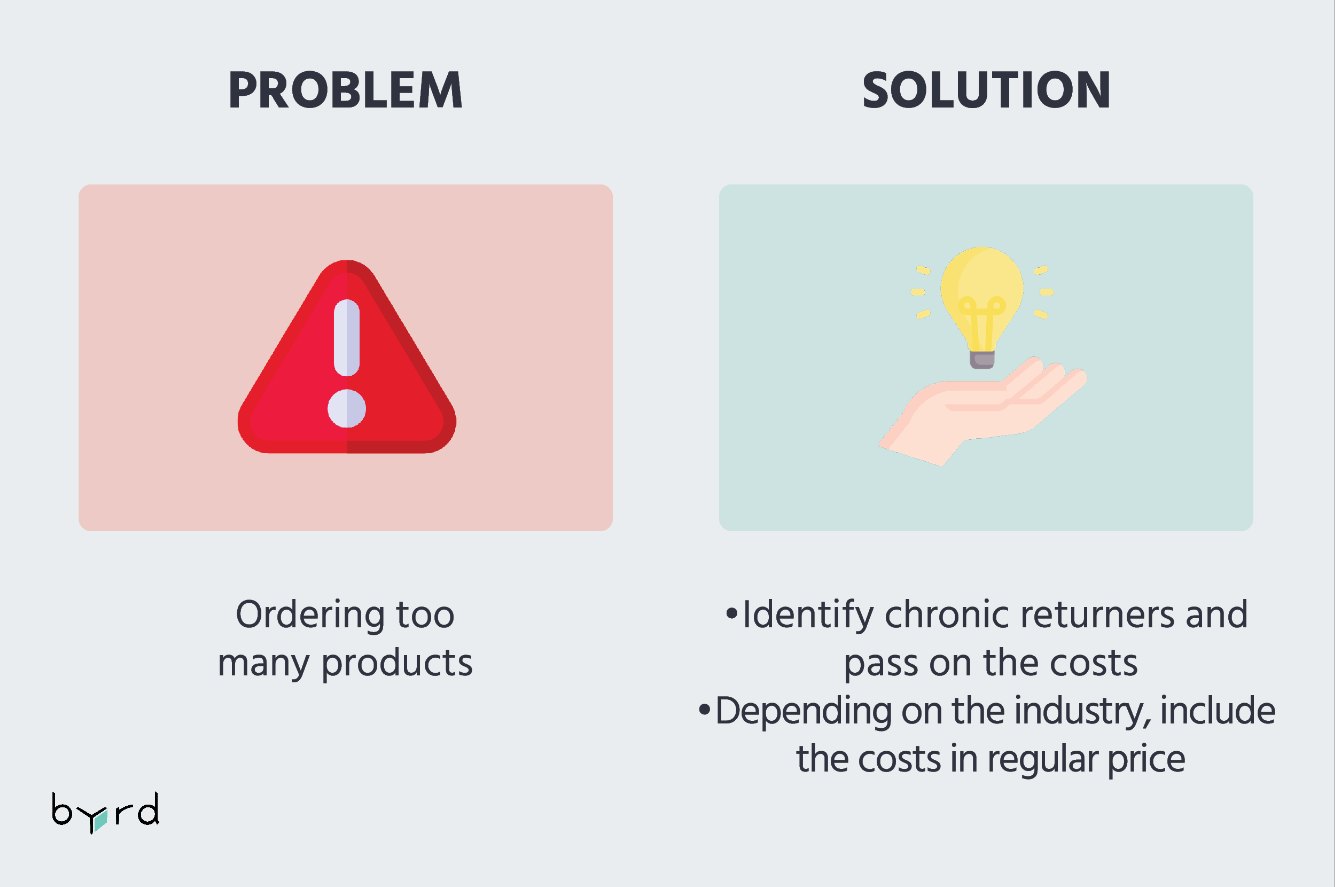 Practical returns management tip:
A 14-day right of return for online purchases is stipulated in EU law and, apart from that, is standard business practice anyway. However, there is an exception to this rule: for example, this is not the case when products are personalized. Sports brands, for example, take advantage of this. Football boots, for example, are products that are often returned. For this reason, most online retailers offer the option of having the shoes personalized free of charge, for example with the customer's initials. This small change can rule out the possibility of a return. Of course, you should share this fact transparently with your customers, because at the end of the day, your business will only be successful with satisfied customers in the long run.
Returns due to delivery problems
Another important cause for returns is delivery problems. These can be related to incorrect delivery addresses (make sure that your customers check all the details again and that there are no ambiguities) or poor service from the relevant parcel delivery services. Therefore, pay attention to what is the optimal parcel service for your shipments. It is crucial to give your customers the possibility to track deliveries and redirect them to a parcel station, if necessary. Options for specific time slots or the possibility to leave the package with a neighbor, for example, increase the delivery success rate enormously. Customers also expect fast delivery, usually within 2 days. It is therefore important to make the entire fulfillment process as fast and effective as possible. Especially the pandemic and unexpected events like the blockade of the Suez Canal have shown us how vulnerable the whole supply chain is to external factors. Therefore, think about storing your products decentrally in different logistics centers so that you are always able to deliver to your customers in a timely manner.
Put your focus on reliable logistics in both directions of the supply chain (forward and reverse logistics)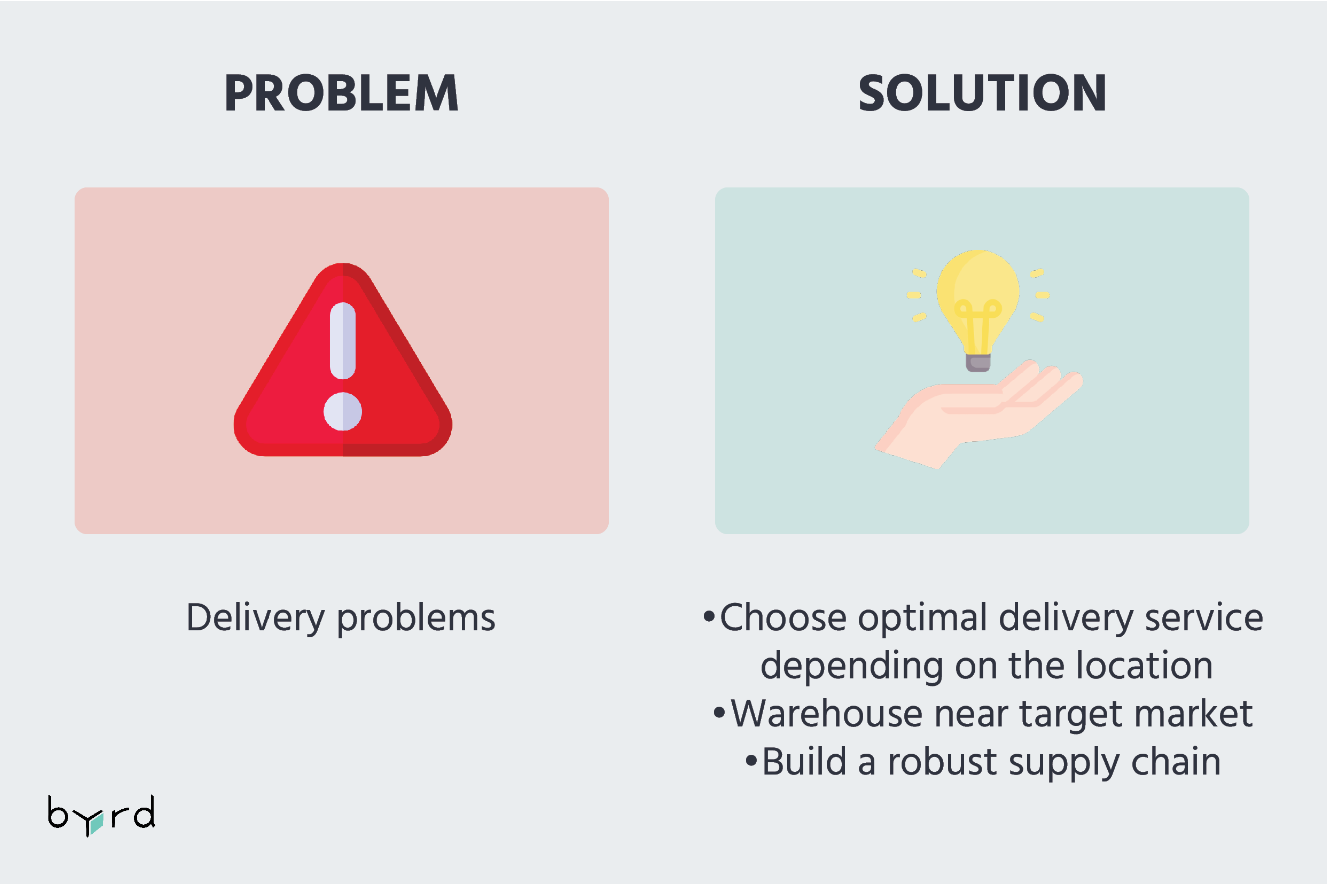 In summary, it can be said that the problem must be treated at its root. As is often the case, online retailers who know their customers and understand their problems achieve the best results. In this case, existing problems can often be solved without much effort.
Besides understanding the needs of your online shoppers, it is important to find creative and customized solutions.
Retailers need to get creative to reduce resources needed since returns can destroy a business
– Jordan Knapp, Head of New Markets, Shopify
Expert Tip:
Extend the return period for your customers. You might think that this will lead to even more returns but in most cases, however, this is not true. An extended return period reduces the perceived urgency for your customers to make a decision. Often the return is then postponed and, as everyone knows, sometimes you just have to learn to love certain things. In psychology, this phenomenon is called the Endowment Effect. So overall, the average return rate goes down due to an extended deadline. Incidentally, a longer deadline is perceived positively by customers in the purchasing process and leads to a higher purchase rate.
Returns are not only an enormously important satisfaction factor in e-commerce, in fact, but they are also part of the law in the EU due to the following regulations.
Right of withdrawal
The right of withdrawal is incorporated in EU law and states that online customers have the right to return goods within 14 days and without giving any reason. However, this regulation is suspended for personalized items, quickly perishable products, and sealed hygiene products that were opened.
Legal guarantee
The customer has a warranty obligation for 2 years if the goods were defective at the time of delivery. For the first 6 months, there is a reversal of the burden of proof, which gives the customer more rights.
Commercial guarantee (warranty)
Legally, the guarantee plays a relatively minor role. It exists only based on voluntariness on the part of online retailers. An example of this would be a retailer stating that there is a 15-year guarantee for their mattresses. Note, however, that this gets legally binding if it is used in marketing activities.
Callback
A callback takes place when products that have already been sold pose a safety risk. In this case, online shoppers are entitled to a replacement of the value of the goods, even after the warranty period has expired.
Despite all precautions, it is simply not possible to prevent a certain percentage of your sales from being returned. The key here is to keep the work it creates as low as possible and develop an optimized and efficient returns process. A simple returns process reduces costs, prevents a big impact on your profit margins, and delivers customer satisfaction.
As is so often the case in e-commerce, automation is the decisive factor in increasing effectiveness.
Make sure that every aspect that can be automated is automated. This will save you time and money. Incidentally, in most cases, this drastically reduces the error rate as well.
An important factor, especially in terms of customer satisfaction, is the inclusion of return labels. Just under half of customers expect this when making a purchase.
Alternatively, you can (and if possible, you should) also offer a returns portal. In this case, return labels are available digitally. On-demand return labels have three advantages:
Better

unboxing experience

for the customer

Less effort for your company (printing, enclosing, etc.)

Sustainable solution (paper, ink, etc.)
A digital returns portal also brings other advantages:
| | | | |
| --- | --- | --- | --- |
| Reduce pressure on customer support | Full transparency for all parties involved | Digitally capture the reason for your product returns | Drive customer satisfaction and increase consumer loyalty |
| | | | |
| Save time and resources by turning the return process into customer self-service. The time can thus be used for more important things | Customers benefit from a customer-friendly process for registering returns and you get to know which items are being returned, well in advance | Gain valuable insights into the exact reasons for returning products. Your customers can choose from a fully customizable set of reasons for return | The self-service return process provides a better experience for your customers. They will also remember this the next time they buy your products online |
If your business model, like many others, cannot prevent returns, working with a 3PL fulfillment partner could be the right solution for you. These companies specialize in optimizing the supply chain fulfillment and logistics for online shops. The same goes for reverse logistics; by bundling together returns from multiple companies, they can negotiate advantageous prices with parcel service providers due to their high volume of shipments. In turn, 3PL fulfillment providers can pass on attractive conditions and cost-optimized logistics processes to online retailers, enabling them a tangible competitive advantage on the market. This not only saves you a lot of time but also reduces the costs of your reverse logistics.
---
---
How to use returns to your advantage
So far, we've shown you how to reduce e-commerce returns and optimize the return process. In this section, we focus on using returns as a sales argument and customer loyalty initiative.
84% of online shoppers say they would be more likely to return to the same company after a positive experience with returns.
At the same time, 74% also say that retailers should improve their return policies. So the result is, that there is a lot of catching up to do here.
Moreover, a study in the prestigious Journal of Marketing demonstrated, that when customers received free shipping on returned items, their purchases over the next two years increased by between 58% and 357%.
As a business practice, returns are expensive; as marketing activities, they are cheap
– L.L Bean
Reverse logistics is one of the overlooked areas to leverage as a competitive advantage and differentiator against the competition. A study by Walker shows that 2021 will be the first year that customer experience is more important as a selling point than price or the product itself. According to the study, 2 out of 3 companies compete on this level.
The customer experience has replaced price and product as the decisive selling point
Apart from that, sales can be increased and customers can be retained. In fact, non-transparent or unsatisfactory return policies are two of the key reasons for purchase abandonment and poor conversion rates. That's because customers have come to expect a return process that is as simple as the purchase itself. Nearly 9 out of 10 shoppers look at return policies during the purchase lifecycle. So, comparable to free or low-cost shipping and CO2-neutral delivery, this factor now plays an incredibly important role in the purchase decision process.
If a purchase is made and then returned, a transparent returns process is the best way to turn a dissatisfied online shopper into a loyal customer. You should set up a process where customers can track the return and always know where the package is. Once the product arrives, your payment should be triggered. This leads to customer satisfaction and reduces the burden on customer support.
What makes a good return policy?
The first, and often decisive, factor of a successful returns strategy is the transparent and simple description of your return policy on your website.
Simple Language
Describe in short and simple language what your customers need to pay attention to. If necessary, also offer a short explanatory video. Online shoppers are often lazy and will appreciate not having to read about what to look out for themselves.
Clear timeframes for returns
Make it unmistakably clear to website visitors how long the return policy lasts. Negative surprises will inevitably drive your customer away and in many cases lead to negative word-of-mouth.
Money back or voucher
Offer your customers several ways of compensation to keep and make them loyal customers. Bounce-back offers are a good way to do this. Instead of getting the money for the item, online shoppers can opt for discounts or coupons that exceed the original value.
Prominent Positioning
Make sure that all this information is clearly visible to the customer. This way, you avoid misunderstandings, increase trust and increase the conversion rate.
Emphasize the harmful effects of reverse logistics on the environment
Incidentally, online shoppers aged 18-25 are most likely to return their products – women more than men. Thus, the group of those who return the most products coincides with that of the most environmentally conscious shoppers. For this reason, making online shoppers aware that returns have a negative impact on the environment is often enough to greatly reduce returns in some cases. Try it out!
All in all, returns are still one of the biggest challenges in the e-commerce business. At the same time, they are also a huge opportunity for online retailers to differentiate themselves from competitors, retain customers and even increase sales. By now, you already know what reverse logistics is, and how to optimize the returns process through automation or by partnering with a fulfillment service provider. In addition, we also skimmed through the most common reasons for returns in online retail and how to reduce returns by eliminating them in advance.
And lastly, we've built an effective case for why you should have a solid returns strategy and why this can be an important differentiating factor for the success of your online business, while also serving you as an effective tool to gain loyal customers and increase trust even before the purchase. Therefore, it goes without saying that you need to offer a good balance between the perfect service and optimized processes for your customers, and costs for your reverse logistics. Howbeit, by reading this blog you already possess the knowledge and industry know-how to build a good reverse logistics and return policy for your e-commerce business.
---