BRT 24%

Poste Italiane 16%

Amazon Logistics 11%

UPS 10%

GLS 10%

FedEx 7%

DHL 6%

TNT 6%

Others 10%
Some other parcel delivery service providers in Italy worth mentioning are
Citypost SpA

Asendia SRL

Speedy SRL

Defendini Logistica SRL
Top 5 parcel delivery services in Italy
Let's now take a closer look at the leading parcel delivery companies in Italy.
BRT Bartolini (DPDgroup)
The Bartolini Company is one of the best-known parcel services in Italy. In 2020, the parcel service provider was fully integrated into the DPDgroup.
Express delivery
BRT offers express shipping with guaranteed delivery within 24 hours.
CO2-neutral delivery options
No specific information could be found on climate-neutral options.
Pick-up Points
180 branches
International focus
BRT Bartolini is currently mainly specialized in the Italian e-commerce market.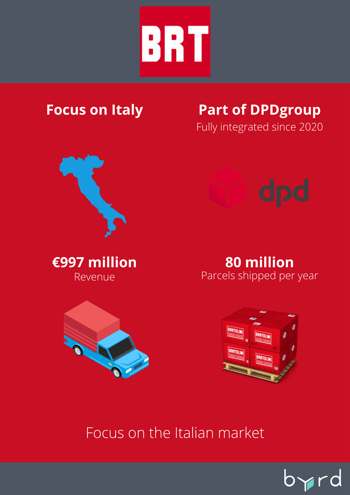 Poste Italiane
The origins of Poste Italiane go back more than 160 years. This is one of the reasons why the company is considered the most traditional solution for parcel delivery in Italy. Today, almost 64% of the parcel service is in Italian state hands. With around 140,000 employees, the company is one of the largest employers in the country.
Express delivery
With the Poste Delivery Express service, Poste Italiane offers a shipping option where parcels up to 30 kg can be sent within 1-3 days to most cities in Italy.
CO2-neutral delivery options
There are currently no climate-neutral shipping options, but the company says it uses 95% renewable electricity throughout the company.
Pick-up points
13,000 locations
International focus
Poste Italiane's focus is clearly on the Italian e-commerce market. However, there are also international options that allow cross-border shipments.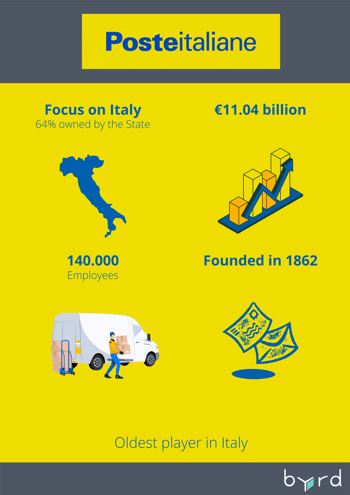 UPS
Founded in 1907, the company is headquartered in Atlanta and employs more than 500,000 people worldwide. While the majority of the $13 billion is attributable to the North American market, UPS holds the shared 4th place of the most popular parcel services in Italy.
Express delivery
With services like UPS Worldwide Express Plus and UPS Worldwide Express Shipping, packages are delivered the next day.
CO2-neutral delivery options
UPS offers environmentally friendly shipping with the Carbon Neutral shipping option.
Pick-up points
N.A.
International focus
UPS's main focus is clearly on the North American market. Nevertheless, this parcel service provider is also an established and strong player in Europe.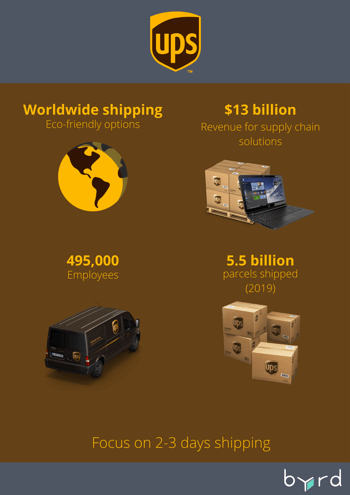 ---
---
GLS
General Logistics Systems B.V. (GLS) was founded in 1989, then as German Parcel. Today it is headquartered in Amsterdam and is part of the British shipping service provider Royal Mail. According to its own information, GLS has 159,000 customers in Italy. Germany, France, and Italy alone accounted for around 55% of its €3.6 billion (2019-2020) revenue.
Express delivery
Customers can use the ExpressParcel service to send parcels in the fastest way.
CO2-neutral delivery options
GLS offers climate-neutral deliveries in many countries (e.g. 100% of deliveries in Germany). In Italy, this option does not yet exist, but the company takes measures to offset the environmental impact.
Pick-up points
N.A.
International focus
The focus of GLS is clearly on parcel shipping within Europe. Nevertheless, services are also offered in Canada and the USA, for example.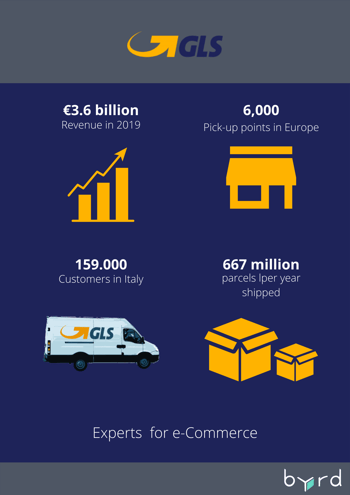 FedEx
FedEx Express Europe, with its headquarters in Hoofddorp in the Netherlands, is the employer of 50,000 employees. FedEx Express was founded after the American parent company acquired the Dutch logistics provider TNT in 2016. With more than 25,000 delivery vans and 6,500 trucks, the parcel service has a strong overland fleet, in addition to its presence via air routes.
Express delivery
FedEx Express Europe also has next morning and next day delivery options with its FedEx Europe First & FedEx International Priority options.
CO2-neutral delivery options
FedEx has set itself the goal of being CO2 neutral by 2040. To achieve this, it says it is investing around €2 billion in sustainability. At present, however, there is no climate-neutral delivery option in Italy.
Pick-up points
N.A.
International focus
FedEx also has its main focus in North America. With the takeover of TNT, however, it has been able to add existing infrastructure in Europe as well as know-how about the European parcel market. This makes FedEx one of the leading parcel services in Europe.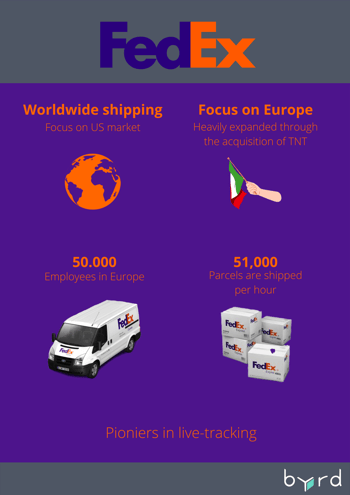 Conclusion about the most popular parcel services in Italy
Choosing the right parcel service has continued to grow in importance in 2021. After all, in addition to product quality, price, and brand, shipping conditions are now among the real decision-making criteria when buying online. Fast, reliable, and increasingly environmentally friendly shipping is enormously important.
Today, also in Italy, shipping is a real differentiator and offers you the opportunity to stand out from the competition. Offering multiple parcel delivery services and shipping methods helps to increase the conversion rate on your website and has a direct impact on your sales. Therefore, look for the most popular parcel delivery services in Italy in your industry to maximize your sales. If you need help with this, fulfillment companies in Italy like byrd can help you get flexible access to a wide range of shipping providers and carriers.