As a Dutch-based webshop owner, you are most likely also interested in, besides the Dutch market, shipping your products to other European countries such as Germany, United Kingdom, Denmark, and France. The same is true for international e-commerce companies that engage in shipping to the Netherlands and within the country. Being known as the gateway to the European market for e-commerce companies shipping from outside the EU, the Netherlands' parcel delivery companies are an important factor also for global players. As such, effective logistics should be underestimated by neither domestic nor international e-commerce businesses. To put the importance of logistics on the success in other markets into perspective, 153 million parcels were sent cross-border from the Netherlands and 351 million parcels (of which, 240 million can be assigned to the B2C sector) were handled domestically in 2018.
Therefore, in order to establish and optimize Dutch-based order delivery for your webshop, your focus should be on choosing the most efficient parcel delivery company in the Netherlands. The majority of webshop owners primarily look for cheap shipping and fast delivery. Especially the speed of the delivery became a business standard, as roughly 90% of shipped parcels in 2020 are already delivered the next day and that is also the standard Dutch customers expect from your business. So, to help you out with reaching the standards when shipping domestically or across Europe, we prepared a detailed overview of the top 5 shipping companies in the Netherlands that are a great option for your e-commerce business.
How to choose the best delivery company for shipping to the Netherlands
As is often the case, there is no one-fits-all solution, so when choosing the delivery service provider, e-commerce companies should take details into consideration. As all delivery companies have different strengths and weaknesses, finding the best fitting partner for your webshop might result in immediate or, alternatively, long-term positive effects. Which option fits your business model the best, is for you to decide. On the basis thereof, we are emphasizing the most important questions webshop entrepreneurs should take into consideration
How many parcels are being shipped per month/week/day

What is the size of the parcels your online shop ships

How much do the parcels weight

Are the parcels shipped internationally or domestically

In case they are shipped internationally; are they "only" shipped to neighboring countries like Germany, are they shipped across Europe, or are they shipped globally, for example to the USA or alike

Does it make sense to use the services of more than one delivery company

What are your priorities, what do your customers expect
Top 5 parcel delivery companies for shipping to and from the Netherlands
In this part of the blog, we are listing the top 5 parcel delivery companies that might be suitable for shipping your webshop's parcels in the Netherlands and across Europe. In this overview part, we are listing some of the most important facts and figures about these companies, as well as their advantages and disadvantages
Shipping in the Netherlands with PostNL
PostNL, formerly known as TNT NV until TNT Express was separated from it in May 2011, and the remainder of the company was renamed PostNL, has been assigned by the Dutch government to carry out the universal postal service. Most notably, PostNL handled approximately
two-thirds of the domestic parcel deliveries
in the B2C market in the Netherlands in 2018. Other interesting facts and figures about this shipping provider include:
PostNL delivers 900 000 parcels throughout the Benelux per day

PostNL workforce includes 50 000 employees

PostNL carries out cross-border activities under the name of Spring
Advantages



Fast domestic parcel delivery

Experts in the Netherlands

Dutch company
Disadvantages
Other types of parcel delivery services
PostNL Standard

PostNL Service Point

PostNL Mailbox Parcel

PostNL Abroad (across Europe)

PostNL Globalpack (worldwide)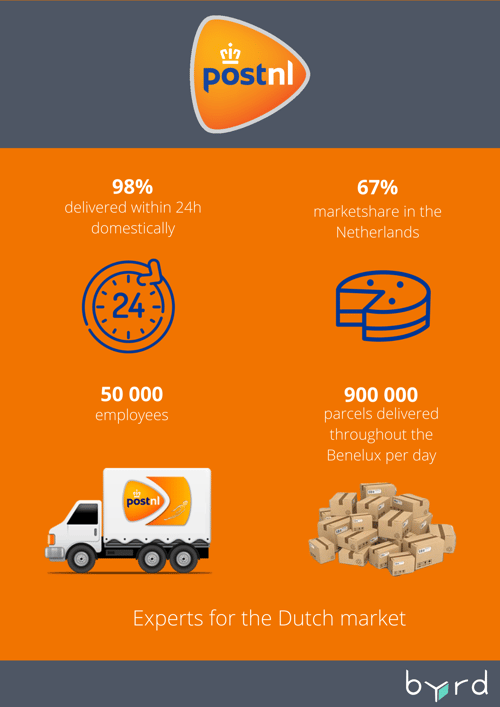 Shipping in the Netherlands with DHL
The German parcel delivery company DHL was founded in 1969 and is a division of the world's biggest logistics company Deutsche Post DHL. Some impressive facts and figures about this shipping company are:
DHL recorded

revenue of €4.05 billion for e-commerce solutions

in 2019.

DHL shipped 1.6 billion parcels only in Germany in 2019

The company employs 520 000 people worldwide

DHL delivers across the whole world including countries like North Korea

Environmentally friendly shipping options are offered
Advantages
Strong international focus

Flexible offers (ground, express, sustainable, international)
Disadvantages
Various services offered include
DHL International Express

DHL Euro Plus

DHL Sameday Jetline

DHL Sameday Sprintline

DHL Express 9:00/10:30/12:00

DHL Express Worldwide

DHL Express Easy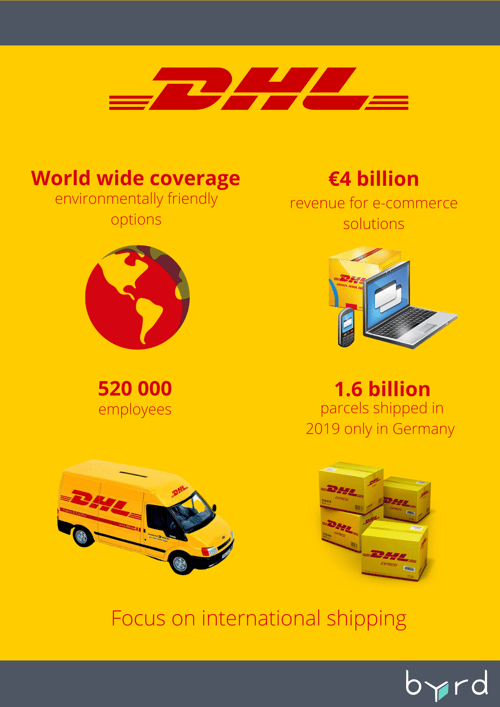 Shipping in the Netherlands with UPS
USP was founded in 1907 in the USA and has a lot of industry-specific experience that they acquired throughout the last century. Take a look at the company's exciting facts and figures:
$13 billion revenue for supply-chain solutions 2019

UPS employs 495 000 people worldwide

5.5 billion parcels shipped 2019
Advantages
Known for the speedy delivery

Large fleet on the ground

Environmentally friendly options
Disadvantages
More costly than competitors

Added area surcharges

Saturday delivery is a value-added service
Various shipping service options
UPS Express Critical – International

UPS Worldwide Express Plus

UPS Worldwide Express Shipping

UPS Worldwide Saver, UPS Next Day Air

UPS Worldwide Expedited

UPS 2nd Day Air

UPS Standard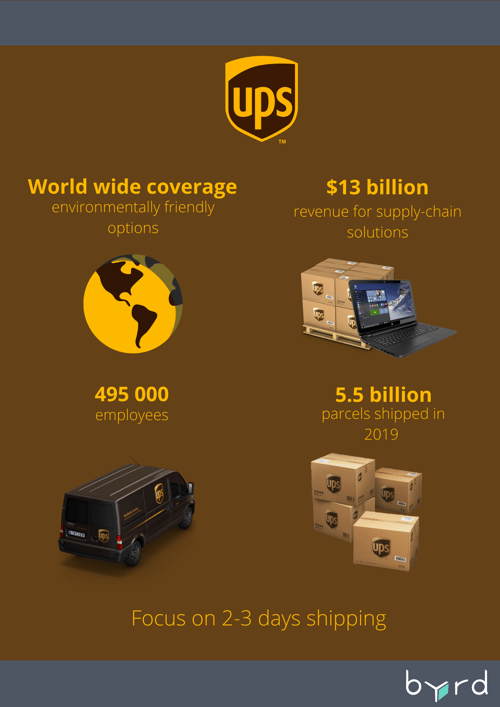 Shipping in the Netherlands with DPD
The DPDgroup based in France is a parcel delivery service, founded in 1999, that has its main expertise in shipping within Europe. Below, you can have a look at some relevant facts and figures regarding this parcel delivery service provider:
DPD employs 77.000 people

DPD shipped 1.3 billion parcels in 2019

There are 42.000 DPD parcel shops around Europe

DPD sets off 100% of its carbon emission by purchasing carbon credits.
Advantages
Disadvantages
Other services include
DPD Air Classic

DPD Air Express

DPD PickUp 24

DPD PickUp Express

DPD PickUp Classic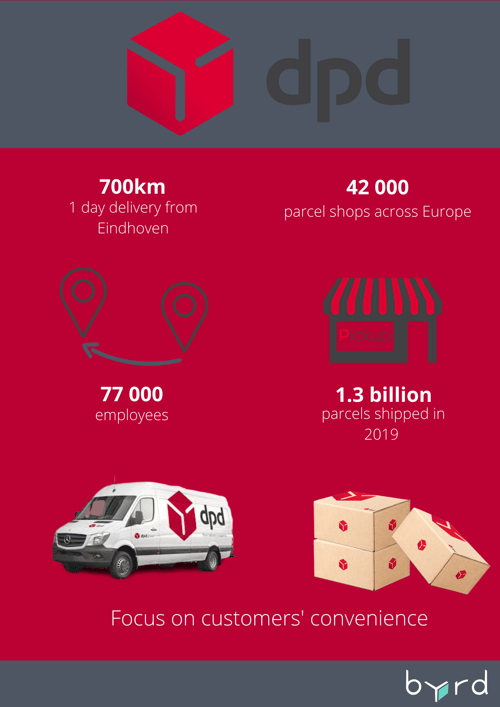 Shipping in the Netherlands with FedEx
The American company, operating in the whole world, is most well known for pioneering the way for all other parcel delivery service companies by making. real-time tracking of packages possible. FedEx has some interesting facts and figures in its portfolio:

Company revenue of $70 billion

2.2 billion parcels shipped in 2019

50 000 employees in the Netherlands
Advantages
Saturday delivery

Large fleet of airplanes
Disadvantages
Focus on the US instead of Europe

No big focus on the Netherlands

Smaller fleet on the ground
Various delivery service options offered by FedEx
FedEx International Next Flight

FedEx International First

FedEx International Priority

FedEx International Economy

FedEx International Priority DirectDistribution

FedEx International Economy DirectDistribution

FedEx International Ground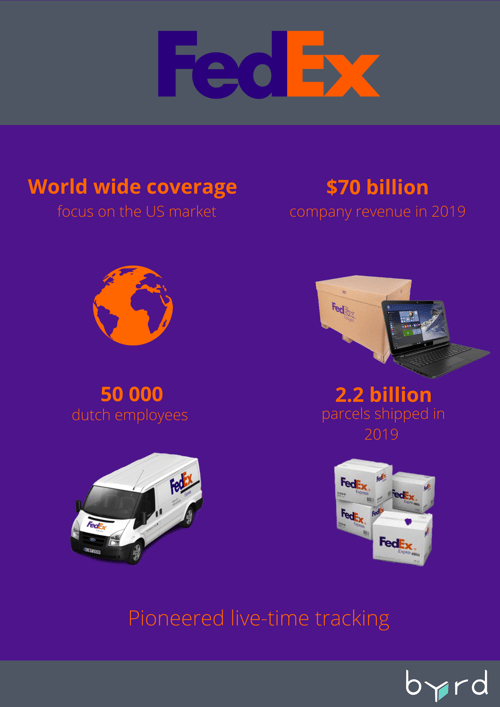 Other parcel shipping providers to look for in the Netherlands
Of course, there are many other, mostly smaller companies, but also established ones, that did not make it to our top 5, but still might fit your needs best.
Below, we are honorably mentioning the following:
Order Fulfillment and 3PL services as a convenient alternative solution
In case you are shipping a higher number of parcels to your customers each month and you don't want to use your time and resources on tedious logistics, outsourcing and automating your order fulfillment might be the best option for you. 3PL (third party logistics) companies like byrd can integrate your shop system within literal minutes and your orders will be fulfilled automatically and in real-time. In addition, you also benefit by having access to a multitude of shipping service providers, rendering your logistics to be as personalized and optimized for your needs as possible.
---
---
Conclusion
Choosing the right logistics partner is one of the most important factors that determine the success or the downfall of the majority of e-commerce companies. Adding to that trope, research also shows that for many online shoppers it is important to know which parcel delivery companies are available for shipping their intended purchases and they will often terminate the checkout if they are not content with the options provided by the particular webshop. Last but not least, the importance of sustainable e-commerce is also generating some serious waves in the e-commerce industry as more and more customers are becoming environmentally cautious and are demanding the same from their favorite webshops.
In conclusion, opting for one or even multiple logistics partners that fit your needs should be the top priority for your Dutch-based webshop. As argued above, having the right parcel shipping service partner will optimize your logistics and make your customers happy; and the combination of happy customers and optimized logistics is, in our humble opinion, a great fail-proof strategy to have.
---