Does it make sense to export to France as an e-commerce company? Sooner or later every ambitious online retailer will ask himself this question. In this blog, you can quickly and easily find interesting facts and figures, characteristics, and other useful information about the French e-commerce market. This will help to successfully expand your online business to France.
Summary
Hard facts and trends of the French e-commerce market
France is the third-largest European economy and is also the third-largest e-commerce market in Europe. The French are only outperformed by Germany and Great Britain. Worldwide, France ranks sixth among the largest online shopping markets. In 2019, the revenue generated by online shopping in the B2C sector amounted to almost 59 billion euros. In 2020 this figure is expected to rise to 69 billion euros. Online sales are thus responsible for more than 12% of the total French retail trade.
In 2020, also due to the Corona crisis and the resulting increase in online purchases, there will be a considerable e-commerce growth of about 17.1% in France. In particular, the months of March and April, when there were strict measures for the over-the-counter retail sector, contribute the most to this significant growth. In addition, e-commerce retailers will experience a huge increase in orders, especially during the Christmas season of 2020. According to Statista, the e-commerce market in France is expected to grow by around 6.5% annually until 2024.
What should be particularly relevant for expansion considerations of e-commerce companies is that Amazon's dominance in France is not as strong as in Germany or the UK. The French e-commerce market is considered to be balanced and is particularly characterized by the presence of numerous online marketplaces.
Hard Facts:
Population: 67 Millions

Megacities: Paris (10.7), Lyon (1.7), Marseilles (1.6), Lille (1)

GDP per Capita:

49 145$

CO2 Emissions: 4.3 Tons per Capita
E-Commerce Marketing in France
The French, like any other nation, have habits, behavior patterns, and preferences that you should be aware of as an online trader.
Social Media User:
The most popular social network in France still is Facebook (38 million monthly users), followed by Whatsapp (31 million), Instagram (20 million), and Snapchat (19 million). The penetration rate for TikTok (learn more about the Tiktok phenomenon in e-commerce) is 6.5 million. In 2019, around 70% of users have interacted with social media on a daily basis.
Broadband Subscription:
93.6% of the French had a broadband subscription in Q4 2019 and thus access to the Internet via HTTP and data speeds of at least 256 kbit/s thanks to the generalization and transition to fiber optics installation in the country.
Mobile:
In 2019, more than 50 million French people used smartphones. The so-called smartphone penetration rate is 77.5%, which is the fourth-highest in the world. Although in 2019, 4 out of 5 orders were still placed from laptops or desktops, the importance of shop-optimization for smartphones is steadily increasing. For that reason, so-called mobile commerce or m-commerce has a great upside in France.
Internet Penetration:
Internet penetration within France is over 90%. France is also ranked third in the EU in the so-called Internet Inclusivity Index. Only Denmark and Sweden perform better in that regard.
Online Shopping:
In 2019, 52% of French people have purchased products or services via online shopping. This figure is below the EU average of 55%. Other countries, such as the Netherlands (83%) are far ahead of France. However, this also means that France has great untapped potential. In this respect, the corona crisis could lead many people who have so far been reluctant to shop online to take advantage of the vast e-commerce offer.
A highlight and at the same time an opportunity that online retailers in France should not miss are the so-called French Days, which were launched in 2018 as the French response to Black Friday and Co. According to a survey by IFOP, 43% of those questioned are likely or extremely likely to shop online these days. Customers are planning to mainly buy clothes, shoes, and accessories, however electrical appliances, cosmetics, and hygiene products and the like are also very popular.
French Days 2021:
27th of May - 2nd of June & 24th of September - 27th of September
French Days 2022:
27of April - 2nd of May & 30th of September - 3rd of October
Another exciting metric that every marketer has in mind is the conversion rate. Here it should be noted that one of the peculiarities of the French market is the low CR. With an average value of 1.10%, it lags far behind countries like Germany (2.22%), the USA (1.96%) as well as the UK (1.88%), and the Netherlands (1.78%). When starting out in France, one should therefore have realistic expectations in this respect in order to avoid unnecessary frustration.
Preferred payment methods in France
Furthermore, according to Visa's Digital Payment Report, the number of customers making payments via mobile devices has tripled since 2015.
As an e-commerce merchant one should not underestimate the relevance of the payment methods offered. They have an immediate impact on the conversion rate at checkout. This means you can directly influence the sales figures and turnover.
Especially popular in France are the so-called cartes bancaires, i.e. bank cards. They are used in over 50% of e-commerce transactions. Furthermore, so-called digital wallets are the second most popular payment method in French e-commerce. The best known and most popular representative of this category is PayPal. At the same time, the fastest-growing method is Bank Transfer. However, it is mainly relevant for payments of large sums of money. The use of Bank Transfers is facilitated by the Single Euro Payments Area (SEPA) Instant Credit Transfer scheme, launched in 2017.
According to the Digital Payment Report of Visa, the number of customers making payments via mobile devices has tripled since 2015.
Challenges
In France, as in almost every other country, the main e-commerce challenge is cybersecurity, i.e. the security of online transactions and the prevention of fraud. For example, online payment simplifies the fraudulent use of third-party data. New tools and technologies, such as fingerprint recognition, will play an important role in the fight against such incidents in the future. It is particularly important to give online shoppers a feeling of security in e-commerce in France. After all, the French are among the top three most cautious nations in each of the following areas:
Hackers steal data (69%, 2nd place worldwide)

Identity theft (49%, 3rd place worldwide)

Scammers who steal money (56%, 3rd place worldwide)

Accidental purchase (39%, 1st place worldwide)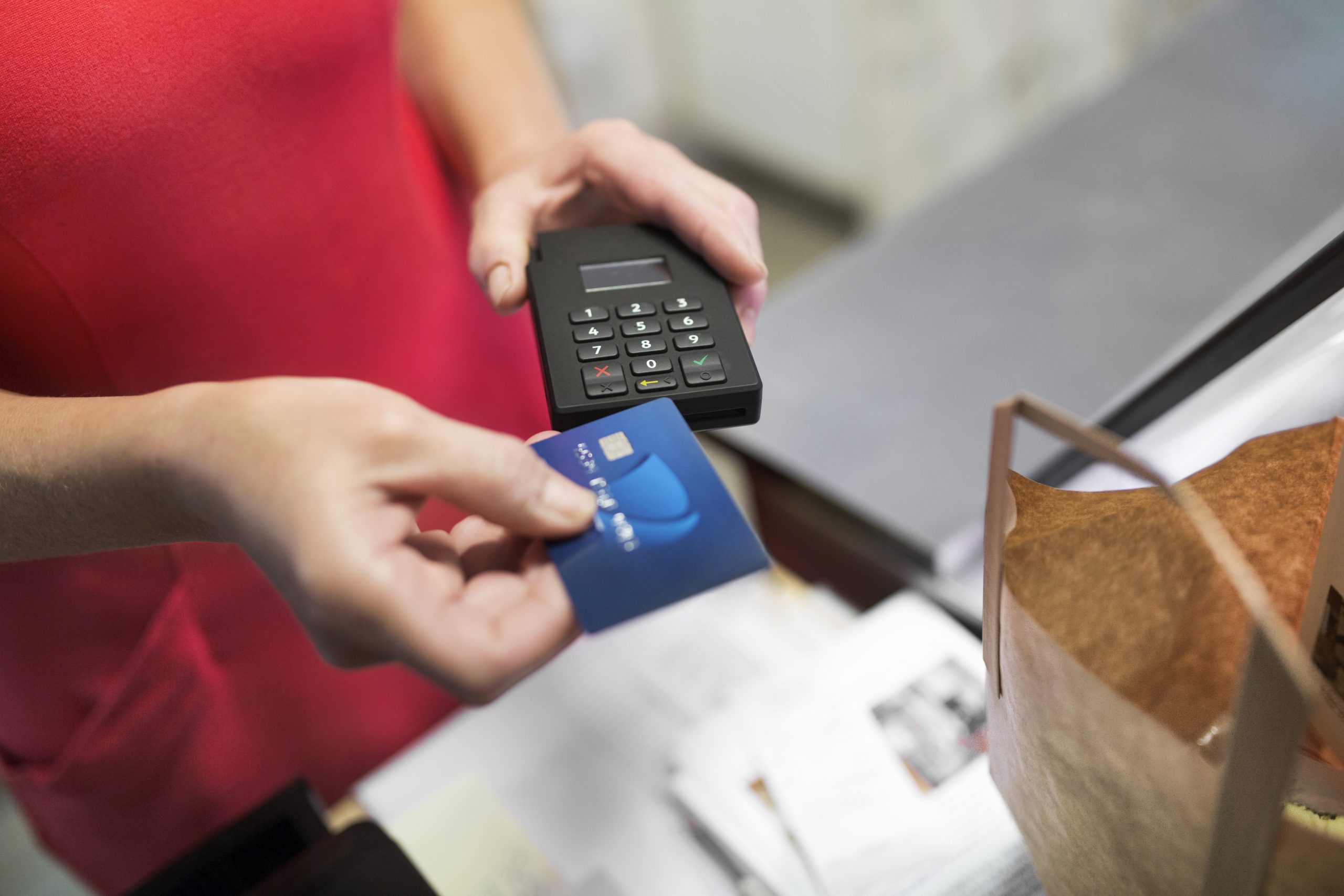 Overview: Popular industries in French E-Commerce
Particularly strong growth, partly as a result of COVID-19, is expected in the Snacks, Personal Care Products, and Skincare & Makeup segments. In addition, book purchasing is also on the rise again.
The 10 most popular e-commerce companies in France, by online traffic*, are:
Amazon (~29.87 Mio. monatl. User)

Cdiscount (~19.62 Mio. monatl. User)

Veepee (~14.14 Mio. monatl. User)

Booking.com (~13.68 Mio. monatl. User)

Fnac.com (~13.37 Mio. monatl. User)

Carrefour (~12.63 Mio. monatl. User)

Oui SNCF (~12.40 Mio. monatl. User)

E.Leclerc (~11.68 Mio. monatl. User)

eBay (~11.34Mio. monatl. User)

Vinted (~10.87 Mio. monatl. User)
*average traffic per month in 2019

E-commerce logistics in France - What you should consider
France is characterized by a particularly well-connected transport infrastructure. The TGV high-speed train is just one of several examples of the progress made in this field. Moreover, the French government invests immense sums every year to remain competitive. In 2018, for example, almost 10 billion euros were invested in infrastructure, such as the construction and maintenance of roads.
In the so-called Logistics Performance Index, France ranked 16th in the last publication of the World Bank in 2018. The index is divided into 6 categories: Customs (efficiency of the authority), infrastructure, international shipping, logistics performance, traceability, and punctuality
Shipping
In e-commerce, shipping and delivery have a significant influence on the success of online shops and customer satisfaction - this is also true in France. In fact, 62% of online shoppers consider shipping to be the most important criterion when shopping online. 84% of respondents would even switch the online shop to benefit from customized shipping options. 65% of online shoppers have terminated the purchasing process because the delivery price was too high. For this reason, 52% of online shops share the costs of shipping with their customers. This is still not enough for many customers. In fact, 36% of them discontinue the purchase process if free shipping is not offered. Moreover, one in three French people expects free shipping regardless of the price, while only 5% expect paid shipping for high-value orders.
Speed of Delivery
The speed of delivery also plays a decisive role in B2C shipping in times of Amazon and Co., which have significantly raised the standard in this regard. In France, 32% of orders are shipped the same day, while 95% are shipped within two days of the order. Same Day Delivery, at 4%, is not yet at the level it is in the USA, for example. For online retailers who ship less than 50,000 parcels per year, the average time from dispatch to parcel delivery is 2.8 days. This is where, with the help of the right partners, you can stand out from the competition. The same applies to the average waiting time of 5.4 days between order and acceptance of the goods.
Shipping Methods
Home delivery is still the most popular shipping method (85%), but deliveries to so-called pick-up & go locations (68%) are also very popular in France, especially when compared to other countries. France is even considered an international leader in this field. Ordered goods are delivered to local shops, such as supermarkets or petrol stations, from where they can be collected by consumers.
Parcel Shipping Providers
Just as with payment methods, customers have different preferences when it comes to parcel shipping service providers. These also have a direct influence on conversion rates and customer satisfaction. The Top 9 parcel delivery companies in France are:
According to e-commerceDB, online shops most often offer the services of La Poste (61%), Chronopost (33%), and Mondial Relay (25%). Overall, La Poste is responsible for 45% of the shipments.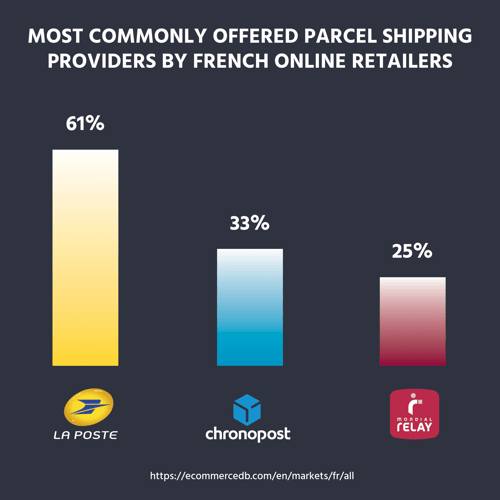 Warehouses
As a large industrialized country, France already had 4,432 logistics centers in 2015. The total area of these warehouses was already more than 78 million square meters. Most of these logistics sites are located in the Hauts-de-France and Île-de-France regions. It is fair to assume that this number has drastically increased over the last years.
---
---
Cross-border from & to France
France is the third-largest cross-border e-commerce market in Europe.
3% of worldwide online purchases are shipped from France. Furthermore, in 2019, 27% of French citizens purchased products from non-french online retailers within the EU. In 2020, e-commerce will break the $1 trillion mark. Furthermore, 2 out of 3 online shoppers spend at least 10% of their online spending on cross-border e-commerce. The biggest barriers for customers buying foreign products are high shipping costs and long delivery times. Online businesses with warehouse locations in the respective target markets can thus gain a clear advantage over their competitors.
Conclusion
After a closer look at the facts and figures, it is clear that the French e-commerce market has enormous potential and is therefore an extremely attractive target market for growing online businesses. Besides the enormous size, high purchasing power, and rapid market growth, the balanced e-commerce market, and the less dominant presence of Amazon, is one of several reasons to dare the enter into France. In doing so, it is important to pay attention to some special features and preferences of the French e-commerce market. For example, you should create your own landing pages and product descriptions in the French language and in the best case also offer customer support in the local language. Additionally, your company should offer the most popular payment methods and shipping with one of the most popular service providers. Free and fast shipping are extremely important features of good service for French consumers.
So if you take the step to offer your products in France, it is of utmost importance to be as close as possible to your end customer. You can either find a warehouse yourself and handle the logistics in-house, or you can look for partners to help you with outsourcing your order fulfillment in France. 3PL service providers or fulfillment companies like byrd offer a smart, fast, and smooth solution for shipping to and from France. With that, you are avoiding high investment costs and your entire process, from the order to delivery to the customer, is automated. In addition, by partnering up with a company like byrd, you gain access to an extensive network of fulfillment centers in Europe, allowing you to allocate your products in multiple countries and be in close proximity to your customers all around Europe.
---