For online retailers, the last quarter is the most exciting time of the year, mainly due to the (pre-)Christmas sales. This holiday season period has become increasingly important in online retailing in recent years. With retail spending hitting the $1 trillion thresholds in 2019, seasonal sales are set to break new records this year. However, one of the side-effects of the shopping madness is the increased operational workload, which oftentimes results in mounting stress for online retailers. These can be mitigated by taking the appropriate measures.
The majority of orders are placed on specific shopping days during the Christmas season. Some of these can be attributed to traditional occasions, while others are "artificially" created by the retail industry. To help you with the upcoming season, we created a list of the top 8 shopping days for the Christmas season 2021. You should definitely mark that in your calendar. After all, clever preparation before and smart actions on these days are the keys to a successful end of the turbulent and exciting year.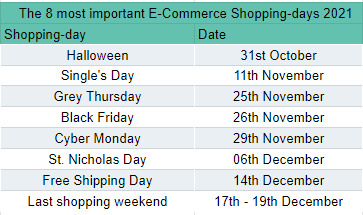 Halloween – 31st of October
The origins of this event can be traced back to the Celts, who dressed up to scare off the dead. As the custom evolved over the years and reached the USA, Halloween gradually gained commercial importance. Today, Halloween is a great way to draw attention to your online shop and brand before the shopping madness takes over. This can be achieved, for example, with creative competitions via social media or special discount campaigns.
Singles Day – 11th of November
On the 11th of November, those people who live a single life are celebrated. Where does this idea come from? No, for once this holiday tradition does not come from the US, but from China. In fact, the online giant Alibaba generated an unbelievable turnover of 38 billion dollars within 24 hours on Singles Day last year (2019). Given the circumstances, they could once again surpass the previous year's record. Even though this day is especially popular in Asia, there are several opportunities to use the occasion to promote your own online shop in Europe, the USA, or wherever your business is located. For that, you can design fancy ads to raise brand awareness or to promote your upcoming sale.
Grey Thursday – 25th of November
More and more online retailers are already starting to launch targeted marketing activities on the so-called "Grey Thursday" for the days around Black Friday and Cyber Monday. Thus, this day marks the start of the shopping madness, which is characterized by email campaigns to newsletter subscribers, targeted social media postings, and flash sales (as famous by Kylie Jenner and her Shopify shop).
Black Friday – 26th of November
Black Friday is without a doubt one of the most popular shopping days. However, due to the corona pandemic and restrictive measures in place, the share of online sales is expected to further increase, as many consumers will opt for e-shopping as an alternative to brick and mortar stores. Black Friday holds a historical meaning tied to the market crash in the first half of the 20th century. The meaning of the name is due to the fact that companies had to offer prices that are so drastically reduced so that they could at least cover their costs and are therefore able to "be" in the black. However, as many online traders run above-average advertising and offer greatly reduced products, it is particularly difficult to draw attention to your webshop. For this reason, well-elaborated planning and a clever strategy are of utmost importance.
Cyber Monday – 29th of November
As Black Friday was originally intended for retail stores, Cyber Monday was created for online commerce. Together, Black Friday and Cyber Monday are usually referred to as "BFCM". All in all, the shopping mania thus lasts from Thursday to Monday. During this time the focus is on flash sales, attractive offers, the use of Scarcity effects, social media advertising, and product placement. In order for an online shop to benefit from this period, a sophisticated "BFCM marketing strategy" must be planned well in advance. According to Statista, the days from Thanksgiving until Cyber Monday, also called Cyber 5, accounted for 28.5 billion U.S. dollars in the US alone.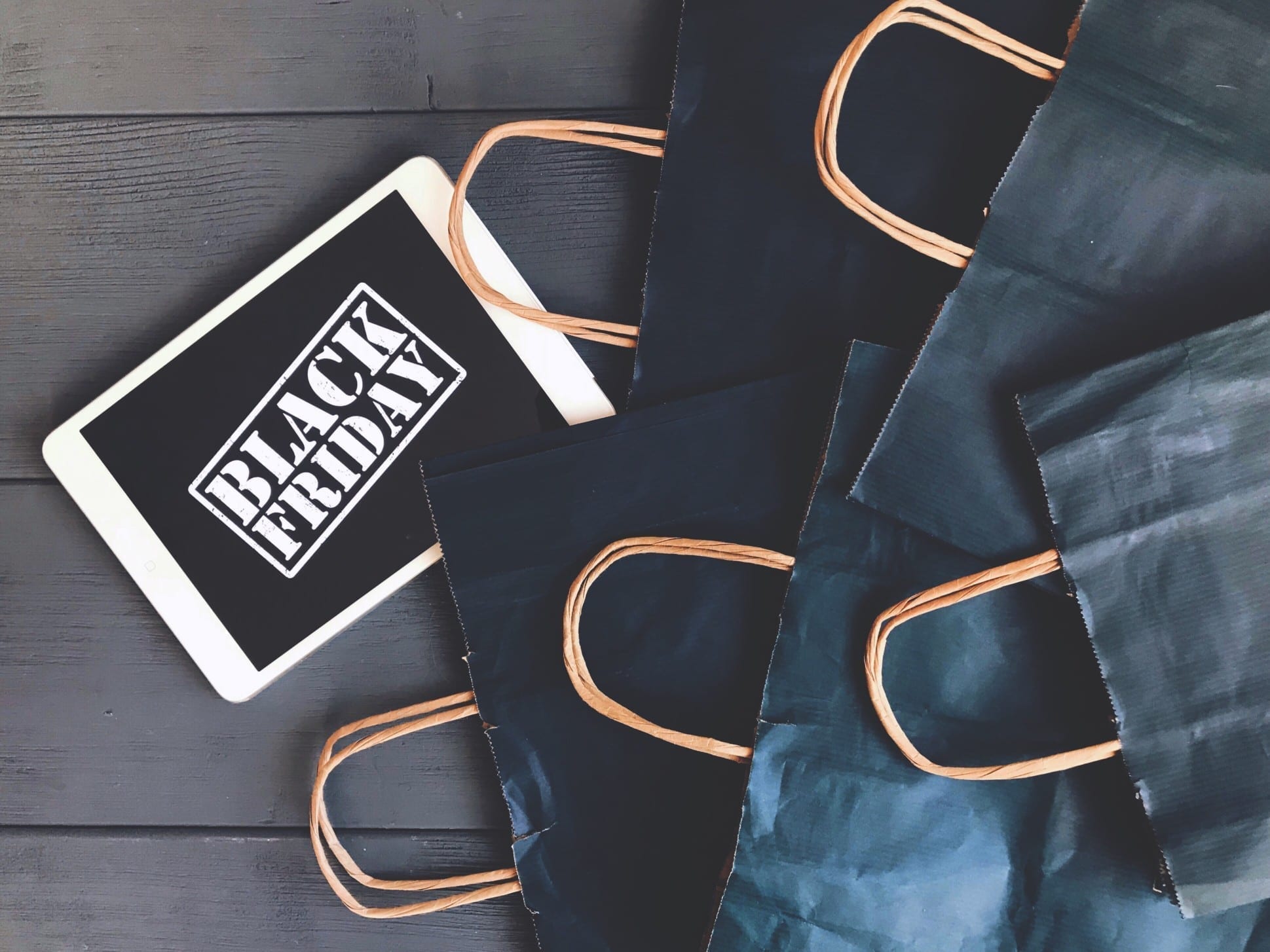 Saint Nicholas Day – 6th of December (also 5th of Dec. & 19th of Dec)
December 6th marks the day of celebration for one of the most famous saints in Christianity: Nicholas of Myra. At the latest, this is also the day when late bloomers among e-commerce companies start their Christmas business in online retail by starting to advertise with targeted Christmas promotions. Note, in some Western European regions this day is celebrated on the eve of the 5th of December, while in most Easter European countries it is celebrated on the 19th of December.
Free Shipping Day – 14th of December
On this day, numerous small and large companies offer customers free shipping and guarantee delivery before Christmas Eve - a convincing argument if you don't want to take the risk of coming home empty-handed.
Last shopping weekend before Christmas 2021 – 17th and 18th of December
The last shopping weekend in stationary retail this year falls on the 17th and 18th of December. For online retailers, however, the weekend before or directly after the Free Shipping Day is most probably the last opportunity to increase marketing efforts and boost the number of Christmas orders. It is particularly advisable to use automated remarketing campaigns to target people who have abandoned the purchase process early. This enables online retailers to increase the number of sales transactions.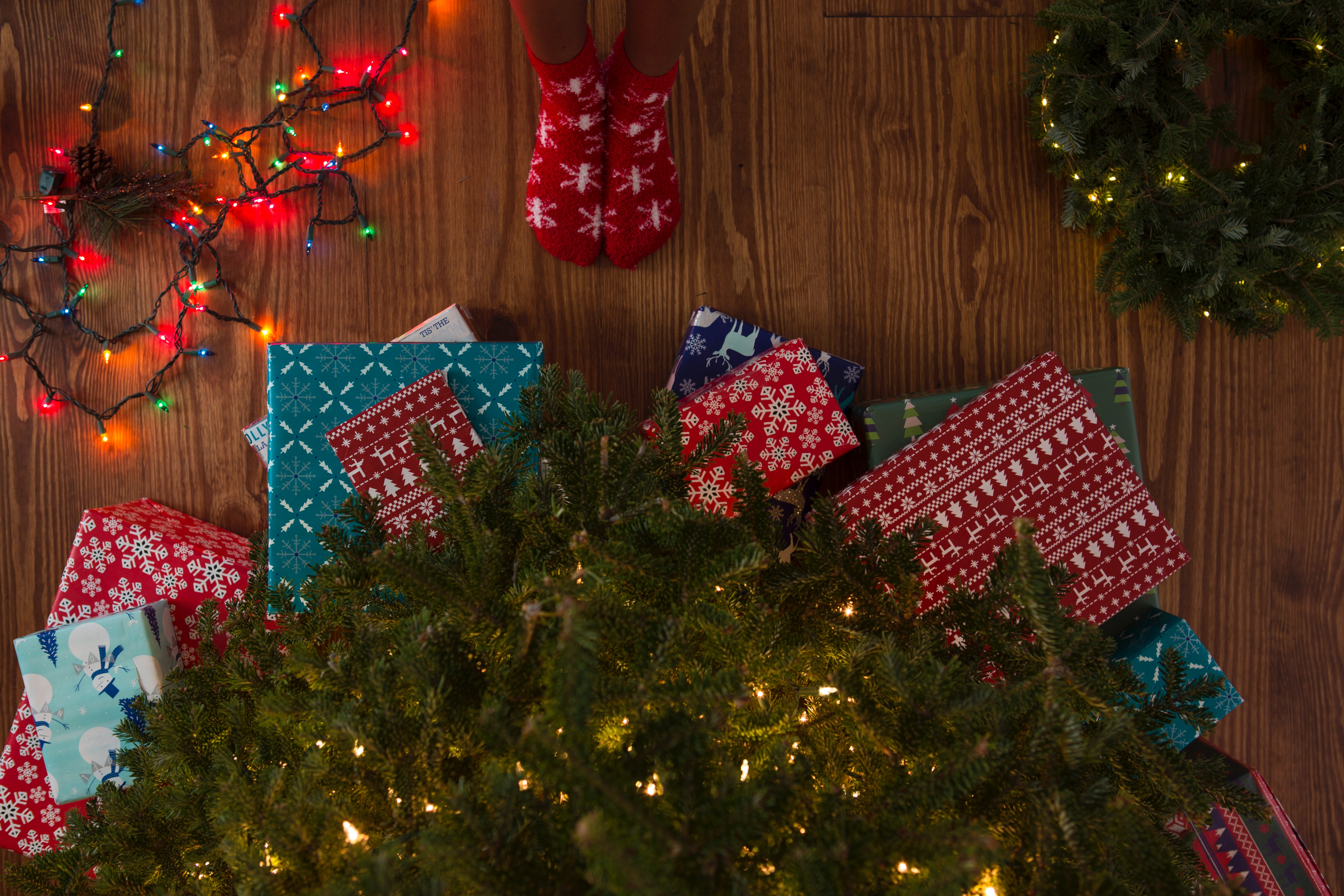 Additional things that you should pay attention to
As explained in our blog providing 24 tips for BFCM, planning for the Christmas season is essential. Due to the increasing number of orders, the workload during this time increases considerably. As a result, one of the decisions to be made when handling shipments is whether to continue to brand the packages on your own, which takes a lot of time. The time needed for the elaborate packaging could also be used well for other activities. An efficient alternative is the use of individualized packaging, which can emphasize and strengthen the brand without taking up much time. In this context, it is also worth considering whether logistics and fulfillment could be outsourced to mitigate the stress that accompanies the peak seasons so that the focus on the core business is not lost.
Have you already outsourced your logistics processes? Then it is important that you communicate with your fulfillment service provider in advance on which shopping days you expect considerable increases in order volume. By communicating that, they can prepare for this and guarantee a smooth fulfillment process. If the aforementioned tips are taken into account, 2021 is set to bring a record-breaking Christmas season.
---
---