Fulfillment is rarely a pleasant topic for online shops. However, logistics in e-commerce is steadily gaining importance. If you look closely the most successful online companies have one thing in common - a smart fulfillment strategy. In this blog, we are providing you bite-sized bits of information on what exactly fulfillment is, which processes it consists of, what makes good fulfillment, and how you can turn your logistics into a competitive advantage.
Overview
What is Fulfillment?
Fulfillment is the name given to the process of order processing in e-commerce. In other words, the entire process from ordering a product to delivery to the end customer. As such, fulfillment often also includes post-processing and the handling of returns.
Fulfillment Glossary - The Most Important Terms in E-Commerce Logistics
3PL (Third-party fulfillment) - In logistics, this is the name given to a company that helps online retailers outsource parts of the distribution, warehousing, and fulfillment.
4PL (Fourth-party fulfillment) - 4PL providers go one step further in the supply chain than 3PL companies. They manage every step in the supply chain and serve as the single point of contact for all parties involved.
Active Stock - Goods in active picking locations that are ready for handling.
API (Application Programming Interface) - Set of programming instructions and standards to connect e.g. online stores like Shopify, Shopware, or Plentymarkets to a warehouse.
Backorder - Acceptance of orders while the product is not even in the warehouse.
Handling Costs - The costs associated with the transportation, transfer, preparation, and other handling of the inventory.
Bundling - When two or more products are purchased and shipped in one order at a specific price.
Fulfillment Accuracy - In addition to handling the right goods to the right customer, fulfillment accuracy also includes fulfilling the order within a prearranged time and delivering intact products.
Inventory - In terms of fulfillment, this refers to the products in stock.
Inventory Accuracy - Comparing the number of products that should be in stock with the number of products actually counted gives the inventory accuracy.
Order Fulfillment - The order fulfillment process consists of 3 steps. These are receiving, picking & packing, and shipping. Thus, order fulfillment is one of the main activities of 3PL companies.
Pick and Pack - The process by which the products in an order are picked from the warehouse and packed in preparation for shipment.
Reverse Logistics - The logistics of handling products after the customer has received the order (e.g., returns management).
SKU (Stock Keeping Unit) - A code that identifies individual product groups so they can be tracked in inventory.
WMS (Warehouse Management Systems) - These are software that helps to effectively manage various operations within a warehouse and optimize various processes.
Customs - A term that has gained importance for many e-commerce entrepreneurs who operate across borders, particularly as a result of Brexit.
The Journey of an Order - Processes Involved in Fulfillment?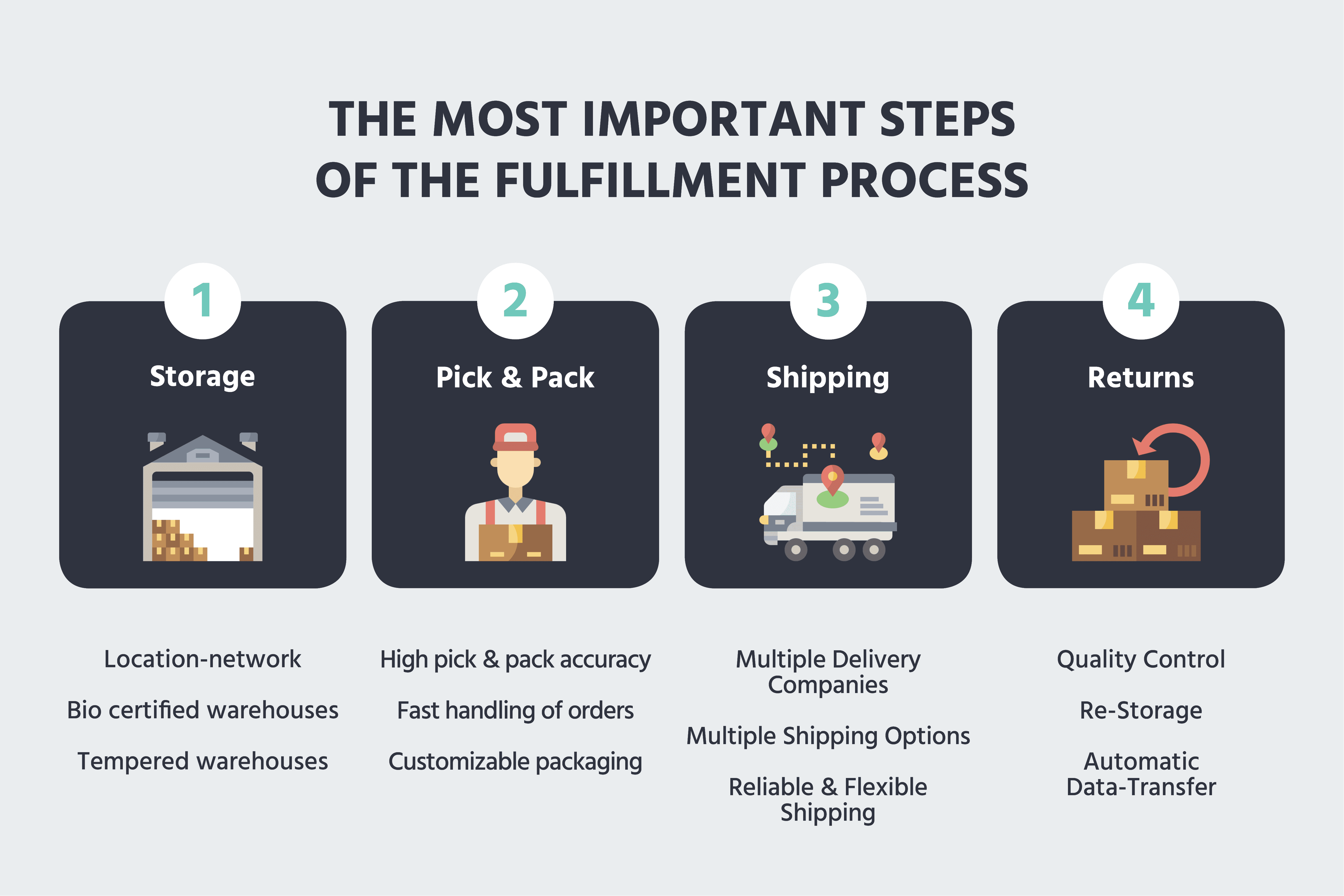 Storage
Before the actual fulfillment process begins, your products are stored in one or more fulfillment centers or logistics centers. Optimally, you have the option of choosing a warehouse location that is close to your end customer - more on this later. Most logistics centers have integrated truck connections to guarantee maximum efficiency in both delivery and dispatch.
Once a shipment of your products arrives at the warehouse, the receiving and counting process begins before your products are stored on pallets or shelves, depending on their type. Good fulfillment centers have state-of-the-art shelving systems. In addition, live inventory that can be accessed at any time is a standard feature of modern warehouses today.
Although e-commerce has reached every age group, not least due to the Corona crisis, young customers are still the most important driver for growth. In this target group, sustainability is particularly important, which is why environmentally friendly products are also increasingly popular for sale via online stores. Organic certifications are therefore a decisive sales argument in many cases. If you are active in this area, make sure that your logistics partner has taken all necessary measures to avoid mixing with other products or contamination of the products. Organic certified warehouses have the so-called BIO-HACCP, which confirms that appropriate measures are taken along the entire supply chain. Likewise, is the so-called LOT tracking, which allows to track batches and to keep an eye on best-before dates. First-in-first-out strategies help to avoid the expiration of such products.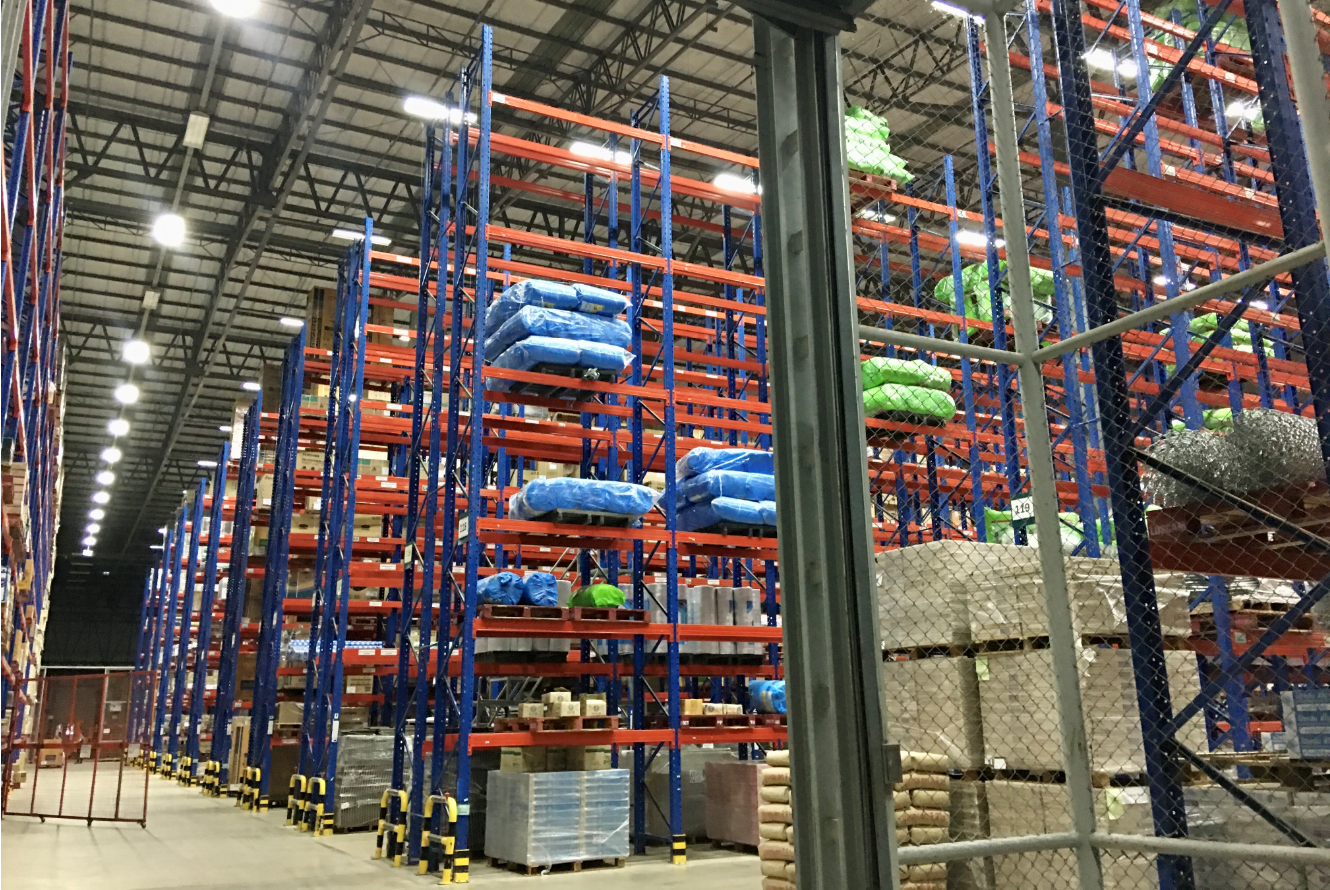 Pick & Pack
After the products are stored and your online store is connected to the warehouse via shop systems like Shopify, Shopware, WooCommerce, etc., or your own API interface, everything is ready for the first order. Before the package is shipped, it's time for picking and packing. Technological tools like advanced warehouse management software, and smart, flexible strategies like single-order or multi-order picking, enable the fastest possible picking. The highest priority, besides speed and efficiency in the pick and pack process, is to ensure a low error rate.
In addition to speed and accuracy, the packaging also plays an increasingly decisive role. The optimal packaging contributes not only to the safe transport of the order but at the same time it is an important marketing and communication tool. After all, the packaging is the first thing a customer sees and touches. It is not for nothing that the unboxing experience is viewed as a marketing channel in its own right, by many.
Furthermore, the use of additional branding items is often a cost-effective way to strengthen one's brand and turn one-time customers into loyal buyers. These might include stickers, branded packaging paper, or enclosed flyers and coupons. Good fulfillment partners also allow customers to bring their own packaging.
Another topic gaining in importance is environmentally friendly packaging. For example, 75% of consumers want online companies to reduce packaging and thus minimize the waste it generates. Plastic, in particular, plays a problematic role. Only just under 14% of the 86 million tons of plastic used for packaging each year is reused or recycled. Suitable packaging without unnecessary filling material, therefore, saves money, prevents negative reactions from customers, and helps the e-commerce industry on its way to sustainable business.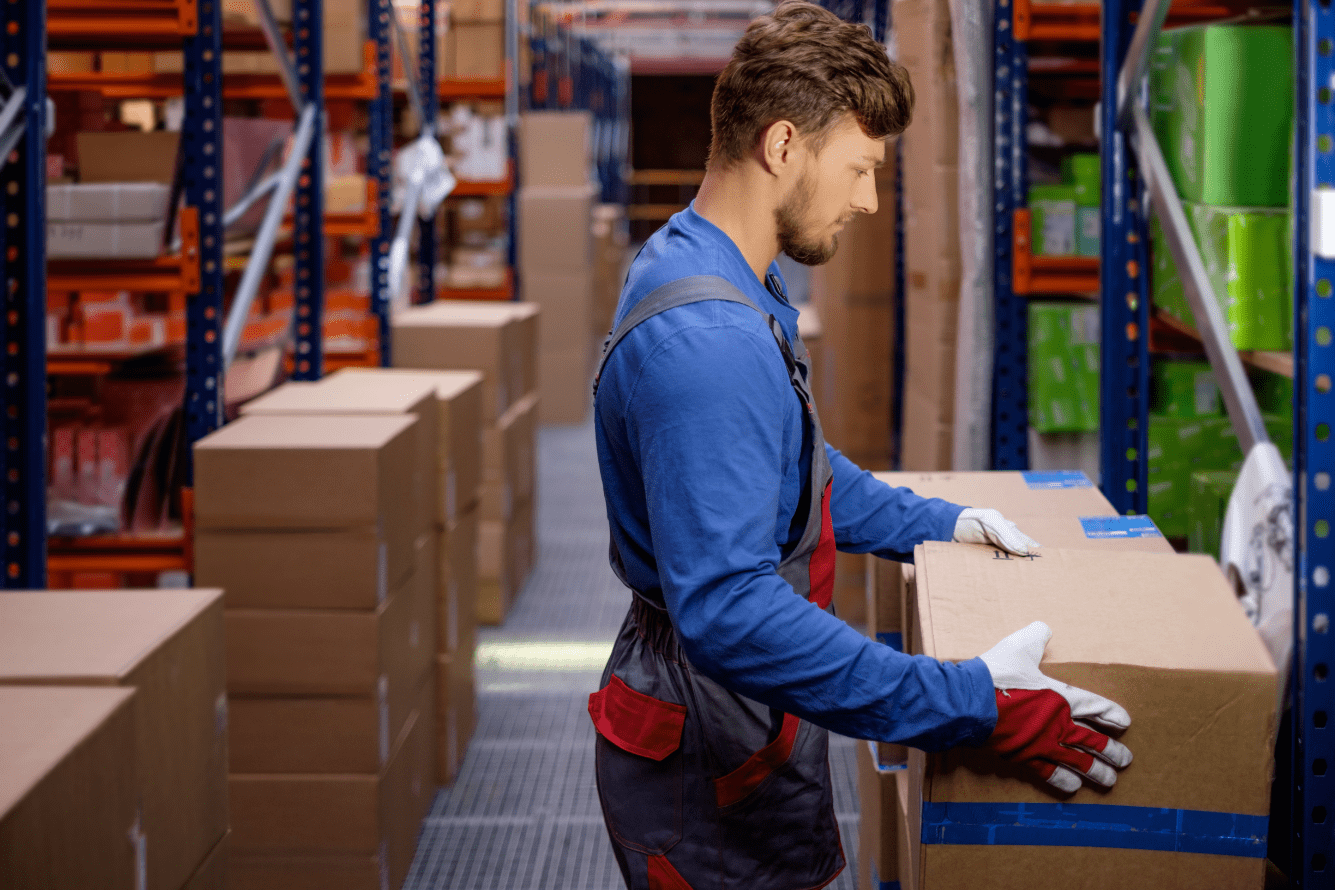 Shipping
Once the packaging process is completed at the fulfillment center, the order fulfillment process comes to the part that most online retailers and online shoppers have in mind when thinking about logistics; shipping.
There are many pitfalls for e-commerce companies when it comes to shipping, but this is also an area where a brand can gain a decisive advantage over the competition.
For example, 62% of German online shoppers abandon the buying process if delivery costs are too high, while 84% of French e-shoppers say they will buy from other websites if they offer better delivery conditions.
The most popular parcel delivery services in Europe
The selection of the best parcel service overwhelms most online retailers at first. It is important to find the right partner for your company, your target group, and your target market. To give you a better overview, we have compiled an overview of the best and most popular delivery services in Europe.
If the year 2020 has taught us anything, it's that you should always remain flexible. Relying on one shipping service provider doesn't necessarily offer that option. However, it is oftentimes a question of resources whether one chooses one or several parcel couriers. Working with fulfillment partners offers a good solution to this problem - more on that later.
Whatever you choose, make sure you give your customers enough choices. After all, 41% of e-commerce shoppers make their decision based on delivery options.
Sustainability also plays an increasingly important role when it comes to shipping. 57% of online shoppers surveyed say they are willing to change their buying habits to reduce their environmental impact. Therefore, offer options for climate-neutral shipping, such as DHL GoGreen, CO2-neutral shipping from DPD, or KlimaProtect shipping with GLS.
In addition, it is important to offer standard shipping, as well as express shipping options to be able to supply customers worldwide as quickly as possible. Because of the fast and free delivery of many Amazon products, the expectations of customers are very high and next-day delivery has become a new standard nowadays.
By the way, reconsider carefully whether you want to pass on the shipping costs to your customers or whether you would rather "work" them into the price. There are, of course, different approaches available to you. For example, it makes a difference whether you are an Amazon FBA or FBM seller, or sell your products through other marketplaces or your own online store. Nevertheless, in most cases, it is better to include the shipping price in the product price. A product for 29.99€ without shipping costs will be bought more often than the same item for 24.99€ + 5€ shipping costs. So, although the total price is the same, the first option is usually more attractive because people associate higher prices with higher quality and thus value the product at 29.99€ more.
Coming back to the shipping and order fulfillment process, there is one last thing worth highlighting at this time - the advantage of having an experienced fulfillment partner. With a partnership like this, the shipping process can be greatly improved if your fulfillment partner uses state-of-the-art software to automatically prepare your shipments for dispatching, rendering the whole process quick and smooth. This way, your package is franked and shipped without any unnecessary delays.
Return Management
Once the package is on its way to the customer, the job is as good as done, right? Unfortunately, not quite. In fact, a large number of delivery attempts are unsuccessful and the parcels are returned to the parcel center and ultimately to the warehouse. Along the same lines, many customers are not happy with their orders, thus returns management is a hugely important area in logistics. In fact, 84% of respondents say they would be more likely to return to the same company after a positive experience with returns.
Although the first instinct is to make returns as difficult as possible for consumers in order to prevent a return or two, this is a strategy you won't be successful with, in the long run. This leads to bad reviews (learn how to deal with bad customer reviews ) and generally more dissatisfied customers who will never buy from you again.
The first step to preventing negative experiences regarding returns is to include a return label.
If the item is actually returned, a fulfillment partner will take care of quality control and restocking of intact products. In addition, you can use the returns overview in byrd's dashboard, for example, to keep track of your returns at all times.
Expert Tip:
Extend the return period for your customers. You might think that this will lead to even more returns. But in most cases, this is not true. On the contrary, this measure reduces the perceived urgency for consumers to make a decision. Consequently, the action is then postponed and, as everyone knows, sometimes you just have to learn to love certain things. So overall, the average return rate goes down as a result of an extended deadline. Quite incidentally, a longer deadline is perceived positively by customers in the purchasing process and leads to a higher purchase rate.
What Does a Fulfillment Center Look Like From Inside?
Use the mouse or the arrow keys to use the 360° function. Click on the icons to go into more rooms and get a better view from different perspectives.
Start a virtual 360° tour of one of our fulfillment centers now
What Makes Good Fulfillment?
By now you are an expert on the subject of fulfillment. But what makes a good fulfillment solution and what distinguishes a good fulfillment company from a bad fulfillment provider?
Same-day Fulfillment
As you know, speed is half the battle in e-commerce fulfillment. A good logistics partner ensures that orders are picked and packed and handed over to the parcel service on the same day or at the latest the next day.
Expert Tip:
When choosing a fulfillment partner, check for what are their "cut-off times" for the same-day fulfillment. This way, identifying good from the bad, is going to be a tad bit easier.
Fulfillment Accuracy
However, the fastest order fulfillment will not lead to success if the wrong items are shipped. For this reason, high fulfillment accuracy, or a low error rate, is a critical factor. You should not settle for a rate below 95% or even higher.
High Order Volumes Can Be Handled
The previously mentioned points are relatively easy to implement for small quantities. But if the shipments increase, things look different. Good fulfillment companies have everything under control even under time pressure and in peak times. This is especially true during seasonal highs like Black Friday, or Christmas, but is also important during sales promotions. Models like influencer sales often see a flood of orders within a few hours. This is where it is important to fulfill the whole potential and not make any mistakes.
Costs of Fulfillment
Of course, price is also an important decision criterion for entrepreneurs. For some online retailers, the price of fulfillment services may seem a bit high at first. At the first glance, sticking to in-house fulfillment seems like a cheaper solution, however, that's usually not the case - scalability and overall growth of the company will hinder the cost advantages of in-house fulfillment much quicker than it seems. Even though there is no simple answer when exactly one should switch from in-house fulfillment to a 3PL partner. Generally speaking, companies with a fast growth trajectory benefit the most from outsourcing logistics and fulfillment, whereas small companies with relatively low shipments can benefit from in-house fulfillment more. Learn more about fulfillment costs below.
However, when you factor in everything in-house logistics costs, e-commerce businesses quickly realize that outsourcing logistics and working with 3PL companies quickly pays off in the vast majority of cases. Learn more about fulfillment costs below.
---
---
Outsourcing Fulfillment - Advantages and Disadvantages
By now you should have a clearer picture of how fulfillment service providers can help you and what are the benefits of working with them. However, in the following part we'll take a closer look at the specific advantages and disadvantages of outsourced fulfillment.
Disadvantages of Outsourced Fulfillment
Costs for Fulfillment Partners
At first glance, costs are always seen as disadvantages. Fulfillment makes the daily work of online retailers easier. This has its price.
Loss of Absolute Control
Many e-commerce entrepreneurs start small and pack each package themselves. After a certain volume, this is no longer feasible. While many retailers love and effectively use the time freed up after outsourcing fulfillment, some find it difficult to give up control of their packaging and shipping process.
Advantages
Minimal Investment Costs
Above a certain shipping volume per month, it is inevitable for established retailers and also large e-commerce enterprises to look for logistics solutions. In doing so, the responsible parties are faced with the decision of creating this solution themselves or resorting to specialized partners. While the former keep control within the company, building operations or logistics teams is very time- and resource-intensive. New employees have to be hired and onboarded, in addition to finding a suitable location, and equipment, software, and the like are also cost-intensive processes that should not be ignored. If, on the other hand, you decide to use a fulfillment service provider, for example, you can fall back on proven processes. This logistics solution is therefore associated with less operational and financial risk.
Minimal Fixed Costs
In addition, fixed costs largely become variable costs, which means that significantly less capital is tied up. By outsourcing logistics, there are no wages for warehouse workers and no fixed costs, for example for the maintenance of the warehouse or for expensive software. As a rule, the costs for fulfillment partners depend on the actual fulfillment performance, in addition to a manageable minimum amount
Free Ressources
Especially for young, fast-growing e-commerce companies, outsourcing fulfillment offers the opportunity to create resources that are needed for other activities. After all, during periods of rapid growth, entrepreneurs should be working on their companies, not in them.
Benefit from Economies of Scale
When purchasing packaging materials and the like, fulfillment companies can take advantage of the so-called economies of scale. This means that higher purchasing volumes increase negotiating power and efficiency in purchasing, and lower prices can often be passed on to customers. The same principle also works in price negotiations with shipping service providers.
---
---
Other Advantages of Outsourcing Logistics to Specialized Fulfillment Service Providers
Decentralized Storage
Typically, online retailers first look for warehouses in the immediate vicinity. It's not for nothing that the search term "fulfillment center near me" is one of the most popular Google searches in this category. More importantly, however, is having warehouse locations close to end customers. So, working with fulfillment companies that have a
network of fulfillment centers in Europe
, you can divide the goods between different locations and supply e-commerce markets in the best possible way. This has several advantages:
Reliable Shipping - Even with Seasonal Fluctuation
Working with a fulfillment partner also leads to reliable shipping. In the event of problems with shipping service providers, for example in peak times or when there are strikes, it is possible to switch easily and immediately to another parcel courier. In addition, the impact of the Corona crisis on e-commerce has shown how quickly entire warehouses can be shut down. If a COVID cluster occurs in a fulfillment center, for example, the entire shipping process does not come to a standstill, as you can distribute your products to different logistics locations.
Scalability
Good fulfillment providers enable e-commerce businesses to grow steadily. From slow continuous growth to extreme sales growth, as is the case with many young successful companies, everything is possible without having to make major changes to the setup. In addition, through the international fulfillment network, new markets can be tested without having to make large investments. This increases flexibility and minimizes risk.
Expertise in Customs and Cross-Border Shipping
Another topic that has been affecting e-commerce merchants since 2020 is Brexit and related customs issues. Fulfillment partners automate most of the work and make your working life easier. Find below more helpful content regarding the aforementioned topics like tolls, the customs forms CN22 & CN23, and the impact of Brexit.
When Should Online Merchants Outsource Their Fulfillment
Above a certain number, it makes sense for almost every e-commerce company to outsource the fulfillment process. As is often the case, there is no definitive answer to the question of from how many shipments per month this step makes sense. This rather depends on the product and the sales activities (sales in one market or many different countries). As a rule of thumb, however, we recommend approximately 100 shipments per month. From this number, handling the order processing, besides other important activities like marketing and running the online store, is hardly feasible. In addition, this is often the magic threshold at which efficiency gains from outsourcing exceed additional costs.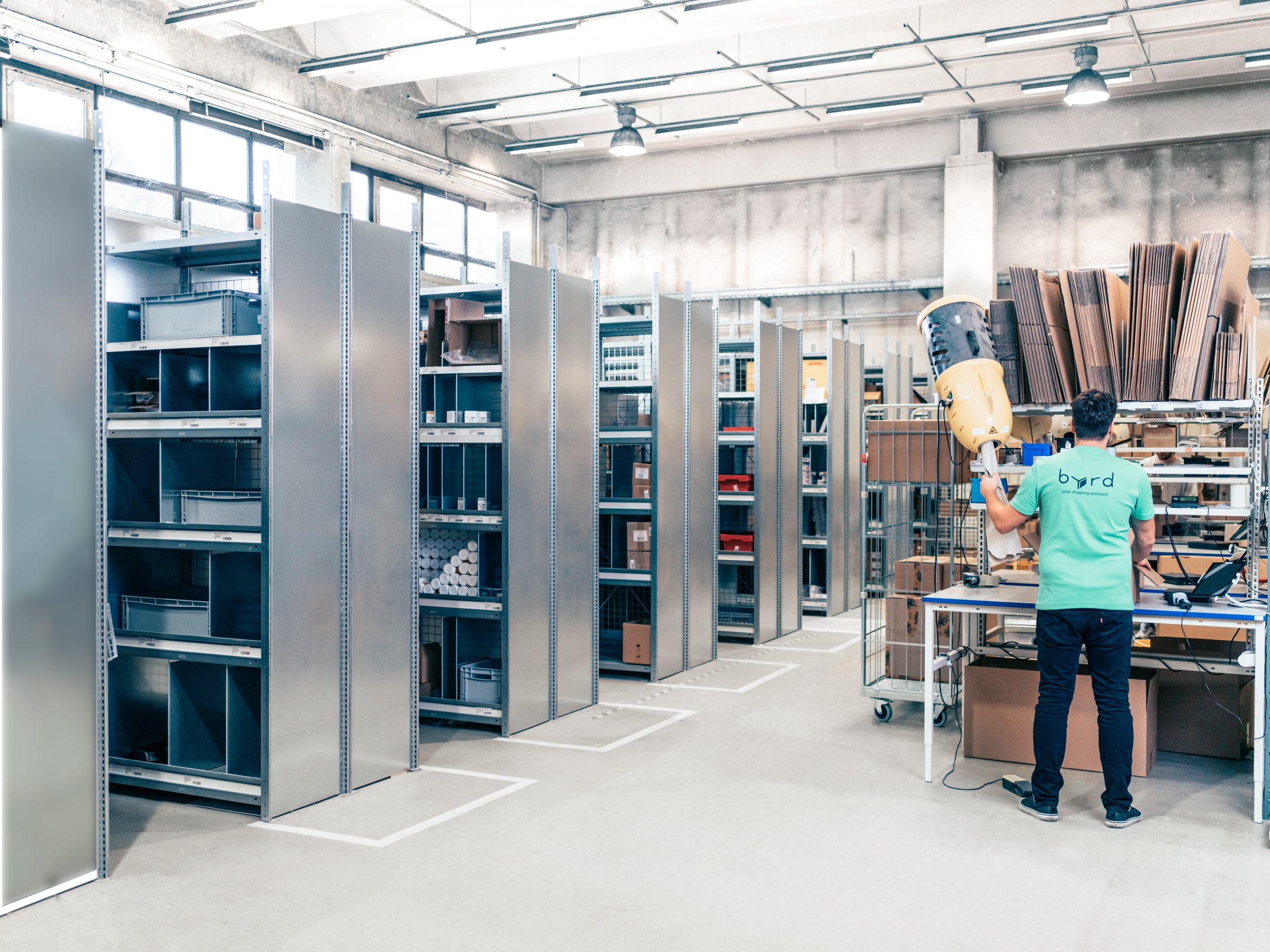 Costs for Fulfillment
A decisive factor when choosing a fulfillment solution is, of course, the costs and prices of fulfillment providers. There are big differences already in the initial approach of pricing. To help you understand how to get the most out of outsourcing your fulfillment in regard to costs, we created an overview of the costs incurred and any differences in the billing approach. The following section relates to pricing and resources needed when outsourcing your fulfillment:
Setup and Connection of the Online Shop
The connection of your online shop system to the fulfillment service provider is an effort. If you use one of the leading store systems like Shopify, WooCommerce, Shopware, or similar, the integration is done quickly. However, connecting via API interfaces to some ERP systems could take longer. Some 3PL companies do not charge for the setup, others do.
Software
Many fulfillment service providers today rely on logistics software that can be used by retailers to manage fulfillment. The operation and maintenance of this modern fulfillment software also incur costs. Not least, for this reason, most order fulfillment companies charge minimum fees to cover their costs. There are usually no charges for the software itself.
Costs for Receiving and Counting of the Products
When receiving products at the warehouse, e-commerce companies can optionally request the goods to be counted. This, like anything that requires warehouse staff time, results in costs that are passed on to the customer.
Storage
The next step is to store your products on pallets or on shelves. This also makes a difference in price, with the latter being the cheaper alternative. Furthermore, the number of SKUs and the size or weight of your products play a role in the pricing. By the way, some fulfillment companies charge by storage space, while others charge by cubic meter. The storage costs are charged monthly and thus form something like fixed prices.
Pick Prices
Once again, the cost depends on the nature of your products and there are again different approaches to pricing. Usually, there is a certain base price per shipment plus costs per product that is enclosed.
Pack Prices
Packing costs consist of the labor involved in the packing process, the cost of materials, and costs for the custom branding option. Note that you will usually incur additional costs for custom branding options (sticking stickers, using special packaging materials, etc.). However, there are additional ways to reduce your packaging costs.
Costs for Shipping
The most obvious costs are directly related to shipping. These depend on the type of shipping (standard, climate neutral, express), the shipping service provider (DHL, DPD, etc.), and the shipping address (e.g. Germany, UK, etc.).
Prices for Returns Management
E-commerce companies also incur additional charges for returns management. These include quality control, restocking of returned products, and disposal of products and packaging materials.
Support
The last service we would like to list here is customer support. In some 3PL companies, such as byrd, this is not charged separately.
In summary, the cost depends on the type of products, the number of SKUs, and the logistics partners. If you are interested in the prices of byrd, do not hesitate to visit our website
Success Stories - Scaling with a 3PL Partner
Your Superfoods
From packing in your own living room to shipping to over 70 countries. This dream of many online merchants has been realized by Your Superfoods within 4 years. Successful scaling has also been helped by the collaboration with byrd, which made it possible to put full focus on what the YourSuperfoods team is best at - creating healthy and wholesome food.
With byrd, we have found a partner who integrated our shop system in just a few minutes and quickly implements projects.
- Philipp Gronau, Head of Global Supply Chain
Sober Care
It was a similar story for the two founders of Sober Care. They developed high-quality skincare products for men. The rapidly growing sales soon showed them the logistical limits. So they needed a partner, which they quickly found in byrd. According to their own statement, despite the outsourced fulfillment and thus more resources for other activities, the process still feels like "fulfillment in-house" thanks to the intuitive software and live data overviews.
We would notice an omission above all in the time that byrd currently saves us since we don't have to worry at all about packing and delivering parcels to the post office. This is a very big value for us.
- Simon Schier, Co-Founder
FitnessVital
Healthy eating and beer pong don't go hand in hand. Alexander Holzhammer and Silvan Mundorf see things quite differently. Together, they sell products in these two categories - and do so successfully. However, managing several different product categories also involves greater complexity. So they started looking for a fulfillment partner. After careful research, they found what they were looking for in byrd. The locations in different countries, which enable smooth international shipping, the intuitive and flexible use of the byrd platform, and the reduced workload for support are reasons for the value of the cooperation. In addition, the founders also receive positive feedback from customers for fast delivery.
Our customers benefit from the fast order fulfillment processes, getting goods in their hands shortly after placing an order. Smooth processes at byrd directly positively influence our customers' loyalty and sales.
- Alexander Holzhammer - Co-Founder
Conclusion
Anyone involved in e-commerce knows the role that logistics plays. More and more companies have now realized that this process is more than just a necessary evil. Rather, fulfillment in e-commerce is increasingly one of the most important pillars of long-term good performance through consumer focus. For many online entrepreneurs, outsourcing this area and working with fulfillment companies is the best solution. So-called 3PL service providers, in addition to networking and volume advantages, are often the best solution for online stores due to their expertise, experience, and efficient workflows. This is especially true for multi-channel retailers and online companies that are active in cross-border e-commerce.
---