Since its launch in 2014, Shopify Plus quickly became an indispensable tool for the e-commerce industry. With more than 1 million business users, this enterprise platform is evidently an interesting option for hyper-growth businesses, seeking exclusive support and customizable enterprise solutions. However, by punching way above its weight, Shopify Plus promptly drew attention from big and famous e-commerce brands as well. Some of them are well known, while others might leave you surprised.
For this purpose, we have prepared a fun blog (can you find all 20 puns) where we aim to showcase 18 examples of the most interesting brands from the USA, UK, France, Switzerland, and Austria that use Shopify Plus for their online business. With this in mind, please buckle up and prepare for a ride through the list of brands coming from the media, beauty & care, food & beverages, sports, and the fashion industry.
Categories of the most famous Shopify Plus stores
Celebrities who use Shopify Plus
Throughout recent years Shopify Plus has become the most popular platform for various famous personalities selling products like cosmetics, accessories, and fashion online. Besides the online shops from celebrities that we are highlighting below, many other well-known personas (including Kanye West, Justin Bieber, and Eminem) use Shopify Plus as an e-commerce platform to sell their products and merchandise.
1) Kylie Cosmetics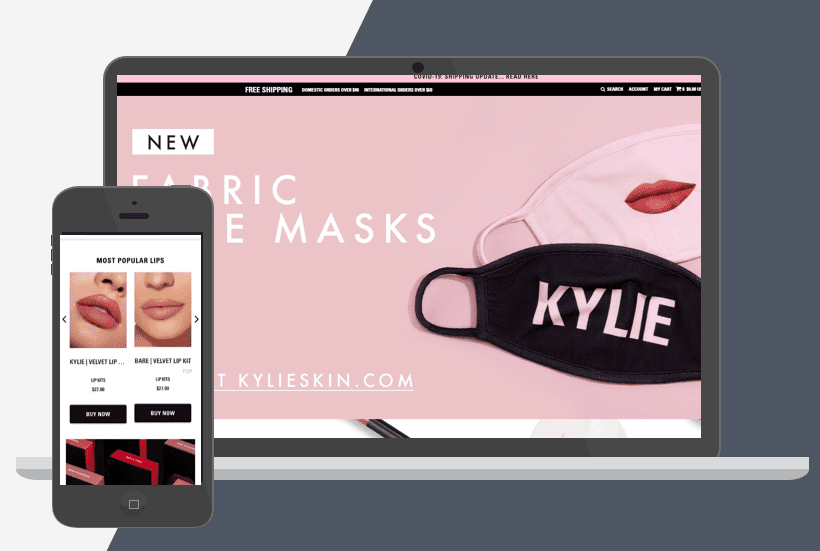 The online shop founded by Kylie Jenner and her mother Kris Jenner in 2014 is one of the prime examples of a Shopify Plus online shop. There are several famous flash sales per year. When they are announced via social media, products like eyeliners, lipsticks, and alike are regularly sold out within minutes (sometimes even seconds). For that to work out smoothly, a powerful technical infrastructure, like the one offered by Shopify Plus, is crucial. By using Shopify Plus' professional setup, Kylie does not have to make up for any inconvenience.
2) Eyewear by David Beckham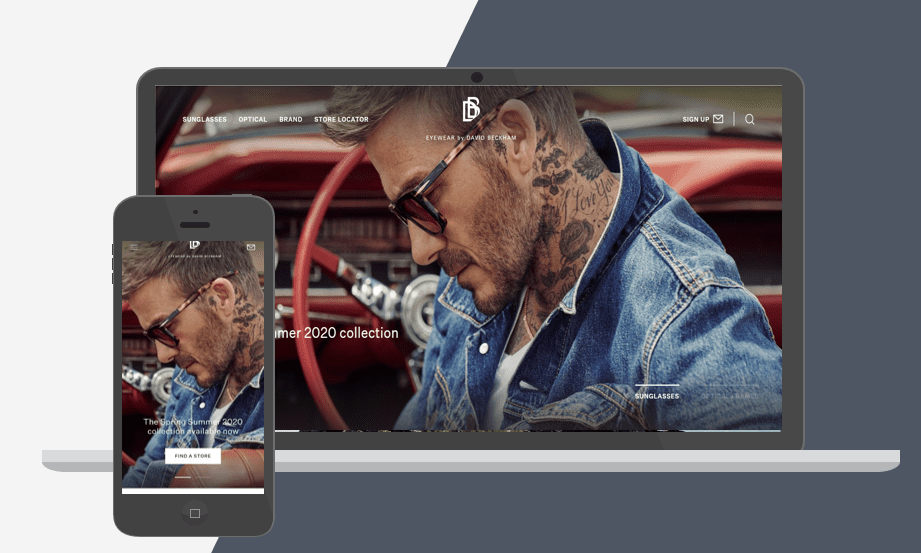 Another A-Class celebrity who sells products via a Shopify Plus store is David Beckham. The former football/soccer player sells trendy and stylish sunglasses via his online shop. This store is a great example of how to use one of the various designs to score the goal of improving the customer experience in a bid to increase purchase conversion.
3) Victoria Beckham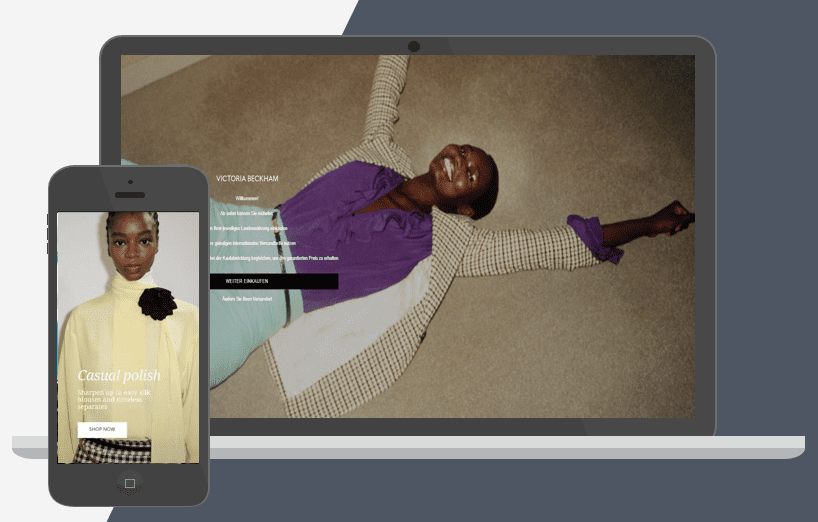 Just like David, Victoria Beckham also offers her products online. Her fashion label, founded in 2008, is another multi-channel company powered by the Shopify Plus platform. The brand has won multiple industry awards including the Best Designer Brand and Brand of the Year at the British Fashion Awards. This online shop is a great example of how to use dynamic videos and images in order to spice up brand engagement.
4) Adele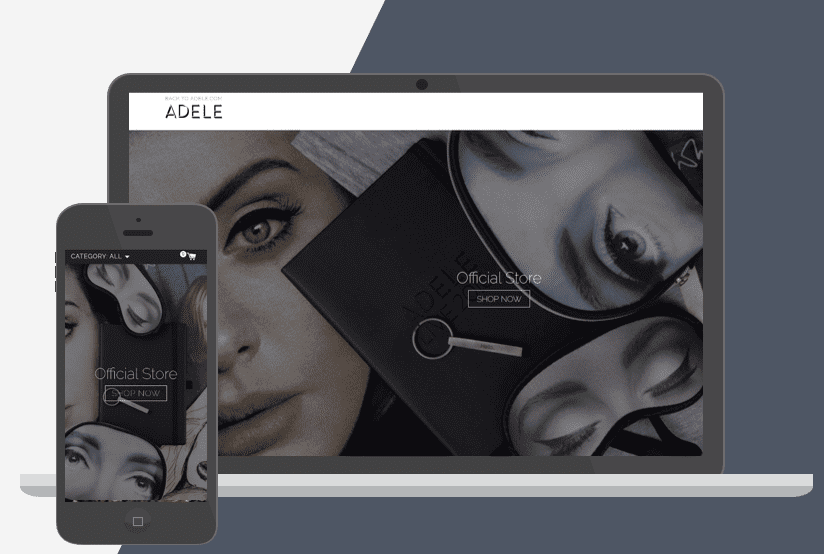 Hello from the other site. The Grammy Award-winning singer and songwriter Adele sells merchandise such as keyrings, pencil sets, shirts, and iPhone covers via her own online store. Even though there are not a lot of different products offered, using Shopify Plus is reasonable, as there are thousands of orders in a short period of time, when new products/albums are launched.
Shopify Plus in Sports
Besides the aforementioned online shops, mainly driven by the popularity and prominence of the founders, many sports brands are using Shopify Plus to win the e-commerce market. In this category, we are highlighting one iconic basketball club, young and rising brands, and one well-established international brand that flawlessly uses Shopify Plus for its e-commerce endeavors.
5) Gymshark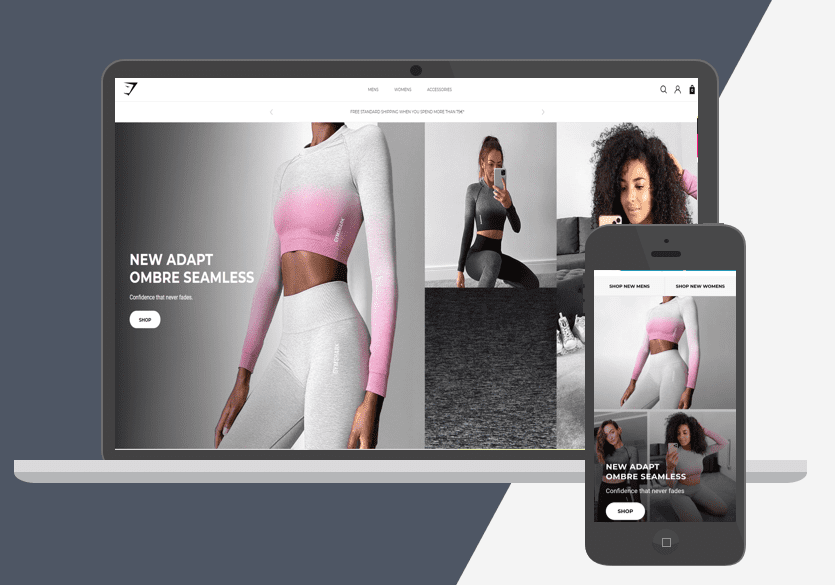 One of the many companies that wrote a success story after switching to Shopify Plus is Gymshark. The British fitness fashion store switched to Shopify Plus in 2017 after a costly Black Friday crash (estimated $143,000 in lost sales) at their former online system Magento. By now, Gymshark is the fastest growing brand in the UK and has grown to one of the most successful fitness brands in the e-commerce shark tank - the switch worked out perfectly.
6) Los Angeles Lakers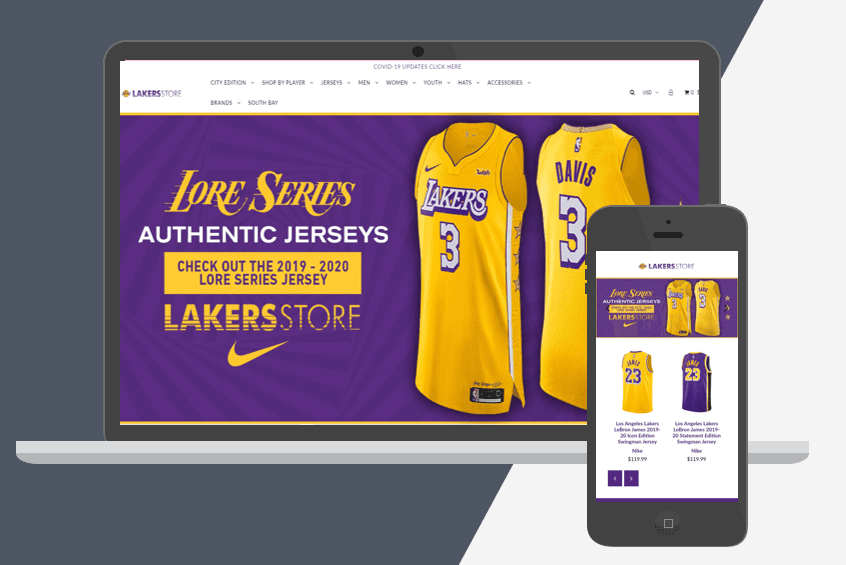 Founded in 1947, this NBA club not only aims for having the best basketball team but also wants to outperform its competitors when it comes to online sales. Nearly as much as they want to throw many baskets in the game, they want their fans to complete the purchase in the virtual shopping basket. For reaching that goal, they entrust the Canadian shop system Shopify Plus.
7) Fitbit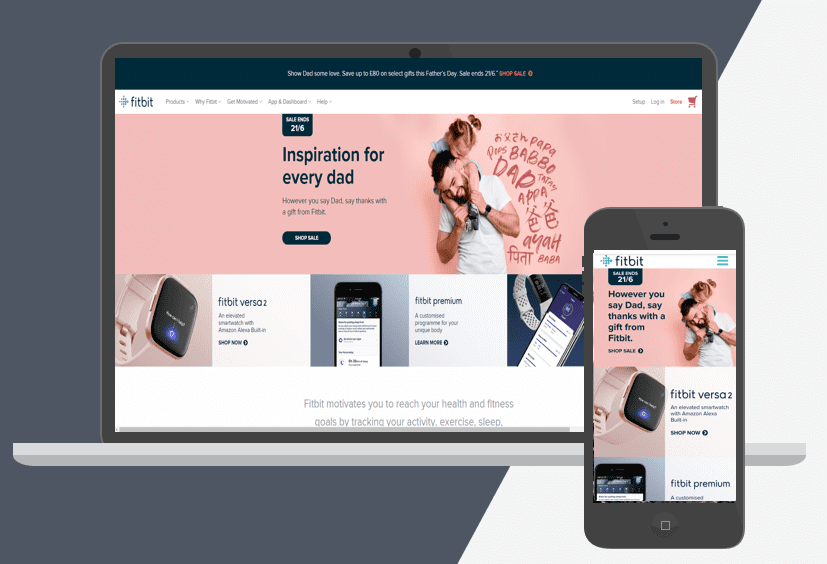 The San Francisco-based fitness tracker company has, as the examples we heard before, taken the step to join the enterprise platform Shopify Plus. By doing so, Google's subsidiary wants to keep outperforming its competitors. They feel like they can best stay at least one step ahead of the competition with the help of an easily customizable online shop.
8) Decathlon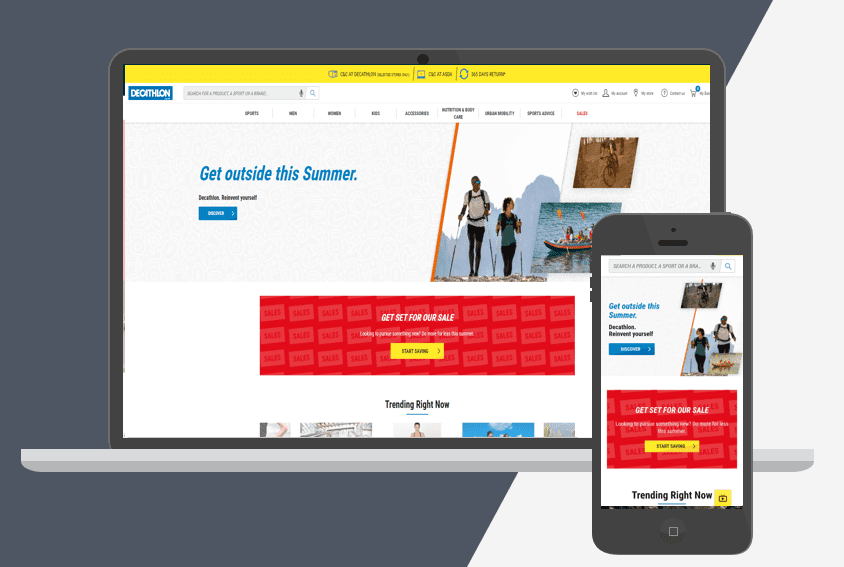 The French sporting goods retailer has become the largest company of its kind in the whole world. They are often referred to as Ikea of the sports industry. Besides the 11,000 outlets, Decathlon also offers a professional online appearance. By using the Canadian e-commerce platform they try to master multiple disciplines at once.
---
---
Beverage Brands that use Shopify Plus
Closely connected to the sports category is the drinks category, isn't it? Well, maybe only for marketing purposes, but notwithstanding, the food and beverage industry is one of the fastest-growing product categories according to 2019 data from eMarketer. Within this trending e-commerce category, Shopify Plus is used by many key players and we are highlighting three of them below.
9) Red Bull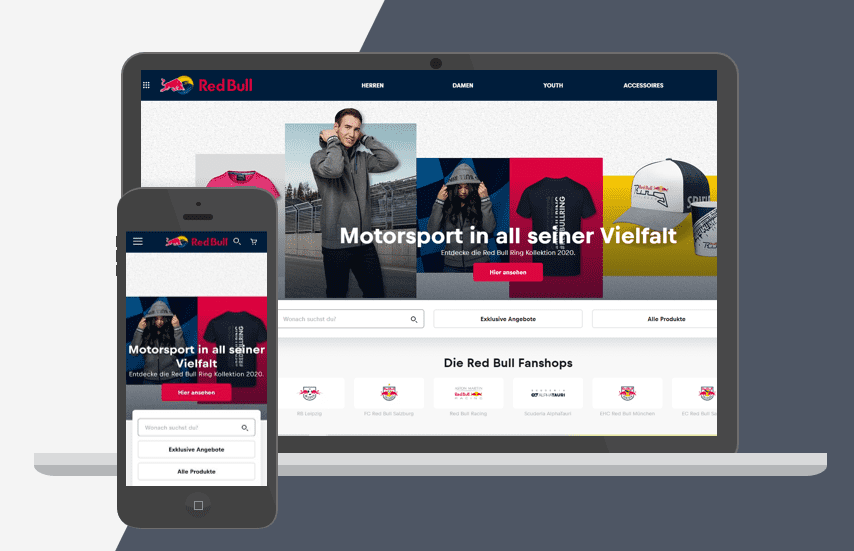 The Austrian energy drink company is one of many examples in the food and beverage industry that uses Shopify Plus as a shop system to boost online sales. As Red Bull stands for energy and speed, the enterprise platform is a perfect fit. The speed of the Canadian shop system is highly optimized and therefore gives Red Bull wings for better online performance.
10) Pepsico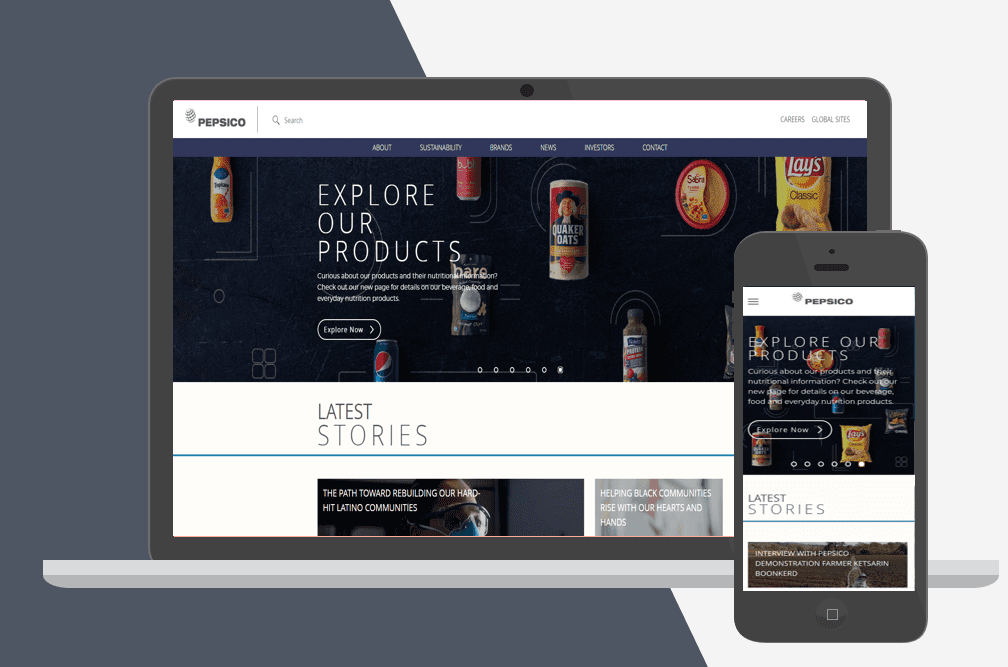 The American company, most famous for the Pepsi Cola drink, offers multiple products on its Shopify Plus-powered online store. In October 2019, CEO Ramon Laguarta told Wall Street analysts that his company will hit $2 billion in online sales in 2019. That was only possible with the right e-commerce platform. One thing is sure - they won't be soft on their soft drink competitors.
11) Anheuser-Busch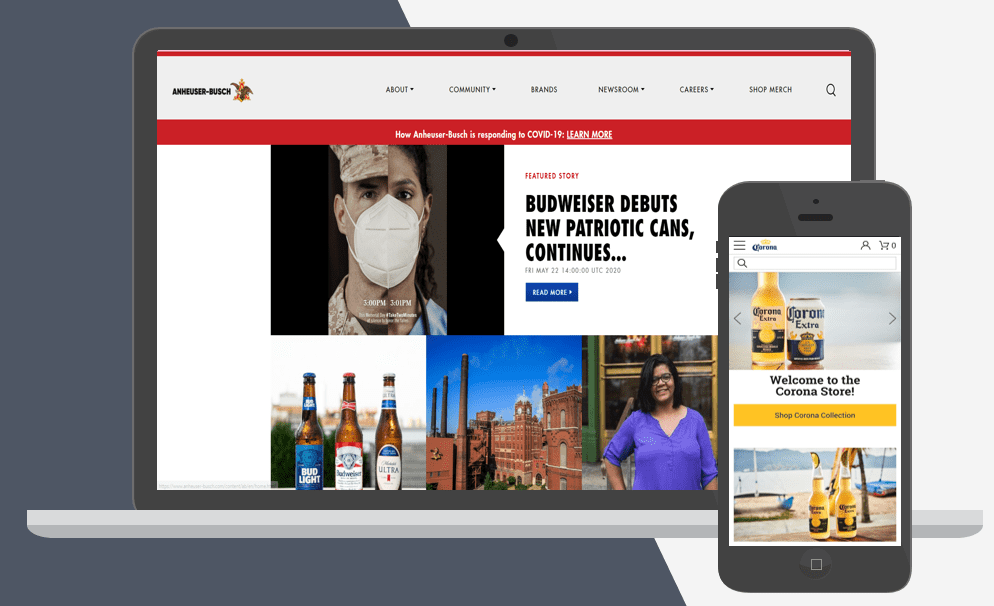 The huge American brand demonstrates how to take advantage of the Shopify Plus platform. Each trademark drink has its own storefront. Including one of the United States' most successful beer brands Budweiser, Mexican beer Corona, and the Belgian Beer brand Stella Artois, Anheuser-Busch covers a broad range of international beer brands. Each one of them is offered online with differently customized online shop designs and features. With their shop, they have raised the bar for other alcoholic beverages.
While it is obvious that fashion, sports, and drink brands are operating in e-commerce, not a lot of people know about the big media company's online shops. However, especially American and British media companies increasingly capitalize on that channel with the help of Shopify Plus
12) The New York Times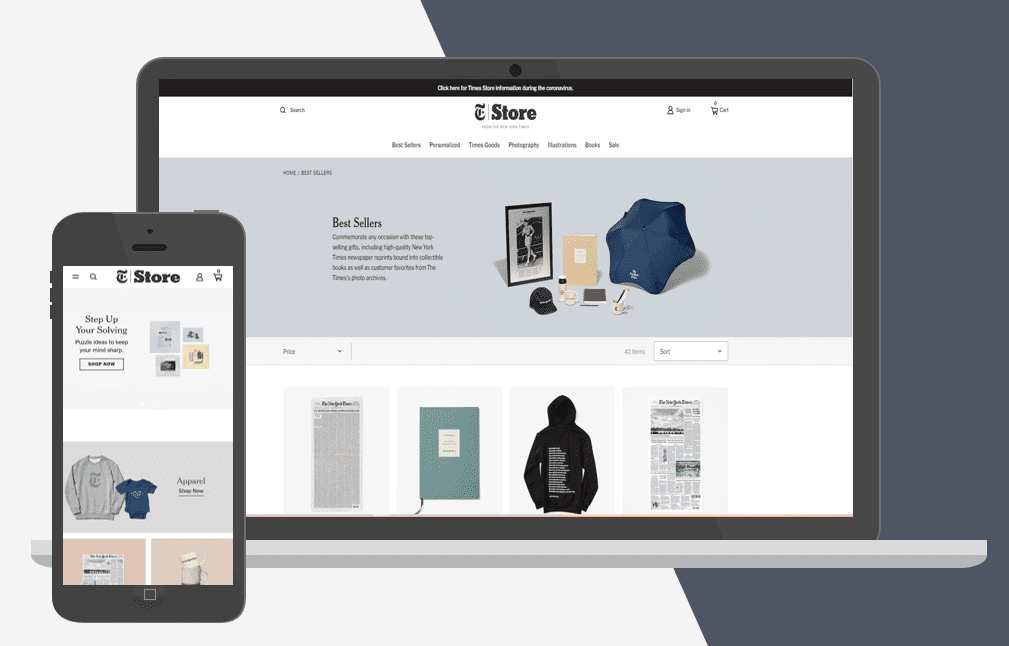 While many other print media companies struggle in times of digitalization, the New York Times successfully made the shift into a new chapter in media & publishing. With the $800 million in digital revenue and over 1 million digital-only subscriptions in 2019, they seem to be on the right path. Additionally to their journalistic work, they utilize their Shopify Plus store to offer books, branded goods, and archival photography, just to name a few.
13) The Economist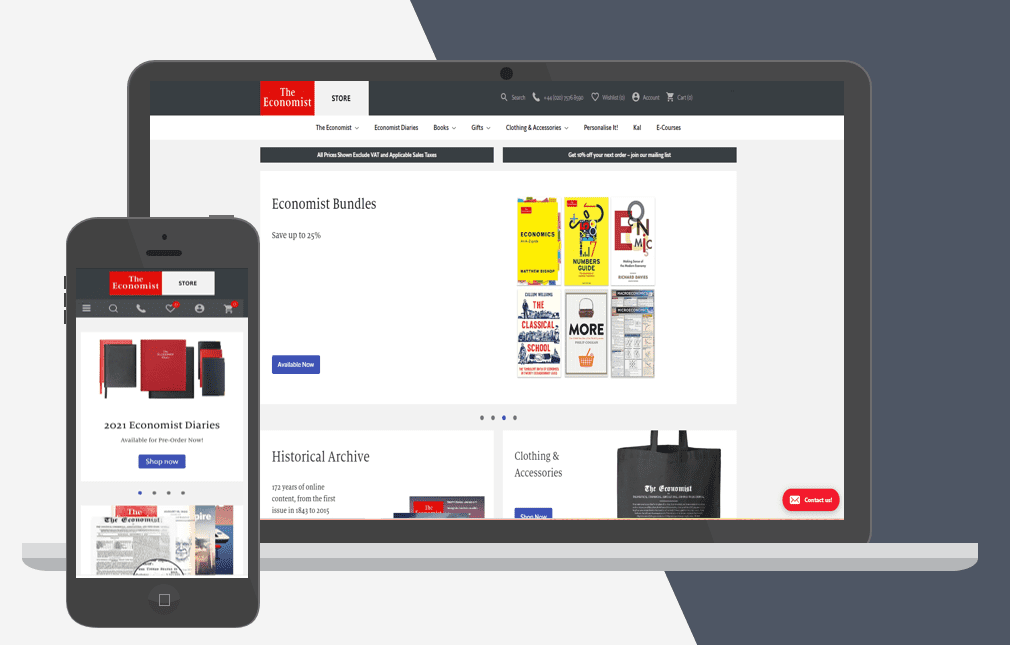 Comparable to the aforementioned, The Economist also wants to reap the benefits of the e-commerce game. The 176 years old, London-based company offers diaries, books, branded clothing, and accessories. Shopify Plus is a perfect fit for their objectives, as they use a multi-channel approach to doing business. This approach allows them to improve their economical actions
14) British Broadcasting Corporation (BBC)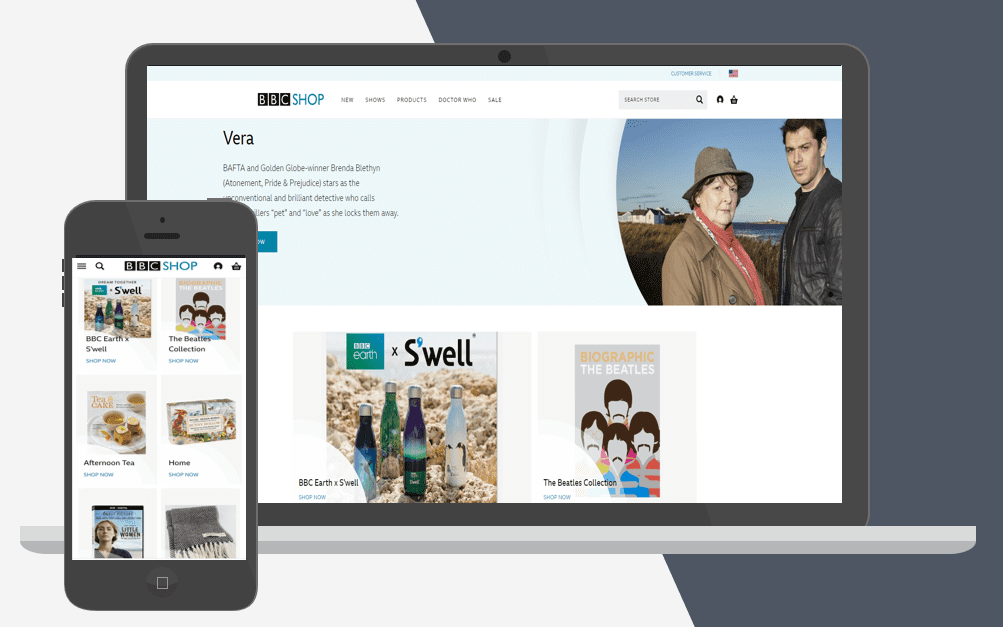 Another major player in international media that uses Shopify Plus is the BBC. Via their webshop, they sell a variety of products including DVDs and books but also mugs, clothes, accessories, and even home decor. E-commerce seems to be a great revenue channel for them as well.
Other Famous Shopify Plus Brands

While there are hundreds of other exciting examples of brands using this Made-in-Canada e-commerce platform, we picked out another four brands that did not fit in the categories we already mentioned, but are absolutely worth checking out.
15) World Wildlife Fund (WWF)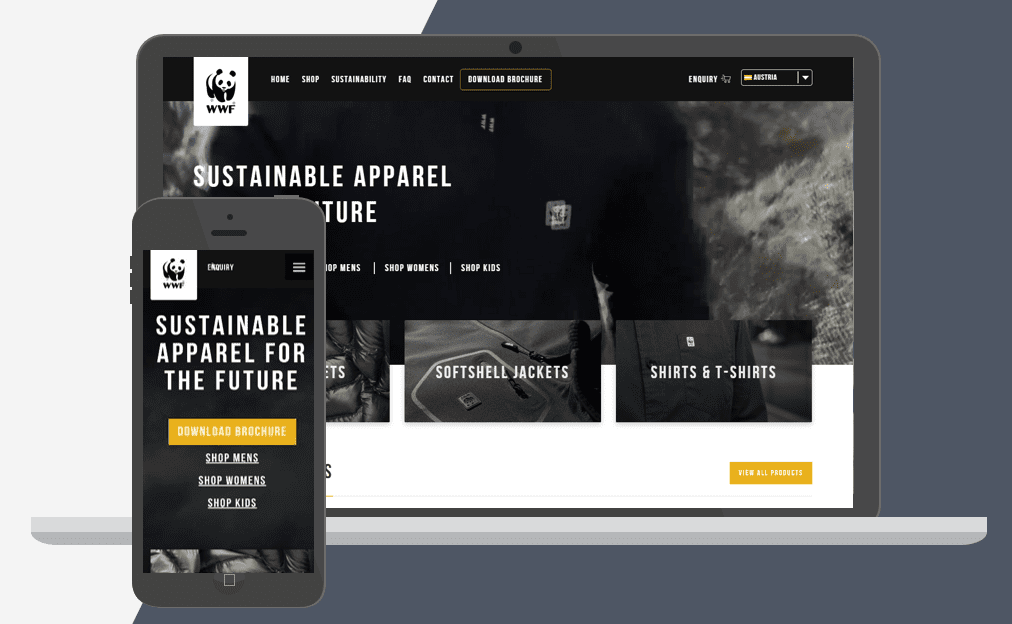 Shopify Plus saves endangered animals. Well, at least that's something their marketing team should claim. By empowering the World Wildlife Fund to offer its products online, Shopify indirectly supports its cause to help tigers, rhinos, and whales, among other endangered species. What is important to note as well, is the fact that a professional-looking webshop definitely allows them to make revenue online. Even though they don't earn the lion's share of their income with e-commerce yet, being present online definitely helps to fund some of their wildlife preservation projects.
16) Heinz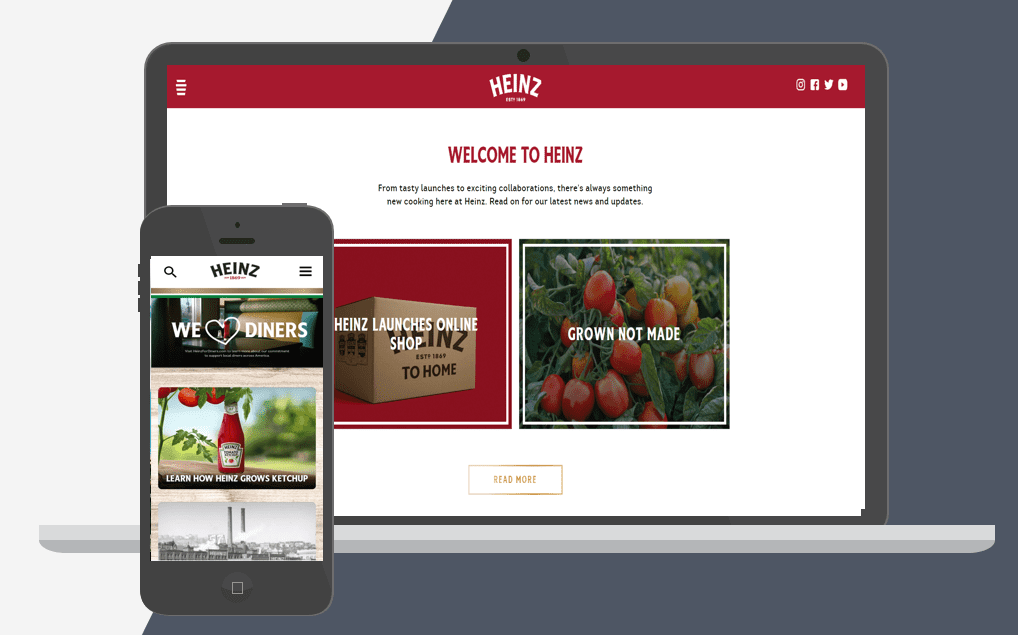 Heinz's D2C (direct-to-consumer) site went from contract to launch in only 7 days as a reaction to the COVID-19 crisis. That is an impressive example of how Shopify Plus enables a company to react quickly to changing circumstances. At the beginning of April 2020, the American Food company was able to offer a limited selection of beans, tomato soup, and spaghetti and hence was able to catch up to their competition.
17) Lindt & Sprüngli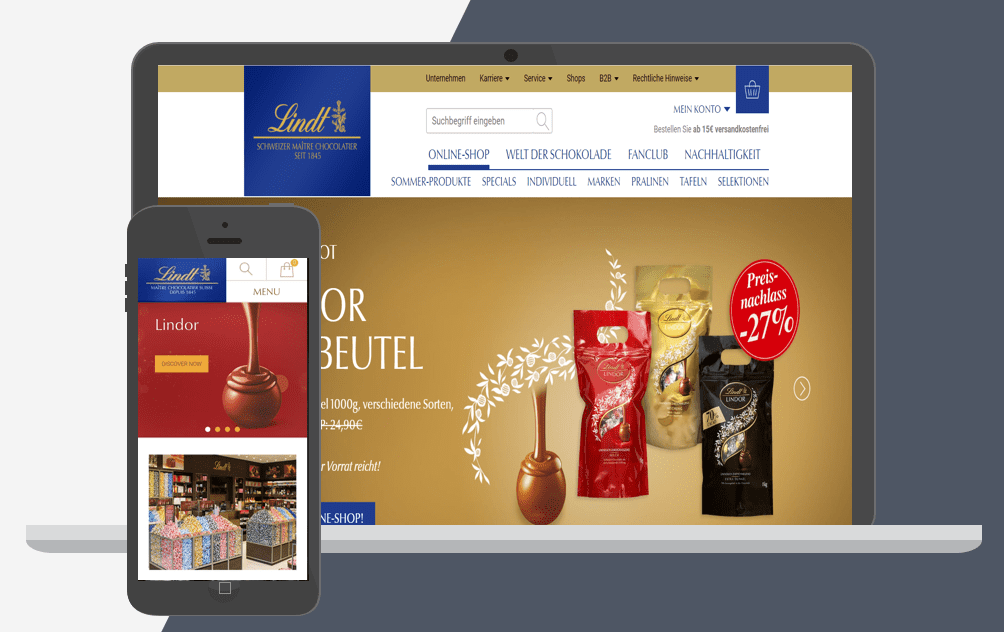 If you think Heinz's 7-day-implementation is impressive, get ready for a sweet surprise. Swiss Chocolate producer Lindt launched their online shop in only 5 days. Amidst the crisis, one of the most important days - Easter - was approaching. So, the Swiss company, which is famous for its chocolate bunny, had to act quickly. For that reason, they hopped onto the Shopify Plus train and were lucky to do so.
18) Tesla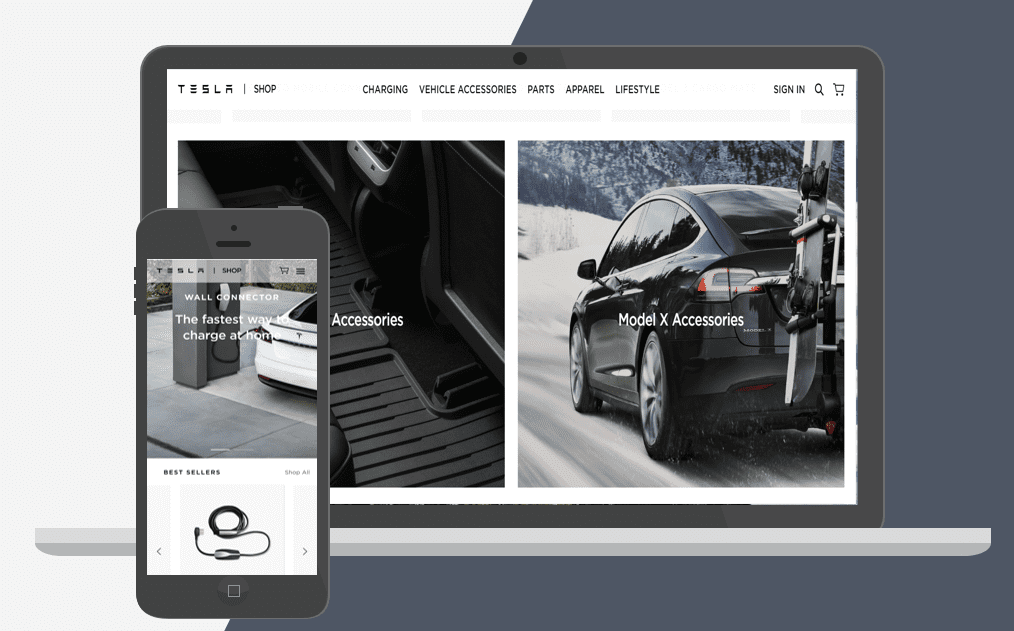 The game-changing company led by the polarizing Elon Musk is also taking part in e-commerce. In order to accelerate online sales at the same pace as their cars do, Tesla relies on Shopify Plus as an e-commerce platform. Via the Tesla online shop, they sell charging devices, vehicle accessories, as well as women's and men's apparel. Additionally, hats, toys, and parts for the cars are sold online.
Conclusion of well-known Shopify Plus Stores



This collection of big and famous, traditional, and trendy brands from many different industries, who are all customers of Shopify Plus shows that there was a need for the launch of the Canadian e-commerce enterprise platform. When looking at the current trends, and if Shopify continues to perform as it does at the moment, there is no slowing down expected in the near future.
Even though in this article we only presented famous brands, Shopify Plus can also be an attractive alternative for regular, fast-growing e-commerce companies. In case you are one of the online merchants who use Shopify and you are thinking about when and why you should make a switch from Shopify to Shopify Plus, the linked article is a proper way to get more information.
Whatever decision you make, in most cases it is worth thinking about outsourcing your logistics. 3PL companies like byrd offer a seamless Shopify integration. Using their services will offer you access to an Amazon-like logistics infrastructure.
---