EXPANSION UPDATE
byrd opens two new e-commerce fulfillment warehouses in France and in the Netherlands just in time for the upcoming peak season
The holiday season is quickly approaching and Deloitte predicts e-commerce holiday retail sales to grow between 25% to 35%. This puts mounting pressure on e-commerce merchants who are facing increasing challenges as shipping volumes grow and logistics-related costs drive down their margins. One major issue online retailers face is shipping costs which are especially high for cross-border shipments.
This being said, to help retailers take on the upcoming challenges and succeed internationally with an efficient logistics solution, we recently expanded our fulfillment network. So, in addition to our fulfillment centers in Austria, Germany, and the United Kingdom, we just added new warehouses in France and the Netherlands which will help our online retailers ship more efficiently during the upcoming holiday season.
Entering the second largest e-commerce market in Europe
Because of its attractive e-commerce market size, France is a popular destination among retailers. By adding a new warehouse with more than 3000 square meters (approx. 32,000 square feet) in the Western part of France to our network, we are able to successfully optimize the shipping costs and expedite the delivery times for our customers. Our logistics partner has more than 10 years of expertise in the e-commerce logistics industry, shipping for one of the largest marketplaces in France. The partner also ensures the highest safety regulations for the secure storage of products in their fulfillment centers. With the current range of shipping options, online shops shipping from the French warehouse are able to benefit from a high shipping service quality, including at-home delivery and tracking as well as expected nationwide delivery within 48 hours.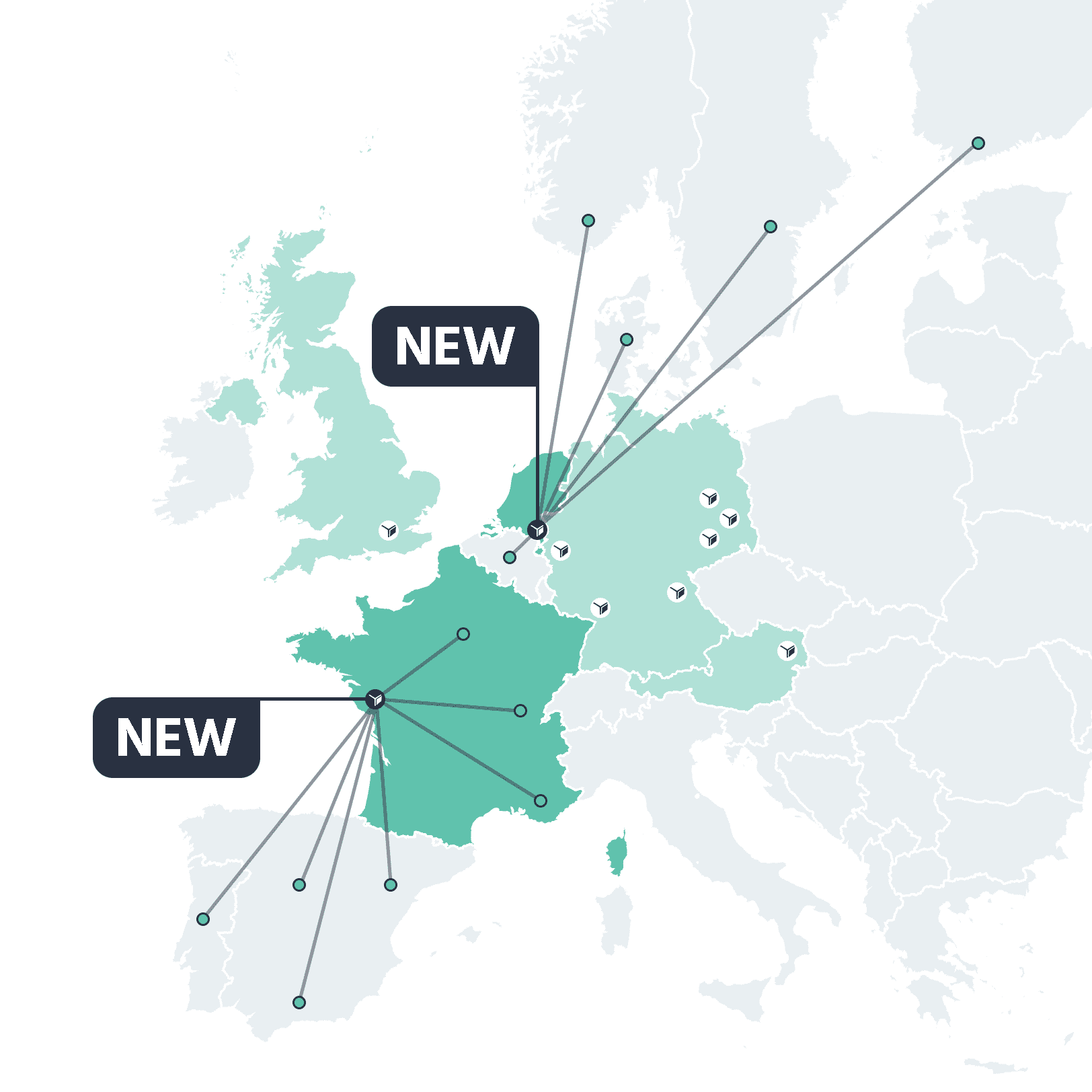 Cross-border shipping from the Netherlands
The Netherlands has one of the highest e-commerce penetration rates in Europe and with its numerous well-known ports relevant to international trade, the Netherlands has become a hotspot for cross-border e-commerce. The focus is mainly on international trade with the UK, but also on importing and exporting goods to Scandinavian countries, as well as intense trade with the European mainland. As such, having a Dutch warehouse partner in our network portfolio was an evolutionary step towards building a flexible and resilient fulfillment network. The Dutch warehouse, located in proximity to the German border, possesses capacities to ship 1000 parcels per day with three different carriers. Besides regular B2C e-commerce orders, over the years the HACCP-certified fulfillment partner has specialized in fulfilling medical devices, pharmaceuticals, and supplements.
Building the largest European fulfillment network
Notwithstanding the unprecedented worldwide pandemic, we managed to overcome the ongoing challenges and at the same time expand to the three new countries in 2020, strengthening our fulfillment network in Europe. Due to Coronavirus, our endeavors required some creative workarounds, namely by switching to virtual training sessions for our logistics partners and onboarding them to our warehouse system completely digitally. Thanks to our digital-first approach to logistics, we were able to do this in a very structured way and even managed to improve our service levels KPIs at the same time. In fact, our logistics partners achieved 100% fulfillment accuracy last month, which means that all shipments were sent out on-time for our customers.
We now ship from 12 warehouses that span across 5 countries in Europe, facilitating scalable fulfillment for e-commerce retailers of any size. With that, we steadfastly continue building a powerful fulfillment solution for e-commerce that empowers online retailers to grow their business and fulfill their potential.
---