Are you an online retailer looking for a logistics solution for order fulfillment in Dortmund, the Ruhr area, or its surroundings? Then you've come to the right place.
E-Commerce Market Dortmund
With just under 600,000 inhabitants, Dortmund is the largest city in the Ruhr region and ranks 9th in Germany. With a gross domestic product of 22.5 billion euros, Dortmund ranks 14th in Germany in that category. Furthermore, the average age of Dortmund residents is lower than that of the rest of Germany, which suggests a greater willingness to make online purchases. In addition, Dortmund has been undergoing a transformation from a coal and steel region to a technology hotspot.
Logistics Location Dortmund
Thanks to its advantageous location in the center of Europe, the Dortmund region has developed into an important international logistics location. Dortmund's main railway station and Dortmund Airport make the city a crucial transport hub in the Rhine-Ruhr metropolitan region.
In addition, the city has the largest canal port in Europe and thus good connections to important regions on the North Sea. Dortmund, therefore, benefits from an advantageous geographical location and lies in the middle of an up-and-coming economic region. The inhabitants in the immediate vicinity represent an attractive target group for e-commerce, both in terms of the numbers and the demographics. Using a fulfillment warehouse in Dortmund or its vicinity is therefore worth considering for many online companies.

Fulfillment in Dortmund and the Surrounding Area – Why is it Important?
For a long time, Dortmund and its surroundings were considered an economically and, in part, socially problematic area in Germany. Today, however, the Ruhr region is considered one of the most up-and-coming regions in Germany. Numerous educational institutions attract young people and drive innovation. This also creates an attractive e-commerce market.
Therefore, if there are a lot of your customers living in this region, it is important to store your products geographically close to them. Shipping speed has never been as relevant as it is today. With an e-commerce fulfillment center in NRW, you can reduce delivery times and costs. In addition, you minimize the impact on the environment through a shorter shipping route.
Moreover, the Dortmund order fulfillment location is in direct proximity to the Benelux countries, which simplifies cross-border e-commerce sales as well, making your fulfillment setup scalable and optimized for growth.
What is e-commerce fulfillment in the first place?
E-commerce fulfillment refers to the process of order handling for online shops. In cooperation with a 3PL (Third Party Logistics) partner, the entire order processing is handled hassle-free and without unwanted delays between the fulfillment steps. This includes the storage of products, the packaging, and dispatch of orders, as well as the processing of returns.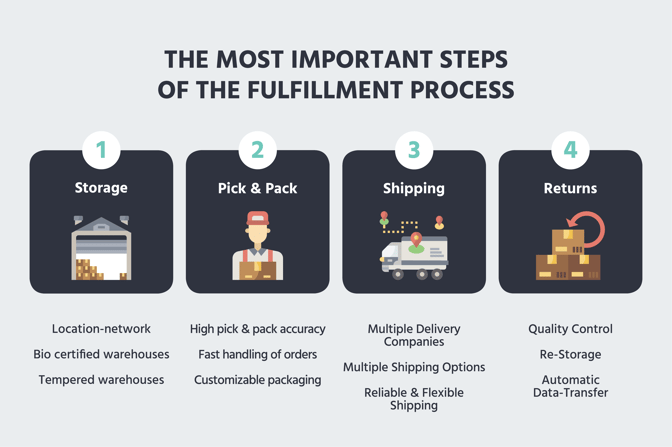 With partners like byrd, the fulfillment process is automated, making it more efficient, faster, and less error-prone. Orders are processed without delays and a comprehensive dashboard shows all relevant data in real-time. With the help of customizable packaging, you can also differentiate yourself from other online shops and Amazon Sellers.
E-Commerce Fulfillment in Dortmund
As is often the case, there are regional differences and peculiarities in e-commerce logistics. Even today, however, this is still overlooked by many online companies. That, in turn, gives you the opportunity to be one step ahead of your competitors.
For example, parcel delivery service providers are often an influential factor in the purchase decision. Take a look at the most popular parcel delivery companies in Germany or learn more about the most popular parcel couriers in the Netherlands.
Fulfillment solution byrd
If you're looking for a fulfillment partner near Dortmund, we recommend you take a look at byrd. The fulfillment company operates a European logistics network with fulfillment centers in the leading e-commerce countries in Europe. This makes expansion and cross-border shipping as easy as possible. Request a quote today and get in touch with one of our e-commerce fulfillment experts, so that we can help you fulfill your potential.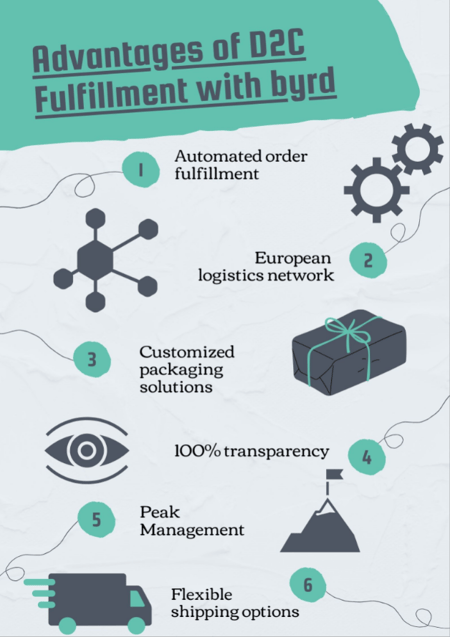 ---
---