Every manager has experienced it in one form or another; different departments do "their own thing", talk around each other, or simply do not manage to convey the information to everyone or get them involved with the latest developments in the company. This leads to a loss of efficiency within a company and continuously causes high costs (according to a study, the costs of poor communication for companies with 100 employees amount to an average of $420,000 per year). With the help of ERP systems, e-commerce companies that are growing rapidly can successfully overcome these and other challenges.
For this very reason, more and more e-commerce companies are looking into ERP systems, but in many cases, there is still a lack of clarity on this topic. That's why we've written this blog in a bid to help decision-makers in e-commerce to get a better overview of this topic. We will address the following questions:
What are ERP systems?
The term ERP might be familiar to many business-savvy people, but what is an ERP system actually?
ERP stands for Entrepreneur Resource Planning and is a cross-functional software that supports all business units within an organization. As such, ERP helps to manage the business processes of different departments and functions through a centralized application. This makes up-to-date information available to all departments at all times. It facilitates greater transparency and unified action within an e-commerce company.
A comparison with an operating system illustrates ERP systems well. For example, you have Windows on your computer or IOS on your smartphone. These systems allow you to install and use various apps on these devices. Similarly, an ERP system also acts as a platform for your various "apps" such as marketing, accounting, HR, sales, inventory management, and the like.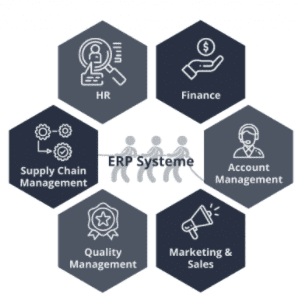 Why and when to use ERP in e-commerce?
Growing online shops eventually reach the point where they have to question whether all processes are running efficiently. This often leads to the realization that the processes aren't optimal and, as a result, considerable financial and temporal resources are wasted. For example, due to a lack of communication between departments, certain activities are carried out twice and thus don't provide any additional benefit despite all the efforts. For most companies, the shoe pinches in one or multiple of the following areas:
Data must be entered manually

Data is not up-to-date and must be effortfully obtained from other departments

Interdepartmental workflows are inefficient

Reports are not optimized

It's difficult to keep track of important KPIs
Lack of data often leads to errors going unnoticed. An ERP system helps to keep track of various developments to be able to react in real time. This can be compared to the ability to control the engine of a car while driving and thus to make a decision in time whether to pull over to the side of the road or to bring the car to a garage. Applied to an e-commerce company, managerial decisions can be made by looking at the overall picture of the online store, which is available to decision-makers through the enterprise resource planning system.
Should e-commerce companies use ERP systems?
As is so often the case, there is no universal answer to this question. The decision has to be made individually, varying from company to company. What is certain, however, is that ERP software development in e-commerce can simplify many processes, especially in the area of online commerce. The best way to illustrate its usefulness in e-commerce is with a short example:
Imagine you sell footballs. When a customer makes a purchase through your online store, an ERP system records all the necessary data about your customer and stores it in a large database. At the same time, the system automatically checks whether the ball is in stock. After confirmation, without any loss of time or human effort, the product is virtually put aside and the information is forwarded to the person responsible for shipping. In addition, the shipping address, packing note, and shipping label are sent - still in real-time and without any manual effort. At the same time, the inventory in the system is reduced and production is informed that more goods should be produced. Especially if you are an omni- or multichannel retailer, selling products through multiple channels, the complexity of these processes increases exponentially, often making an ERP system essential.
This simplified example gives an idea of the potential of an ERP system in e-commerce. Even if this does not mean that every online store should use such an ERP system, especially since there are other automation tools such as Zapier, an ERP system is, in many cases, a feasible solution for online stores.
Integration or connection of e-commerce store systems with ERP systems
Online stores usually need to find an ERP system that has a connection or integration for the respective store system, such as Shopify, Magento, or Plentymarkets. First of all, a distinction must be made between integration and connection, which are often mistakenly used synonymously. This is because an integration goes much further than a connection. This creates both advantages and disadvantages.
To better understand the concept, one can illustrate it with a comparison. In this comparison, you can think of integration as having a roommate in a shared apartment - he or she shares the living room, kitchen, and bathroom with you. You see each other almost every day and in the best case, you can benefit from joint shopping and sharing the rent. However, this cohabitation can also cause friction. For example, you may not both have the same ideas about when the apartment is clean, or one of you may like to have quiet in the morning, while the other enjoys quieter in the evening. So here you should pay extra attention to who you move in with.
A connection is comparable to outside help. Comparable to this would be, for example, a cleaner who is called in to help with certain tasks. There is less potential for conflict, and the cleaner doesn't have to adapt specifically to your personality. (S)he does the work and then leaves again. So, this is rather superficial and uncomplicated, but it also doesn't allow you to benefit from the friendly relationship that exists with the roommate.
Whether it's a connection or an integration, most ERP systems are compatible with many store systems, such as Shopify, WooCommerce, Shopware, Magento, and many more.
---
---
Advantages of ERP Systems
Whether you opt for integrating or connecting your shop system with an ERP system, getting the most out of this venture should be a priority. In this part, we are highlighting some of the advantages that ERP can bring to the table:
Backup of all company data in one place

Automation of certain work processes

Integrated information between all departments

Acceleration of collaboration between employees in different departments

Facilitation of accurate tracking of inventory and sales

Creation of a single point of analysis and reporting

Single trusted, internal source of information

Elimination of single-purpose software

Integration of systems and services

Enables standardized processes
Generally, the use case for ERP systems is twofold – to store internal company information centrally to render easy access to this information, and to increase efficiency by simplifying and automating procedures within the company. When or whether you should use such a system depends on these factors:
Customization: Complexity of integration tasks

Growth: Do you need a solution that scales with growing order volumes, customers, and products?

Customers: Who are your customers? Do you sell to B2C, B2B, or both?

Internal or external technical resources: Do you have people (e.g. IT) with the technical expertise to help with the project?

Financial: As everywhere, money plays a major role in whether and to what extent such a project can be implemented.
Furthermore, according to Panorama´s 2018 ERP Report companies cite the following as the top 5 reasons for using an ERP system:
Improve business performance

Prepare the company for growth

Reduce working capital

Improve customer service

Make work easier for employees
Despite the figures not being totally up to date, these findings give a good indication.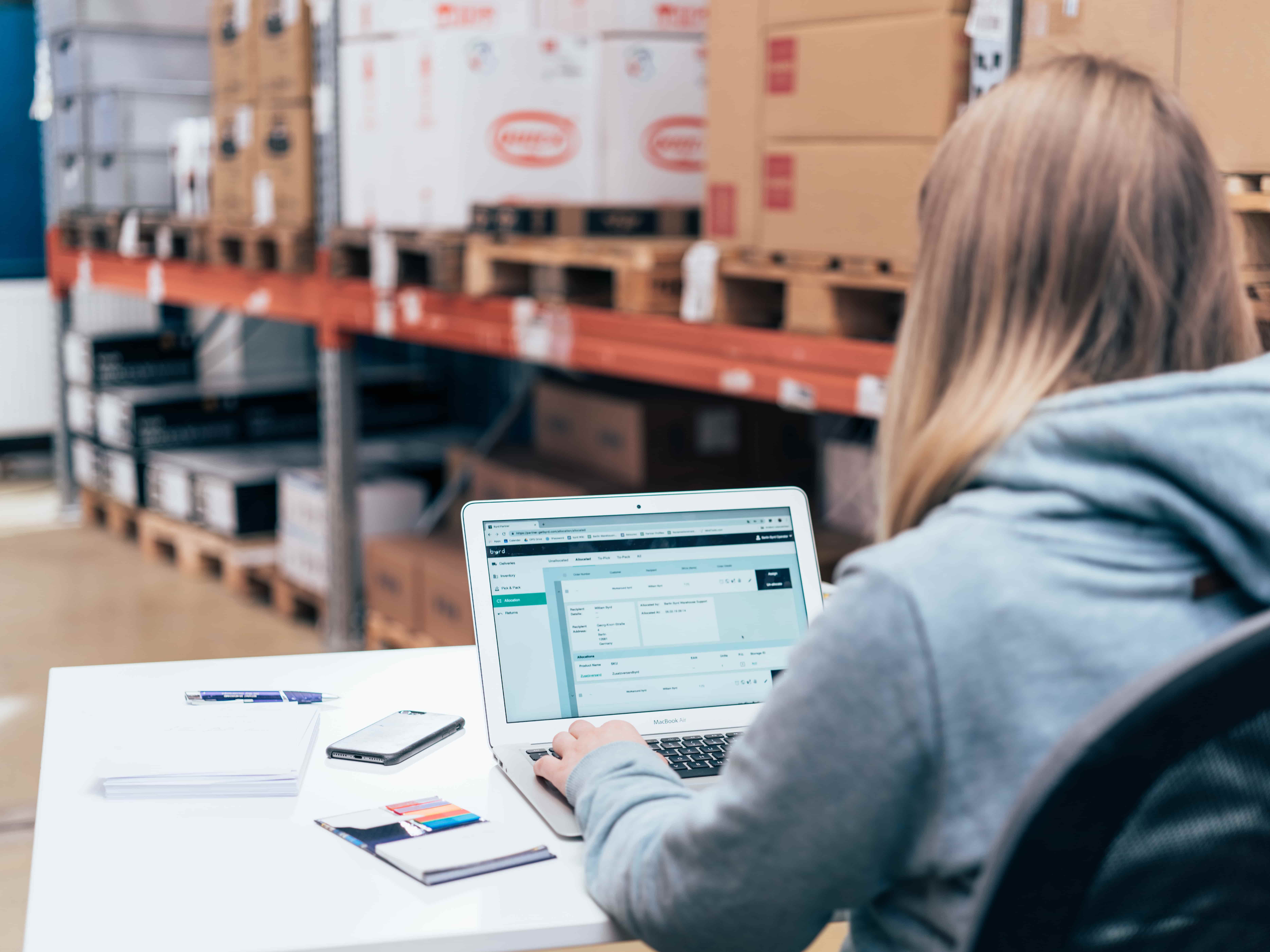 Disadvantages of ERP systems
The effort involved in integrating an ERP system shouldn't be underestimated. It can be time-consuming, costly, and difficult to transfer data and maintain a certain level of quality over time.
Implementation
An ERP system isn't introduced into a company overnight. The implementation requires a considerable amount of time and effort. Should you decide in favor of such software, always plan realistically and remember that not everything always goes according to plan. In the above-mentioned report, only 21% of companies in a survey said they completed the implementation within the planned time.
Employee training
For such a system to serve its purpose, every employee must be informed about the implementation and subsequently use it. This often requires training and education. It's essential that everyone understands how the ERP system works and why it should be used. It's not uncommon that there is resistance from individual employees who don't want to switch to a co-shared environment. This limits the effectiveness of an ERP system considerably.
Advantages not immediately visible
The often expensive and complex implementation of the ERP system doesn't bear fruit immediately. The key here is to remain patient and have realistic expectations. After all, in most cases, the benefits only become apparent in the long term. According to research by the Aberdeen Group, ERP systems reach their maximum usefulness after 7 years.
Customizations
The possibility to customize ERP systems is a blessing and a curse at the same time. On the one hand, this option is one of the reasons for the usefulness of this software, but on the other hand, there are also disadvantages and problems that can come along with it. Many customizations naturally take up a lot of resources, and too many customizations can undermine the software's greatest strengths. In addition, possible updates in the future can get more complicated. As a rule of thumb, one can speak of adjustments of 20%, which shouldn't be exceeded. It's therefore important to focus on using an individually suitable ERP system right from the get-go.
Complexity
There is no question that ERP systems can be a powerful tool to move a company forward. However, the numerous possibilities it brings with it also lead to a high level of complexity. Often, the systems are too large and too complex to efficiently capture the processes of a company. In these cases, employees often come into play as a source of problems again. Some may resist using a new ERP due to its complicated functionality.
Costs of ERP Systems
In general, the costs depend on many factors.
These include:
the size of your company

the structure of your company

cloud ERP vs. internal ERP

whether you want to integrate existing software with the new ERP software
Costs of the Software
The price tag is the most significant disadvantage of an ERP system for many e-commerce companies and thus often the decisive argument against implementation. If you decide to use an on-premise system, the costs can quickly reach five figures. Especially, but not only, for small and medium-sized companies, these are considerable expenses. High implementation costs can be circumvented by cloud-based systems. However, this incurs monthly costs and access is only possible if payments continue. So as a short-term solution, this is very attractive, but in the long run, this could be the more expensive alternative. In view of the often long periods of use, this decision should therefore be thought through carefully. In addition, fear of data loss and security concerns, in general, are also among the main reasons to refrain from a cloud-based alternative.
Costs for implementation and maintenance:
If you think that the purchase cost of the software is the end of the story, you are sadly mistaken. If you take into account the time spent by employees and ongoing costs to keep the system running, you end up with a multitude of the original outlay. Often you even have to hire additional workers for maintenance and development.
In 2018, nearly two-thirds of respondents (from numerous industries, predominantly manufacturing (43%), retail and distribution (11%), finance, insurance, and real estate (11%), and information technology (10%), and mostly North American companies) exceeded budgeted costs, according to a representative study. The main reasons for this are as follows:
Unplanned technical/organizational problems (45%)

Unrealistic budget planning (43%)

Additional technological requirements (41%)
For this reason, you should carefully consider these aspects when planning, so as not to experience any unpleasant surprises. Furthermore, you can save your company a considerable amount of money if you negotiate skillfully. According to the Panorama Consulting Group Report 2020, last year the cost of purchasing an ERP system for small and medium-sized companies was reduced by an average of 27% during the purchase process.
What are the ERP alternatives?
If you have looked at the pros and cons of an ERP system, you probably already have a tendency regarding the implementation of an ERP system. This decision is undoubtedly one that should not be made based on a gut feeling but must be particularly well thought out. According to experts, a large number of decision-makers fail to realize the scope of a such decision. In addition, in many cases, the lack of options for comparison makes the decision even more difficult.
For this reason, we have compiled a small list of some well-known and not-so-well-known ERP providers for e-commerce companies. Please note, however, that there are also smaller brands not mentioned that may be better suited to your requirements. You can find more information at the respective links. This ERP scoreboard may also help you in your search for the optimal solution.
---
---