Now that you know why it's important to reduce WISMO, let's see how to do it in 6 actionable tips:
Proactive multi-channel post-purchase communication

Communicate delivery delays at checkout

Keep shipping status up-to-date

Set up Peak FAQ page

Direct support traffic to other channels

Measure satisfaction using NPS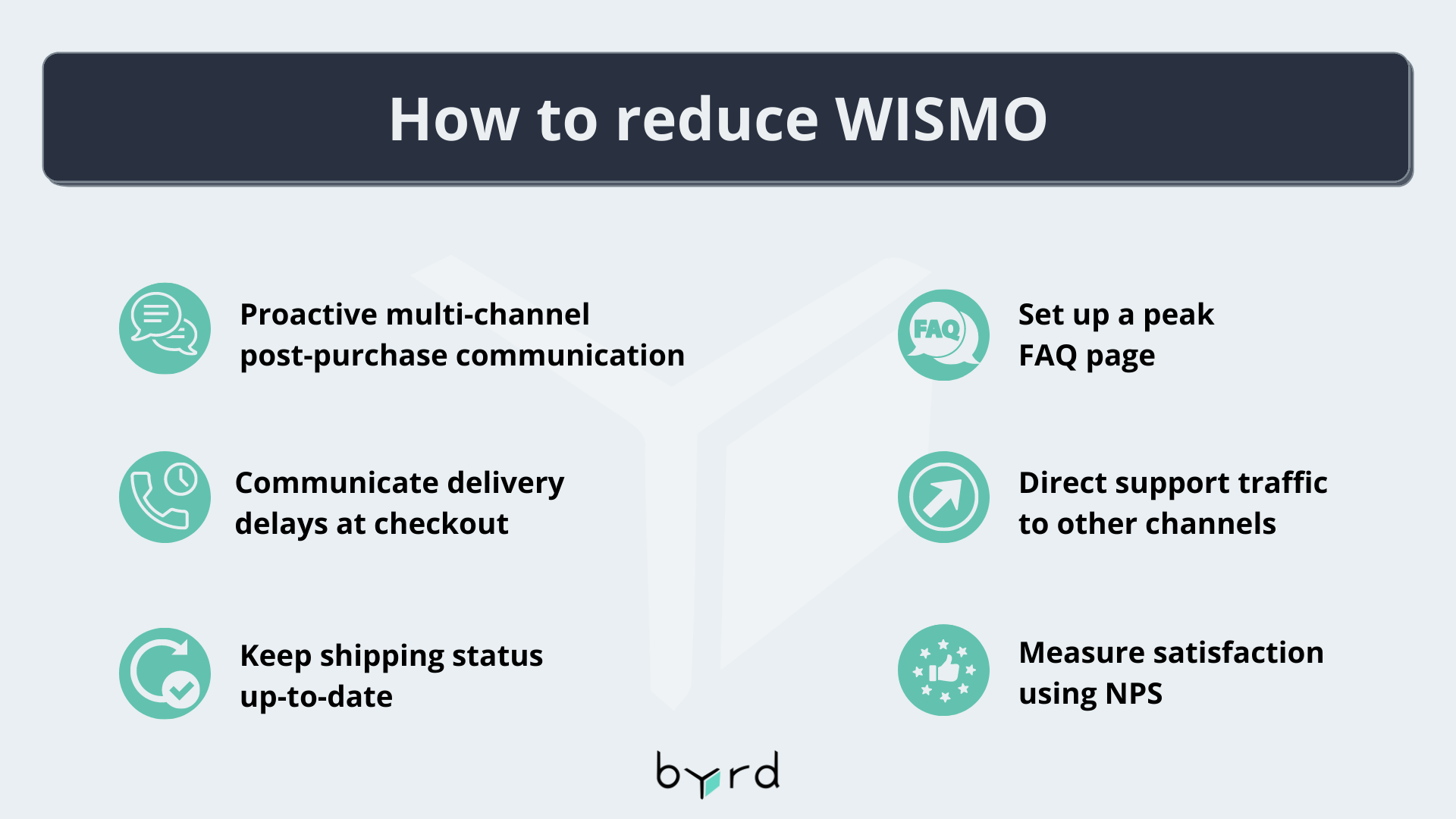 Tip #1: Proactive multi-channel post-purchase communication
Take (back) the control of all post-purchase communication to proactively communicate with your customers at each stage of the journey. Sending regular updates through multiple channels (SMS, email, WhatsApp, etc.) will ensure that the customer always knows what's happening with the order.
Tip #2: Communicate delivery delays at checkout
As mentioned before, advertise the delivery estimates on your homepage, product page, at checkout, etc. to let the customer know what to expect. If you are expecting some delays, communicate those as well, in the end, your customers just want the truth.
Example:

In the UK, during peak season, Marks & Spencer usually advertises larger delivery times to avoid frustration and false expectations.
Tip #3: Keep shipping status up-to-date
Make sure to inform customers in real-time about the shipping status of the order during the shipping process. This is the most emotional part of the customer journey and the source of the majority of WISMO inquiries. Customers will feel appreciated and acknowledged, and it's good also for customer retention.
Tip #4: Set up a peak FAQ page
Many WISMO inquiries are all on the same questions. By setting up a proper and efficient FAQ page, you can direct customers from the home page, product pages, tracking pages, wherever, so they have their answer and without having to reach out to your customer support. Delivery status, times, and stock are the most relevant info. But you can also ask your customer care agents what are the most frequently asked questions and include them on that page.
Tip #5: Direct support traffic to other channels
Your support team may be overloaded (technical issue, number of requests, etc.), especially during peak. Instead of adding another card on the shaky pile, add other channels (SMS, chat, emails), so customers can use what they feel more comfortable with.
Expert tip:

Always direct your customer to the FAQ page first. If the answer is not there, then a customer care agent should get involved.
Tip #6: Measure satisfaction using NPS
Measuring satisfaction is the best way to identify if there is something wrong with your services. Include your NPS (net promoter score) or any satisfaction form in all your communications and make sure to check it regularly.
Reduce WISMO to increase customer retention
Reducing WISMO will also greatly influence and increase your customer retention – especially during peak season time. 35% of consumers said they would not buy from a retailer again after a bad delivery experience.
More and more people buy online, which creates more and more opportunities for your online shop and brand to be known and to gain loyal customers. During peak season, even more people come to your online store. If every single one of them is having a great experience, they might become loyal customers and increase your revenue.
A satisfied customer is a loyal customer
As an online merchant – and like any merchant to be fair – your customers are your most valuable asset. They know you, they know your purchase process, and of course, your post-purchase experience – which includes your logistics process. That is why every insight you can get from them is crucial to improve your services.
A good customer experience is key to retaining customers and creating brand advocates that will help you strengthen your brand and get new customers.
6 Tips to improve customer retention
Ensure tracking page is working immediately or has a holding page

Direct customers to a branded order status for tracking updates

Send proactive, up-to-date branded communication

Review which channels communication is sent via and when

Include cross/up-selling opportunities in communication

Include social links, product recommendations, and helpful content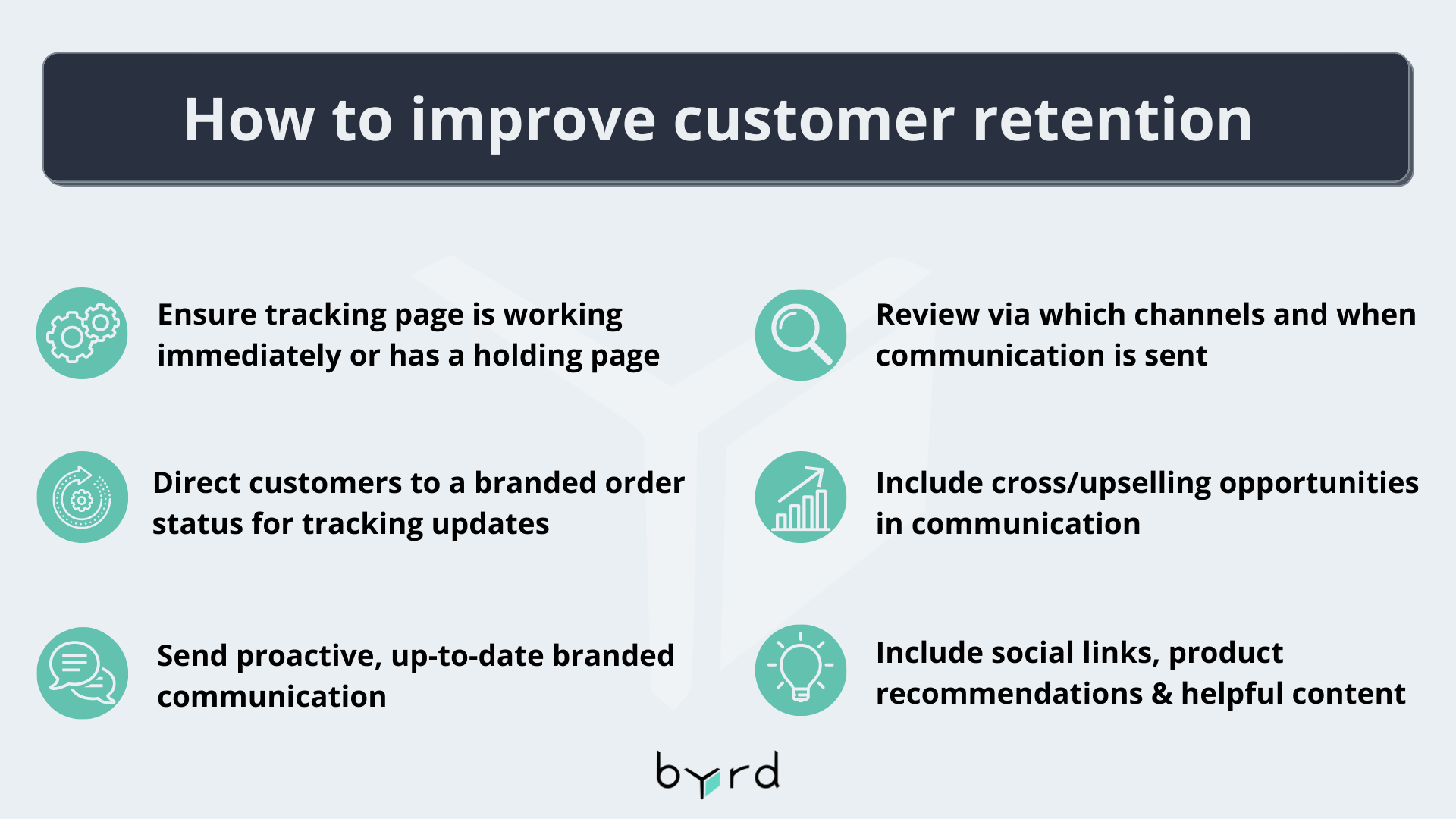 Improve your overall post-purchase experience
What is also true is that by improving your customer experience and your whole process, you will also improve your conversion rate, get customers coming back to you and get new ones.
You probably have heard about this (proven) saying: "it's far more cost-effective to persuade existing customers to make a repeat purchase than it is to acquire a new customer". In most cases, this is true. But by focusing on how you can create a better customer experience, and make the buyer's life easier, you are not only helping him or her, you are helping the future ones.
This is what experts call: Operations experience management. Down there, you can, for example, see how parcelLab can help your online shop with WISMO and by extension, customer retention.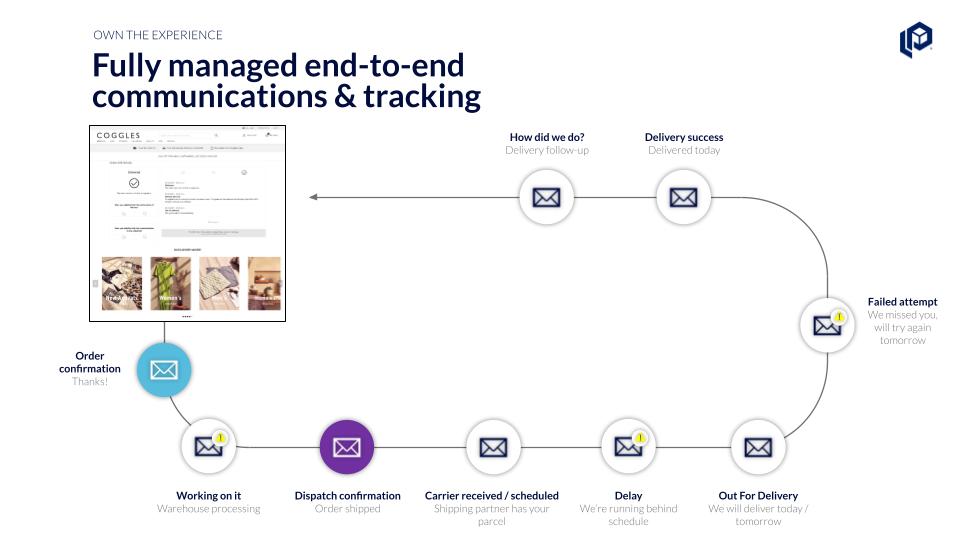 This blog results of our partnership with parcelLab – materialized in our webinar together on the 12h of October 2021.
This was the last webinar in our Masterclass Series covering the topic of peak-time readiness.
If you want to learn more about how to reduce WISMO and increase customer retention during peak season, you can download the webinar presentation here.
And to be informed of our next webinars and events, you can subscribe to our newsletter below!
Webinar Q&A with parcelLab
At the end of this webinar, participants asked interesting questions that were answered by parcelLab's expert.
Question:
If a brand has limited resources for peak season, what would be the number one tip for reducing WISMO?
Answer:
Manage your customers' expectations. This is the most important thing. You have to be transparent and true to avoid frustration, especially on delivery estimation. Then you can also implement some easy tools: FAQ page, online reviews, improve product page, etc.
Question:
Does your service level directly impact your NPS and customer satisfaction?
Answer:
We are becoming very experienced, especially for buying online, more than brand loyal almost. The purchase experience of an online buyer can easily be damaged. Make your experience easy and quick. What you could do is have triggers in your CMS. For example, if the order is delayed, send a discount code along with apologies. Make people feel appreciated.
Question:
Does over communication with customers exist?
Answer:
There is no magic number. Customers usually won't say "stop sending me emails and information". There is, of course, a good balance between too much and too little. It is also about what you are sending (spam vs. order info). They might not open it, but they see it, so they see your brand.
Question:
Do you recommend keeping the carrier automated tracking emails or use branded communications such as parcelLab do?
Answer:
We recommend switching carriers' messages off, and plug in our service (or any other) with the same information, but branded and additional content if needed.
ParcelLab is the leading Operations Experience Management platform globally. The company brings people and brands closer together by closing the experience gap post-sales and beyond, transforming operational complexity into opportunities to outperform global brands.

For more information visit www.parcellab.com
---
---